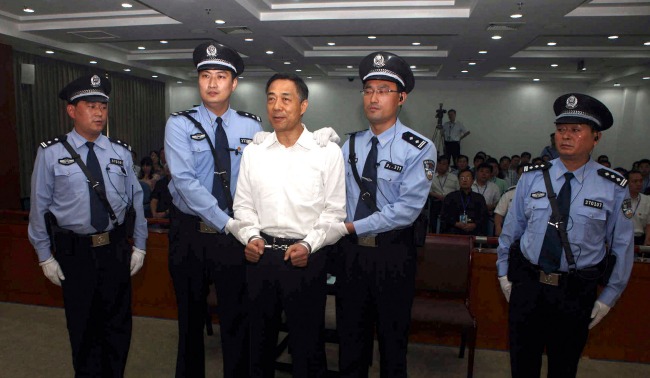 Bo Xilai exits the Jinan Municipal Court after receiving a life sentence for bribery, abuse of power, and embezzlement. (AP)
Yesterday, the Jinan Municipal Court convicted Bo Xilai of his crimes and sentenced him to life in prison, bringing an end to China's most sensational political scandal in a generation. Though Bo has appealed his suspension, this is just a formality: His life as a free man is over.
Like any major political event, it'll take awhile before we understand the full ramifications of what the Bo Xilai trial means for China. But for now, it's worth going back and remembering who Bo is, why he got into so much trouble, and what the consequences of his downfall are.
Who is Bo Xilai? Why was he important?
Bo Xilai is a Chinese politician from Communist Party royalty: His father, Bo Yibo, was an important leader during the Party's earliest years in power and is remembered today as one of China's "Eight Immortals." Like other important officials, Bo Yibo was persecuted and imprisoned during the chaos of the Cultural Revolution.
Bo Xilai first achieved fame during the 1990s when he served as the top Communist official in Dalian, a coastal city then considered an economic backwater. During his tenure in office, Bo transformed the city into one of China's safest, cleanest metropolises—a destination attractive enough to serve as host of the World Economic Forum's annual "Summer Davos" meeting. Later, following a stint as Minister of Commerce, Bo became the Party boss in Chongqing, a massive, inland city with a reputation for violence and corruption. Once he consolidated power, Bo—aided by his longtime police chief, Wang Lijun—executed a major crackdown on organized crime and encouraged a revival of Mao-era slogans and songs.