In China, It's the Grandparents Who 'Lean In'
In order to help their children pursue professional goals, older Chinese people take an active role in raising grandchildren. But are changing demographics threatening this arrangement?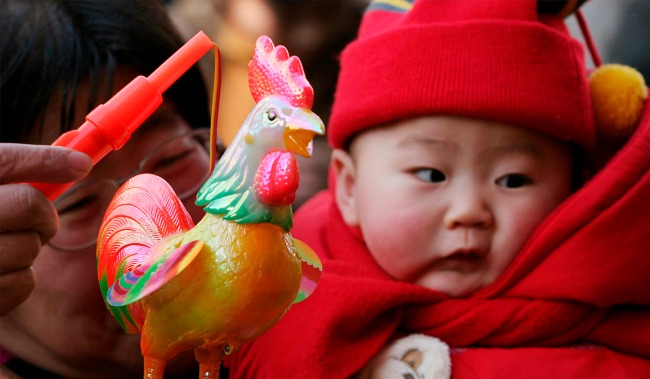 In China, a large number of children are raised by grandparents as their parents seek career advancement. (AP)
HONG KONG—68-year-old Ida Lang wakes up every morning at six. Like most retirees, she loves the calm of the morning, which she has all to herself. But unlike other retirees, Ida's me-time lasts for exactly one hour. At seven, she goes to her younger son's house, where for the next eight hours, Ida feeds, plays with, changes and talks to her son's newborn daughter. Then at three, she's off to her other shift, this time at her older son's house. There, she supervises homework, teaches, plays make-believe games and reads to her eight-year-old granddaughter and four-year-old grandson until well past nine, when their parents get home.
"I don't like to launch directly into homework when my grandkids get home. I like to start off with a hug," Ida says with a laugh.
To watch the soft-spoken widow talk about her "job" is deeply moving. She beams when she recalls the day Rachel, her first granddaughter, was born—clearly, one of the happiest of her life.
"She was so small, so cute," Ida says.
Under Ida's care, this small, cute baby has grown into an accomplished cello player, pianist, and girl scout. She now attends one of Hong Kong's top girls schools, Diocesan Girls' School, and is fully fluent in English, Cantonese, and Mandarin. Rachel's parents—Ida's son and daughter-in-law—have successful careers. Winston is in corporate development at a multinational corporation, while Delia is a successful director at a top investment bank.
"My role staying home with the kids allows for my family's success," Ida explains proudly. To her, the decision to provide childcare for her grandchildren not difficult.
"Just look at how much money she can make!," she exclaims, referring to her daughter-in-law.
Delia, a graduate of Rice University and Hastings School of Law, works 15 hours a day, which is normal in the investment banking industry. Each weekday, she's out the door at seven and doesn't get home until ten in the evening, when her kids are already in bed. Her husband's schedule is better, but he travels frequently: Sometimes, he goes to Shanghai for nine months at a time.
"I hear all the buzz about Lean In," Delia says, referring to the best-selling book whose author Sheryl Sandberg recently traveled to China on a promotional tour. "I would love to be able to march into my employer's office and demand to go home earlier and see my kids. But I also know that if I did that, my career will suffer. Sandberg's advice [that women can advance in their careers simply by being more assertive professionally] is not realistic in today's economy and in my industry."
Ida's decision to spend her golden years shuffling Delia's kids to and from after-school activities and the doctor's office is in stark contrast to Delia's own mother, who prefers to be a hands-off grandma. Delia's mother, who is also Chinese, moved from Hong Kong to Los Angeles in the 1990s and now only comes back to visit once a year.
When I ask Delia why her mother doesn't want to trade her carefree retirement years for full-time babysitting duties, she sighs and says, "she's become very Americanized."
Delia's mother has adopted a mentality shared by millions of American retirees, who in recent generations have come to greatly value their independence. Today, U.S. parenting message boards, like Urban Baby, are full of stories of uninvolved grandparents, and little wonder: Studies find that American grandparents who live with children are significantly less happy. But Ida, on the other hand, says that being actively involved in her grandchildren's lives is one of the best decisions she's ever made.
"These grandparents need to consider more than just themselves," says Ida, "My son and his wife are successful. This is a good thing. As a grandmother, it is my duty to support that. That's why I am here every day. I believe children should be with family. Only family can pass down culture and tradition. Only family makes the kids feel warm in their hearts."
What about on the bad days, when the kids are screaming, throwing tantrums and crying? Has she ever thought about giving up?
"Never," says Ida. "Even on the hardest of days, I just tell myself 'you must be patient.' I understand the American way. I believe the Asian way is better."
This "Asian" way is helping millions of other Chinese women like Delia make huge strides in the workforce. In China, 51 percent of senior management positions are held by women. Half of the world's female self-made billionaires are from China. Women in the People's Republic of China contribute half of the household income.
By contrast, in the United States, women hold just 20 percent of senior management positions, accounting for just four percent of Fortune 500 and Fortune 1000 CEOs. And even though women are more likely to be college-educated than men, they are twice as likely to work part-time.
54 percent of working moms cite balancing work and family as their biggest challenge. Many of the five million American stay-at-home moms want to work, but the crippling cost of childcare, more expensive than a year of public university in 35 states and the District of Columbia, has them feeling like they can't afford to. It isn't just a problem for low-income mothers, either: According to Professor Joni Hersch of Vanderbilt University, mothers who are graduates of top institutions are disproportionally opting out.
In Lean In, Sheryl Sandberg attributes this trend to women's unwillingness to assert themselves. But the popularity of Sandberg's book itself tells us the opposite: Women do want a seat at the table. Instead, it's the circumstances of women's lives—not their behavioral shortcomings—that have the greater influence.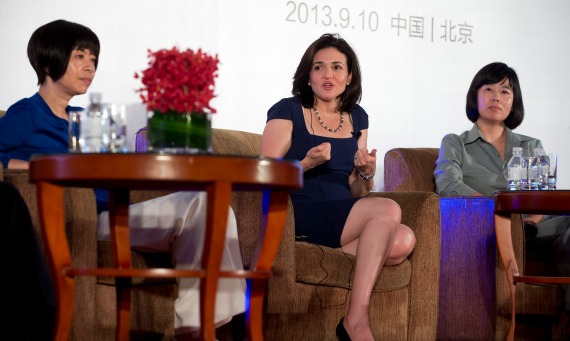 Americans with children have to deal with a day care system that is equal parts expensive and inadequate: A reported 90 percent of day care centers provide substandard care. And American women must increasingly shoulder the load at home: In the still-struggling economy, men must work longer hours simply to stay afloat in their careers. Therefore, if you are a working parent, how do you lean in at work if you have no one to lean on at home? Sandberg doesn't provide an answer. Unsurprisingly, in 2012, 14 percent of American working parents quit a job or did not take a job because of childcare problems.
***
Unlike in the U.S., women in China do not face the same childcare burden. That's because in China, it's the grandparents—not the parents—who lean in.
According to the Shanghai Municipal Population and Family Planning Commission, 90 percent of the city's young children are being looked after by at least one grandparent—and half of these grandparents provide exclusive care, a number that is increasing. In other Chinese cities, the numbers are lower but still high: 70 percent of children in Beijing are cared for by a grandparent, as well as 50 percent in Guangzhou.
Why are Chinese grandparents so willing to babysit? One factor is China's early retirement age (60 for men and even younger for women). But another factor is the pull of traditional culture in the country, where people have a long history of living with their elders and having grandparents participate in childrearing. So far, this cultural belief has proven more resilient in China than in the West, where urbanization in the last 50 years has broken up multi-generational households. A recent online poll in 32 Chinese cities, including Beijing, Shanghai, Guangzhou and Shenzhen, shows that 36 percent of Chinese people feel that grandparents raising grandchildren is completely normal.
In the contemporary United States, on the other hand, grandparent care is no longer regarded as such, and these days most Americans turn to day care or nannies for childcare. Typically, grandparents assume care for children only after a crisis in the family: 20 percent of children living with a grandparent do not interact with their parents. Of the 7.7 million children in the U.S. currently living with a grandparent, 3 million rely on the grandparents for most of their basic needs, particularly money. These kids are also more likely to be living below the poverty line.
In China, where the norm of leaving children with grandparents persists, parents report feeling less stressed and "safer" than if they had left their children with strangers. This comfort allows Chinese parents to focus on their careers, where they face increased competition for high-paying jobs, and save money.
But despite these advantages, the Chinese model is far from perfect. For one, there are health concerns for the elderly. Then, there's the belief—perpetuated by the Chinese media—that grandparent care is causing spoiled and fat children as well as family conflicts due to generational dynamics.
Chinese school teachers say that because grandparents spoil their grandchildren and are less strict than parents, the children become self-centered and less independent, a problem magnified by China's one child policy. Parents also complain that the grandparents' way of parenting is often old-fashioned. These differences in opinion can lead to fights and strain family relationships.
To help the older generation cope with raising small children, "grandparent schools" have popped up all over China. One school in Beijing has over 200 "students," who study everything from "how to stand up to your whining grandchild" to understanding popular Internet technology. At parenting schools in Guangzhou and Shanghai, 80 percent of the pupils aren't parents at all: they're grandparents.  In addition, counseling services for grandparents are becoming more prevalent, as are psychologists who specialize in changing family dynamics.
However, no school can adequately respond to the more fundamental challenges that modern life poses for Chinese families: fragmentation of the family unit, migrant parents, and a lack of stable authority figures. Currently, China has 260 million migrant workers, and for many of them grandparent care is their childcare method of choice. A survey by the All-China Women's Federation estimates that there are currently 60 million children "left behind" by their parents—children who live with their grandparents and other relatives in rural areas while their parents go off to more affluent cities to work.
This may seem like a convenient arrangement for parents, but there are moments in China when the shortcomings of this "granny state" are thrown into stark relief.
Consider, for example, the, disaster that struck last month for six left-behind school girls in Jiangxi, one of China's most rural provinces: They were sexually molested by their school teacher. All six had been cared for by their grandparents since infancy, as their parents had moved to bigger cities in search of higher salaries. When interviewed by the South China Morning Post, each girl said that she just wanted to see her mother again.
Clearly, grandparent care is no panacea, and the Chinese model for childcare may not be equipped to deal with modern challenges.
As China prepares to move 250 million rural residents into new towns and cities over the next dozen years, urbanization has already begun to change values. The numbers of Chinese adults neglecting their elderly parents is increasing, leading the government to pass the Law to Protect the Elderly, controversial legislation that requires adult children to visit their parents or risk getting sued. But even without the law, urbanization also splits families—just as it has in Japan and South Korea. In 1981, 59.4 percent of Japanese elderly surveyed chose "co-habitation with children" as ideal. In 2001, that number decreased to 43.5 percent. For Korean elderly, the difference is even more dramatic. The percentage of Korean elderly who thought it was ideal to live with their children fell from 83 percent in 1981 to 34 percent in 2001.
In China, though, there are few places for old people to go outside of living with family. Recently, the Beijing Municipal Civil Affairs Bureau announced a "9064" plan, in which they hope 90 percent of the city's elderly will live at home by 2020. Professional care for the elderly remains scarce: There are currently only 300,000 caregivers in China and of these caregivers, only 100,000 have "professional qualifications." The situation in the countryside is even worse: Just 11,000 of China's 30,000 rural retirement homes are legal.
As China's elderly population continues to grow (it is expected to hit 483 million by 2050), it is time for China to re-think its elderly strategy. Because professional care for the elderly is so limited, Chinese grandparents are far more likely to depend on their children (and help raise their grandchildren) than their Western counterparts. However, this model leaves them vulnerable if their adult children decide to move away.
To combat this problem, China needs to come up with a system of support, one perhaps modeled after Social Security in the United States, that can provide for the evolving demographic reality. A single policy change won't be enough—but one combined with more retirement homes and an increase in the number of elderly caregivers might.
But countries like the United States also have a lot to learn from China, especially if they want to increase the number of women at the executive level. Sheryl Sandberg says the key to having a successful career is to pick the right husband. However, almost every successful Chinese woman I've met cited her parents and in-laws, rather than her husband, as her secret weapon. Whatever one thinks of this emphasis on family, rather than individual, success, it has propelled many Chinese women to the top in recent years.
"If hordes of bored older people are out there not being productive, while mothers in their prime earning years are forced to be homemakers, then society suffers," says Delia. "It's society's loss."