Can China Create Its Own Hollywood?
Business moguls are making a big international push—but political meddling is getting in the way.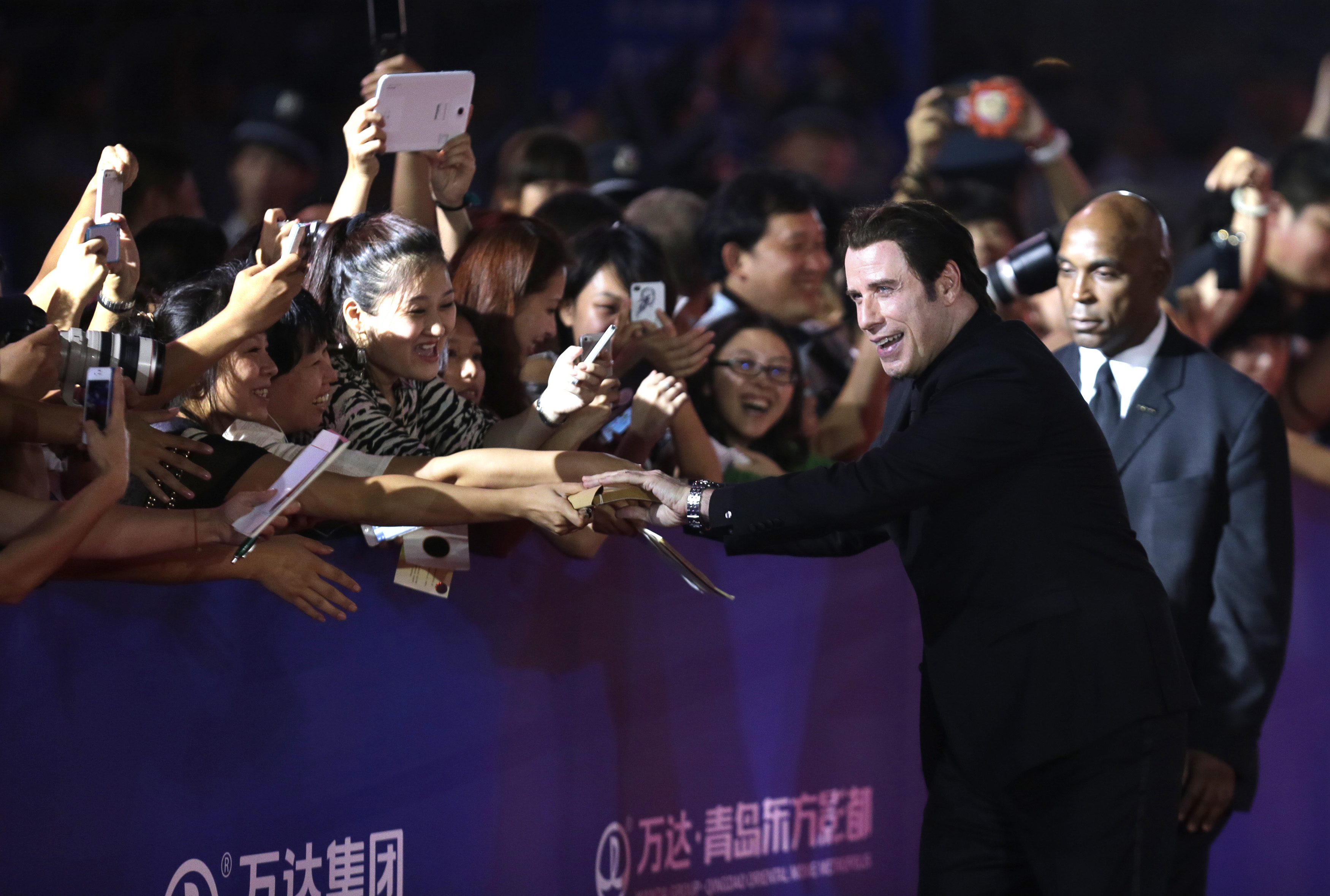 Wang Jianlin, who personally doesn't know much about film, made a splash when he purchased America's No. 2 movie theater chain AMC at a price many thought far too high for what he was getting.  A number of knowledgeable people felt that the money could have been put to better use by investing in the fast-growing China market rather than the flat North American market.
However, it was clear then, as it is now, that his strategy was primarily about "branding," announcing that Wanda and Wang were major players that had the finances to back very large ambitions. Indeed, he succeeded in his aims when he was interviewed—often complete with picture—in many of the major media publications in the U.S., commanding attention from Hollywood's leading players.
His latest foray moves this a large step forward by demonstrating that he can summon Hollywood A-listers and major studio senior executives to Qingdao to participate in this unveiling. He has a major advantage in that his ambitions are highly congruent with the Chinese government's key priority to expand the country's soft power and show that the Chinese dream can compete with the American dream, which has always been epitomized by Hollywood.
Wanda will next send a team to Hollywood to negotiate the terms of this new relationship, but the devil is always in the details. One has to examine what the three major players want out of this relationship: Hollywood, Wanda, and the Chinese government. Hollywood clearly wants greater access to the China market for their films, and if this relationship allows them to make films that can succeed internationally while, ideally, not being subject to China's import cap of 34 revenue-sharing films per year, this deal might well work for them. Wanda wants to learn from Hollywood's expertise in storytelling and marketing and distributing films internationally. They are going to be concurrently making blockbuster domestic films so they are unlikely to be enamored of Hollywood competition domestically; they want international market success. That's one possible contradiction in the relationship.
Another would be the aspirations of the Chinese government. One of the major reasons co-productions have declined drastically over the last two years is China's insistence that they be real co-productions, with positive Chinese stories and Chinese casts, not co-productions in name only as was the case previously, when "Chinese" films such as "Mummy 3" were big hits outside China and counted as part of China's bottom line despite their lack of sufficient Chinese ingredients. Will films produced under this new arrangement be real "Chinese" films or merely Hollywood films, filmed in China as was Tarantino's "Kill Bill" films (which were not distributed in China)? Hollywood wants "high concept" films that can be appreciated in all markets, including the Chinese domestic market; China wants non-controversial films that show the country in a positive light to counter what they see as demonization by Western media. In the end the three major players may be sleeping in the same bed while working from different screenplays.
---
Eyewitnesses to the spectacle on Sunday announcing the $8.2 billion Qingdao Oriental Movie Metropolis along China's northeast coast—a gathering including Hollywood A-list celebrities Leonardo DiCaprio, John Travolta, Harvey Weinstein, Nicole Kidman and others—said that Dalian Wanda Group Chairman and CEO Wang Jianlin spent a lot of money to impress the locals but wasted little time engaging the supposed guests of honor.
"There was no real dialogue," one Hollywood studio executive with years of experience in China told me in an email when I asked about the substance of the event. "We were shown like monkeys.  So no, there is no indication that anybody got a real sense of Wang, except that he is a very rich man who could afford to pay top talents to come."
The event appeared arranged mostly to impress the local government and Communist Party Officials, "to get better deals and favors," the executive wrote.
Why might Wang, China's richest man, need so badly to impress? He's on his home turf, after all. (Or is he?) Why would a man whose fortune was based originally on real estate in the port of Dalian choose not to base his greatest and most publicly touted project to date back there in Liaoning province?
Perhaps because Dalian is a former stomping ground of Bo Xilai, the politictian who was jailed for life on Sunday—the same day as Wanda's big announcement. There are no known ties between Wang and Bo—ties he denied when he first made a splash in the Western press by spending $2.6 billion to buy America's No.2 movie theater chain, AMC.
But two senior Chinese journalists with state run media with whom I spoke after the Wanda announcement expressed concerns. One said that there might be more Bo-related skeletons forthcoming, perhaps even from Dalian where Bo was mayor (1993-2000) just as Wang's took over as CEO at Wanda (1993) and began building a fortune measured at $8.6 billion this year. The other observed that Chinese entrepreneurs, no matter how powerful, are subject to the whims of the Standing Committee of the Politburo, the secretive men at the top of the Chinese Communist Party:
"Whatever plans Wang has right now is subject to change without any notice," the second journalist wrote on condition of anonymity.
Another thing to consider is this: Qingdao, (or Tsingtao, if you spell it the way the world-famous brewery there does) could just be the site of another attempt by a wealthy Chinese to build up more of the real estate that got him rich in the first place, under the guise of something else—culture.
Even as the central government in Beijing has tried to cool overheated real estate development and speculation, it has promoted the mission that China's private enterprise must help the government by using the media and culture to get out the message of President Xi Jinping's "Chinese Dream," whatever that turns out to be.
Hollywood's long been good at following the money in order to be able to practice the craft of giving voice to universal stories. Those stories may seem unsophisticated and cloying at times but they often possess an ease and confidence that sells around the world.
When considering the bargain anybody in Hollywood must be pondering now as they get involved with a company and a man whose fortune is subject to the whim of the CCP, it might be wise to read Brandeis History Professor Thomas Doherty's new book Hollywood and Hitler: 1933-1939, a tale of some of the studios' self-censorship, first as a cost of doing business, but ultimately at a much greater moral cost.
---
Wang Jianlin's recent investment in the film industry has all the hallmarks of Chinese big business: huge money, large scale, and, perhaps, some influence. Last year's AMC deal and this year's Qingdao deals may make Hollywood film producers happy, but they will also please Wang's political friends. After all, China and Chinese entrepreneurs are desperate to become more visible players in the world nowadays. And the Hollywood model conveys the right sense of aspiration for the time; Hollywood epitomizes the American Dream, just as the Chinese are trying to create their own version of it.
We will wait and see how Mr. Wang adapts to the shift from a hard-core property tycoon to a manager of soft power, if this indeed is his mission. But if the outcome of replicating a Hollywood studio in China is just to fill Chinese films with American stars, it will be a missed opportunity to develop an indigenous industry. But I would not be surprised if Mr. Wang follows that path. After all, a business undertaking of this magnitude in China usually depends on a variety of players.
It will only make sense if Mr. Wang's investment is driven purely by business motives. The Chinese film industry cannot, in its current state, compete with Hollywood, but learning from the American model could kickstart very important innovations in Chinese domestic film production and distribution.
All these points have nothing to do with politics. In the entertainment world, making your audience happy is the only route to success. To this end, Mr. Wang is perhaps right when, speaking with The Wall Street Journal, he said "I'm not the director, but I think people are able to film what they want to film these days."
---
Even industry insiders would have been hard-pressed to anticipate the widespread scope and unprecedented scale of the radical changes that have taken place in the world of the Chinese film industry over the past several years. While the 2013 announcement of Wanda's Qingdao Oriental Movie Metropolis is certainly a game-changer, at the same time it should be looked at as just the latest chapter in an incredible tale that has witnessed the reinvention of the Chinese film industry over the past 15 years. These industry changes can be seen as part of a continuum that began with the Hollywood's import of Hong Kong talent like John Woo, Tsui Hark, Jackie Chan, Chow Yun-fat, and Jet Li in the 1990s. A new era dawned with the phenomenal international success of Ang Lee's Crouching Tiger, Hidden Dragon in 2000 and followed by other Chinese blockbusters like Zhang Yimou's Hero and Stephen Chow's Shaolin Soccer.
It was that series of pivotal films that combined a pan-Chinese talent pool from the PRC, Taiwan, Hong Kong and overseas, Hollywood finance and distribution partners, martial arts talent and cutting edge CGI technology, and A-list production values that began to transform the Hollywood-Chinese film industry relationship in new ways. One by one, major studios began opening co-production offices in Hong Kong and China and companies like Columbia Pictures Film Production Asia produced some of the most profitable films in Chinese film history, becoming major players in the local industry. With the lure of China's burgeoning market as seen by new metroplexes opening almost every day in China and a soaring box office, Chinese new studio alliances were formed. These include the 2011 collaboration between Relativity Media and Skyland/Huaxia and the 2012 establishment of Oriental Dreamworks.
Over the course of this transnational dance, we have seen Chinese blockbusters cast A-list Hollywood stars (Christian Bale in The Flowers of War, Tim Robbins and Adrian Brody in Back to 1942, etc.) in an attempt to better market Chinese productions to an international audience as well as mainstream Hollywood films cast a growing number of Chinese actors to better access the increasingly lucrative Chinese market. Looking at the sheer scope of Hollywood franchise-based action films actively casting Chinese stars (Iron Man, The Expendables, X-Men, Resident Evil, Transformers, etc.) and one gets a sense of how pervasive these changes truly are. At the same time, we are seeing an increasing number of truly collaborative ventures, such as My Lucky Star, written by Amy Snow with Chinese co-writers, directed by Dennie Gordon and starring Ziyi Zhang and Leehom Wang, which at the time of this writing is currently #1 at the Chinese box office.
Into this complex and dynamic relationship comes the Qingdao Oriental Movie Metropolis, which is certainly poised to further accelerate (and complicate) these changes and the very nature of Chinese cinema. I would expect that much of the studio space will most likely be used by Hollywood or other foreign film companies to produce non-Chinese themed content (i.e. the way portions ofKill Bill were shot on location in China but not set there), however, the sheer scale of the studio and capital behind it will inevitably also result in even more Hollywood-Chinese collaborations of capital and talent. Up until this point the dream of the Sino-American blockbuster featuring top stars from both Hollywood and China in a big budget co-production that breaks box-office records in China and the U.S. (and other global markets) has remained somewhat elusive. A good example is the aforementioned My Lucky Star, which while performing strongly in China, will most likely be relegated to art-house circuit release in the U.S. and other non-Chinese markets. It will remain to be seen if the creation of Qingdao's new mega-studio will also result in a new formula for Sino-Hollywood collaborations that can consistently crack both markets. As these collaborations further accelerate, the very nature of what "Chinese cinema" is will inevitably be challenged and complicated as the entire industry becomes even more global and inextricably intertwined with Hollywood.
With the rise of Wanda, much has been written about how the issue of Chinese film censorship will play as these Hollywood-Chinese collaborations proliferate, however, I don't foresee any major changes. While most industry players hope for increasing liberalization and the establishment of a healthy rating system, those changes have been slow to come. Chinese players know the unspoken rules, they are quite savvy when it comes to which (invisible) lines cannot be crossed and American partners learn quickly when they come to the table. Films deemed too controversial to screen in China will only get produced when either 1) producers deem the financial success of the given film not dependent on the local Chinese market, or 2) alternate scenes/endings/dialogue are shot during production resulting in "China cuts" and "international versions" for controversial titles. But with the stakes so high for big-budget transnational productions, those cases will be the exception rather than rule. Hollywood is above all else a business and, having already learned some lessons from Disney in the 1990s, major studios will play by the censorship rules to get access to Wanda's playground and the Chinese market.
The provocatively worded headline question, "A Shark Called Wanda—Will Hollywood Swallow the Chinese Dream Whole?" seems to point at the shark-like qualities of both Wanda and Hollywood, provoking one-sided suppositions about which industry will eat which market. This is a question, however, that I am personally much less interested in exploring. After all, both partners here— Wanda/China and Hollywood—are primarily interested in making big-budget blockbuster fare that appeals to mass audiences; over time I suspect that their films will look increasingly similar and both will appeal to the lowest common denominator. Eventually, Hollywood films starring Chinese stars and Chinese films starring Hollywood A-listers, each written by transnational screenwriting teams, will all start to all look the same.
Instead, if there is a "little fish" in the equation that I was worried about, it would be Chinese independent cinema. Wanda's big announcement comes at a time when festivals like Yunnan Multi Cultural Visual Festival (Yunfest) and the Beijing Independent Documentary Film Festival, which have historically highlighted some of the most daring, innovative, and ground-breaking work in recent Chinese independent and documentary film, have been shut down or artistically neutered by interference from authorities. While the keywords behind Wanda's announcement are clearly terms like "market," "blockbuster," "the biggest," "A-List," "Hollywood," and, of course, "money" to the tune of 50 billion yuan, a healthy film industry needs a range of genres, forms, and different scale productions representing a diversity of cinematic voices to truly thrive.
On the eve of the birth of this super-studio if I could make one appeal to Wanda and the other "sharks," it would be that subsidies, funding opportunities, and other forms of support for independent and documentary Chinese films be factored into their plans. Even a small fraction of the vast resources allocated for Wang Jianlin's cinema metropolis could go a long way to revitalizing independent film culture in China; but, alas, I fear there may already be too many sharks in the water.
---
This post first appeared at ChinaFile, an Atlantic partner site.