Is the Shark-Fin Trade Facing Extinction?
A high-profile advocacy campaign featuring Yao Ming has catalyzed a major drop in demand for the controversial delicacy.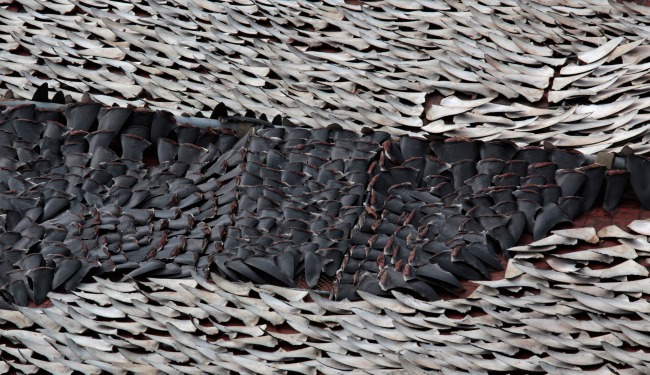 Over 10,000 pieces of shark fins are dried on the rooftop of a factory building in Hong Kong. (Bobby Yip/Reuters)
China's economic expansion over the past three decades has transformed the once-impoverished country, lifting millions of people out of poverty. Newly wealthy Chinese eager to display their prosperity -- and those who aspire to be wealthy -- have fueled an explosion in demand for luxury goods, which are now available even in third- and fourth-tier cities. Vanity? Perhaps. But high-end cars, clothing and accessories are often genuinely useful in gaining an edge in business and social relationships.

Unsurprisingly, China's embrace of conspicuous consumption has also manifested itself at the dinner table. At weddings and business dinners, opulent dishes abound. One item, more than any other, has possessed the power to confer face and status upon the host: shark fin soup.
For more than a decade, shark fin soup has served as a de rigueur component of any meal intending to highlight the host's wealth, resulting in the consumption of hundreds of millions of shark fins. According to the Hurun Report, China now has 2.8 million millionaires -- that's in U.S. dollars -- and there are many millions more below them who can afford shark fin soup, which can cost up to $100 per bowl.
The massive increase in China's consumption of pigs, chicken and cattle has had major environmental repercussions both within China and beyond, but shark fin consumption is different in several ways. Sharks cannot be farmed economically, have a much longer reproductive cycle, and many species are predators at the top of the food chain.
U.S.-based conservation organization WildAid estimates that up to 73 million sharks are killed each year for their fins. As a result of years of large-scale fin harvesting, one third of the world's nearly 500 shark species are facing extinction. Unlike farmed animals that are slaughtered for their meat, most of these sharks are killed by a process known as "finning", in which fins are hacked off and the animal is thrown back into the sea to drown or bleed to death. Afterward, the fins are usually transported by ship or plane to the main hub of the global fin trade: Hong Kong.
A stroll along Des Voeux Road West, also known as Dried Seafood Street, is a uniquely Hong Kong experience: Dozens of mom-and-pop stores selling dried fish, scallops, abalone and other desiccated sea creatures line a wide, busy street brimming with cars, buses and old-school trams. Fishy odors, the salty smell of nearby Victoria Harbor, and cigarette smoke hang along the sidewalks as high-rises tower above.
On a sweaty afternoon, I walked into a dozen or so of these dried seafood shops, where shark fins in large jars were on offer for 2,000 to 6,800 Hong Kong dollars ($250-$875) each. In Mandarin, I asked the gray-haired proprietors if they had a moment for a few questions. Without exception, they smiled and said yes. But as I began to explain that I was writing a story about the shark fin trade, a chill crept into their smiles, and they politely but firmly told me to leave.
Given the current state of the shark fin market, the proprietors have good cause to be grumpy. After years of booming business serving locals, mainland Chinese, and overseas Chinese populations, Hong Kong shark fin dealers have been hit by a drastic market downturn. Precise figures are difficult to come by, but government and industry estimates for 2012 showed the market shrinking by between 50 and 70 percent.
What accounts for the drop in demand? Many involved in the shark fin trade, including Hong Kong Shark Fin Trade Merchants Association chairman Ho Siu-chai, blame environmental groups and the media that broadcast their message. Ho even told the South China Morning Post that 'Western' conservation groups were engaged in an anti-Chinese conspiracy. Roughly one third of Hong Kong's shark fin shops had closed down in recent years due to pressure from environmentalists, he added.
It may be tempting for shark fin dealers to blame foreign environmental organizations for their shrinking market, but that would ignore the substantial impact of former NBA star Yao Ming, the first mainland celebrity to speak out against shark fin soup.
In 2006 Yao, then at the peak of his career with the Houston Rockets, made waves outside of China when he announced that he would swear off shark fin soup for life and campaign against it with WildAid. In China, a country where celebrities did not normally endorse environmental causes, Yao's stand against shark fin soup was highly unusual. And at the time, his message went practically unheard, with local media ignoring or burying the story.
But over the last seven years, Yao and WildAid's message has reached a growing number of mainlanders, who previously knew little about shark fins. The gruesome process of harvesting fins resonated with an urban generation that has embraced environmental causes, and a major turning point arrived in the summer of 2012 when the Chinese government banned the serving of shark fin soup at all official functions.
Yao said that before saying no to shark fin soup, he had no idea how the fins were harvested. As soon as he learned about the finning process and the numbers of sharks killed by it, he said, he decided to take action with the hope that ordinary Chinese would do the same once they were informed.
"I think that as a lot of people began to consume shark fins, they were simply unaware of the cruelty and marine ecological destruction behind it," he said. "Like me, once they understand the facts, they'll boycott consumption of shark fins and spread the word."
Yao said that the success of his partnership with WildAid has made him "appreciate how meaningful this kind of work is." For WildAid, which surveyed 24,000 Chinese in 16 cities before launching the campaign, Yao's participation has been invaluable.
"Yao Ming's leadership on this issue has been key," said Peter Knights, WildAid Executive Director and founder. "As the flag bearer in the 2008 Beijing Olympics, Yao's status in his homeland may never be surpassed. He is known for his patriotism and integrity and has been an eloquent ambassador for the campaign."
Yao and Knights are not alone in their quest to end the shark fin trade -- Richard Branson and TCL CEO Li Dongsheng have also joined the WildAid campaign. Additionally, dozens of environmental NGOs, many based in Hong Kong, have targeted different aspects of the business, focusing on high-end hotels and airlines in the Asia-Pacific region.
The groups' efforts are yielding results. The Peninsula Hotels and Shangri-La Hotels and Resorts have removed shark fin soup from their menus, with many other hotels in the region following suit. Cathay Pacific, Air New Zealand, Korean Air, Fiji Airways and other airlines have banned shark fins from their planes, removing one link from the supply chain at a time.
Even U.S. state governments are getting in on the act. In late July, New York Governor Andrew Cuomo signed a bill banning the possession or sale of fins from any shark (except the populous dogfish) beginning next summer. New York will join California, Washington, Oregon, Hawaii, Delaware and Maryland in the small but growing number of states with shark fin bans. In June, the tiny sultanate of Brunei was applauded by environmental groups after becoming the first Asian country to enact a nationwide ban on the trade.
Knights said Chinese President Xi Jinping's ban on lavish government banquets, part of a wider anti-corruption campaign, "sends a very important message from the top. A significant amount of wildlife consumption is in the form of entertaining or gifting to government officials -- cracking down on it not only helps wildlife, but also reduces bribery."
Bans aren't the only way to attack the global shark fin trade -- another is making the practice of eating it less attractive. Claire Garner, Director and cofounder of Hong Kong Shark Foundation (HKSF), said that the NGO is "not so focused on the legislative side of things, but rather in reducing consumer demand."
This is easier said than done. But for skeptics who think the Chinese will never give up shark fin soup for cultural reasons, Garner offered the example of foot binding. Through the efforts of socially minded and PR-savvy Chinese and Westerners, a thousand-year-old-tradition was eliminated in one generation, beginning at the end of the 19th century.
Digital media has also dramatically accelerated the speed of social change in China. Garner said that HKSF's mission received a boost in January when an Agence France Press photographer Antony Dickson snapped several shots of thousands of shark fins drying on a factory rooftop in Kennedy Town, just down the street from the dried seafood shops of Des Voeux Road. The photos went viral on Chinese social media.
"Many of the people who eat shark fin soup do so for the perceived luxury aspect," Garner said. "Those photos of fins on a dirty rooftop showed people that there is nothing 'luxury' about shark fins or how they are produced."