How to Deal With a Heat Wave in China
You improvise -- in ingenious ways.
A water fight in Shanghai on July 21st, near the beginning of a record heat wave in China. (Carlos Barria/Reuters)
It's been hot in China. Really, really hot. For the last 24 days the temperature in Shanghai, for instance, hasn't dropped below 95. This isn't a dry heat, either: think Atlanta, not Phoenix. The current heat wave -- which is expected to continue into the first part of August -- has already claimed 11 lives in the city and has had an effect on business.
In a crowded country where many homes lack air conditioning, China's people have to get creative in order to escape the heat. One option is public pools -- but these can get a little crowded. How crowded? Consider this image, from an artificial pool in Suining, Sichuan Province, which looks like it could have come from Where's Waldo.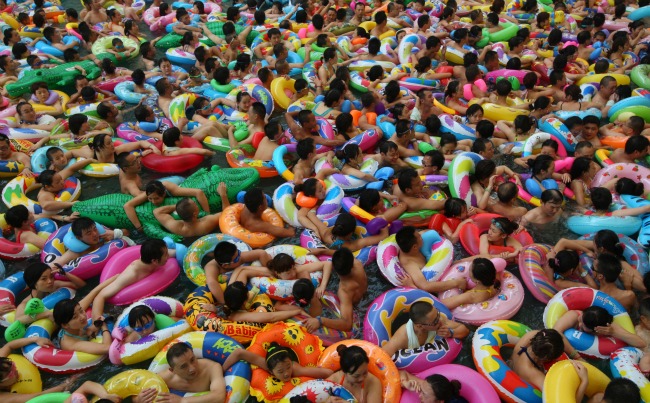 China Daily/Reuters
A school gym in Wuhan, like Shanghai one of China's famously hot "furnance cities", doubled as an impromptu dormitory for dozens of students: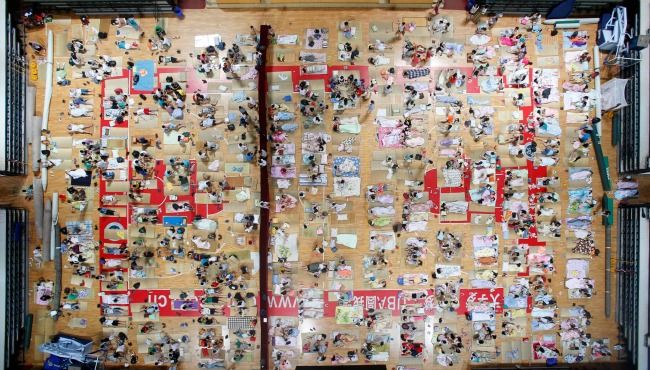 Reuters
Then, in Shanghai, there are the nicely air-conditioned subway stations: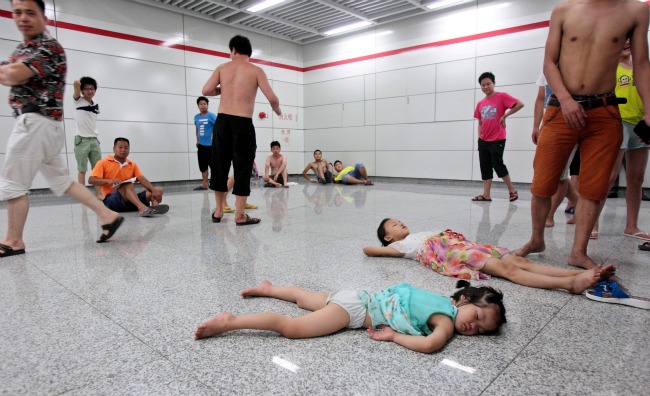 Reuters
One group that has not kept its sense of humor about the heat is the Shanghai Meteorological Bureau. Annoyed at myriad reports exaggerating the temperature (which, they dutifully reminded us, never exceeded a still-completely-ridiculous 106 degrees), the Bureau
has begun fining citizens
for promoting and spreading "unauthorized weather reports."