From the Shadows: China's Growing Tolerance of Transgender Rights
The mostly positive reaction to a story about an American transgender couple reveals an profound shift in the country's attitude toward a once-maligned community.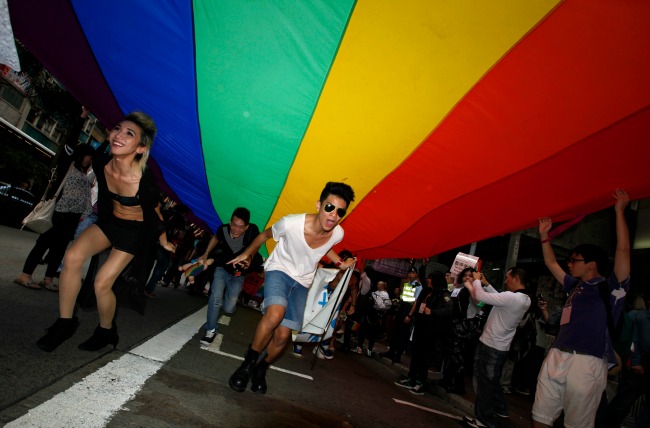 In the last few weeks of July, the story of a young transgender couple who transitioned together, which had previously gone viral in the Western media, trended on Sina Weibo, China's popular microblogging platform. Although some Chinese people were puzzled by the story, many praised the couple for their bravery and the quality of their relationship.
American teenagers Katie Hill and Arin Andrews met at a transgender support group and began dating shortly thereafter. Katie was born male but identifies as female, while Arin was born female but identifies as male. Both knew they were born in the wrong bodies and were able to support and understand each other.
Chinese reactions to the story on Weibo were generally positive. Wrote queer news organization @淡蓝同志新闻: "Everyone has the right to love. Be yourself! Good luck! Others can learn from your experience as a #genderswapcouple"
User @_杨振_echoed this encouragement, noting that reaction to the story online has been generally positive:
#Genderswapcouple 19-year-old Katie had gender reassignment surgery over a year ago and became a women. 17-year-old Arin had his breasts removed last month to become a male. They are a couple! They "exchanged genders" through surgery and their families supported their love. Their sweet and happy photographs have gotten wild praise from online users calling them "a wonderful couple." It appears there are no ill feelings at all! True love is really unrelated to gender!#
Another user, @东南快报 added: "From childhood, they have been discriminated against because of their gender orientations. After the two met, they knew how to love each other. Together they wipe away the haze of the past to great a new life."
Some people were confused by the story but still responded positively. Wrote @Vv_莫小堇, "#Genderswapcouple I'm also bewildered ... looks like true harmony.#"
In China, gender reassignment is still a taboo topic, and gender reassignment surgery can be prohibitively expensive and restricted. A 2010 report from the International Gay & Lesbian Human Rights Commission on China describes the level of discrimination faced by transgender Chinese citizens:
Transgendered people face serious levels of police harassment in China. The transgendered community also faces particular difficulties in obtaining employment. The Chinese authorities are currently consulting on new rules on gender realignment surgery. In certain aspects these rules fail to meet international standards on individual autonomy and privacy.
The government implemented guidelines in 2009 for restricting gender reassignment surgery. According to the new guidelines, a person must apply with the police to change the gender on their official registration before undergoing gender reassignment surgery. A person must also live openly as the gender with which they identity for a number of years before the surgery. They cannot have a criminal record, must be over the age of twenty and unmarried, and must have gone through a considerable amount of therapy. The candidate also must tell their immediate family about their plans for surgery.
For many, these guidelines have made the surgery completely unattainable. Han Bingbing is a Chinese woman who underwent gender reassignment surgery in 1999. She said in a 2009 interview, when asked about the new guidelines that:
I would not be able to have the surgery if there was such a guideline in 1999 ... mother died when I was seven and I was not able to speak to my father about my feelings until I returned to my hometown after the operation ... Most transsexuals are not on good terms with their family. That is the reality. They sometimes change their names and move far away. What happens if their family refuses to let them have the surgery?
Even for others who fit the guidelines, the surgery can be prohibitively expensive. Han spent almost 200,000 RMB (about $32,000) on the procedures in 1999. There are no recorded statistics regarding the number of Chinese citizens who have undergone gender reassignment surgery.
Culture also plays a role: Dr. Howard Chiang, a professor of History at Warwick University, wrote in his essay Transgender Studies and the 'C' Word that instead of using ideas and frameworks for transgender studies developed in the West, China's transgender issues may be better understood in the context of the country's own culture and history.
There are many instances in Chinese history in which a third gender or variations on a gender are apparent -- eunuchs being the most obvious example of this. When Manchurian women did not bind their feet in the early Qing dynasty, they were seen as masculine compared to Chinese women with bound feet. Chinese men were not attracted to "large-footed" Manchurian women, as the small bound foot was seen as a gender marker. Feminine men played women on stage for centuries in Peking Opera, even living as women as noted in the semi-fictionalized M. Butterfly.
Perhaps now, despite restrictive regulations, Chinese are once again more willing to accept multiple imaginings of gender or a more fluid definition of gender. Many recent cases have been cause for optimism. In 2012, an 84-year-old Foshan woman and former government official named Qian Jinfan, who came out as transgender at the age of 80, began to talk openly to the public about her experience. She came out to the government agency that paid her retirement benefits and to her wife, who were all tolerant and supportive. Qian said,
At first, I prepared to defend myself whatever the cost, but then I found I had been accepted. Their tolerance towards transgenders went beyond the scope of my imagination.
The positive reactions to Katie and Arin's story, and increase in the number of people like Qian Jinfan willing to share their stories, could signal a step forward in the long battle for transgender rights in China.
---
This post first appeared at Tea Leaf Nation, an Atlantic partner site.