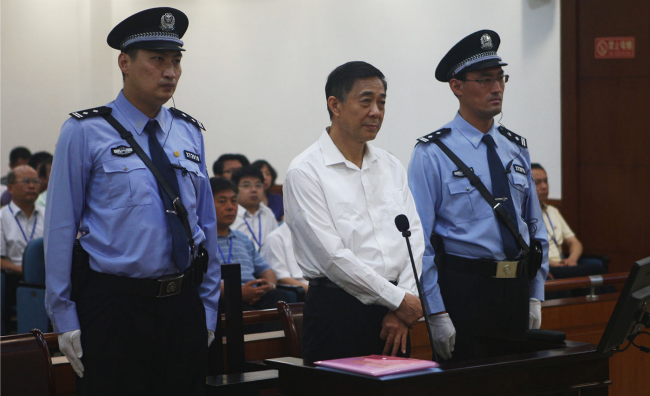 Disgraced Chinese politician Bo Xilai stands trial inside the court in Jinan, Shandong province August 22, 2013. (Reuters/Jinan Intermediate People's Court)
The trial of disgraced official Bo Xilai, the most anticipated political event in China in at least a decade, wrapped up Monday after five surprising and entertaining days -- or four and a half more days than anyone had expected. No verdict has emerged -- that's supposed to come sometime in the next couple of weeks -- but without a doubt Bo Xilai will be found guilty of corruption, abuse of power, and accepting bribes and sentenced to a lengthy term in prison. The verdict will mark the conclusion of one of China's most intriguing political careers: Once thought to be a shoo-in for a spot on the Communist Party's highest governing council, the 64-year old Bo may now spend the rest of his life behind bars.
Was Bo's trial successful? As an act of theater, it was
certainly riveting
: testimony released during the case (by the Jinan Municipal Court, which published transcripts of the proceedings on
its Sina Weibo microblog
) revealed enough sex, violence, and intrigue to satisfy a Hollywood scriptwriter. Consider the following details:
Wang Lijun, the former Chongqing Police Chief whose attempted defection to the U.S. Consulate begun this whole mess, was allegedly "in love with" Bo's wife Gu Kailai. When Wang confronted Bo about Gu's poisoning of Neil Heywood, the British businessman who died in Chongqing in November 2011, Bo reportedly slapped (Wang says "punched") his henchman and refused to accept the news.
When Gu Kailai testified by taped video, Bo dismissed her as "insane".
Much of the bribery allegations involved a petrochemical tycoon named Xu Ming, who lavished Bo and Gu with money and gifts. Xu procured a $3.2 million house in southern France for the couple. The tycoon also paid for several overseas journeys for Bo Guagua, Bo and Gu's young son, who attended the 2006 World Cup in Germany thanks to Xu's largesse. Bo Guagua is now studying law at Columbia University after stints at Oxford and Harvard.
Gu, who was convicted for the murder of Heywood late last year, wasn't the only one having an affair: Bo confessed during the trial to extramarital dalliances of his own, and after one such incident Gu and Bo Guagua left China for England.
Bo embezzled over $800,000 from a state construction project while serving as the Party Secretary of Dalian, a northeastern city that Bo governed in the 1990s. (He denies this).
The Bo Xilai trial was extraordinary for several reasons. First, Bo himself was an unusually charismatic politician, one of the few regional leaders to obtain a national profile in the country. Handsome, well-spoken, and with an impeccable Communist Party pedigree (his father was an important Mao-era official), Bo transcended the staid world of Communist Party politics with his hands-on style of government. Second, the Party
did not attempt
to squelch coverage of the trial, releasing (
condensed and edited
) transcripts over the internet -- surely the first time a Chinese court has done so for a political event of this magnitude. And third, the trial itself was lengthy, lively, and contentious. Observers expecting to see a chastened Bo were surprised by his vigorous appearance and spirited self-defense -- this was not a man about to take his punishment lying down. Aside from the fact that no one believed that the outcome of the trial was in doubt, the Bo Xilai case was the closest thing Chinese politics have gotten to a full-blown, Western-style legal spectacle. 
In the end, though, the trial of Bo Xilai reinforced the fundamental truth of Chinese politics:
Political considerations of The Communist Party
trump any application of justice. Bo is almost certainly guilty of the crimes he was charged with; the testimony of his wife Gu Kailai and of Wang Lijun showed that Bo accepted bribes over the years and attempted to cover-up the murder of Neil Heywood -- a ploy that might have worked had Wang not attempted to defect to the U.S. in February 2012.
But the case did not cover the full extent of Bo's years in Chongqing, a crime-ridden inland city he ruled from 2007 to 2012. Soon after assuming control, Bo orchestrated
a brutal crackdown
of organized crime, ultimately throwing over 4,000 suspects in prison. This maneuver -- coupled with Bo's campaign to revive Maoist traditions in the city -- endeared him to Chongqing's ordinary citizens. However,
critics soon alleged
that Bo applied his iron fist to political rivals in addition to organized crime bosses, using torture to extract confessions in extreme cases. When a defense attorney who represented Chongqing's defendants objected, he was himself thrown in jail. Bo's leadership of Chongqing brought in record amounts of investment and reduced crime, but, as one resident told Tania Branigan of
The Guardian
, "Many Chongqing residents feel that the city is safer and more beautiful now, but Germany under Hitler was the safest in its history." A full investigation of this aspect of Bo's rule, though, is now unlikely.
Bo Xilai will soon be sentenced to a lengthy prison term (the death penalty or even life imprisonment seem unlikely ... though with this trial, anything seems possible) and will not be heard from in public again. This is the outcome that the Communist Party wants, and -- given that he was given a chance to say his piece during the trial, something not always afforded to Chinese defendants -- one that Bo and his family will accept. But the trial's focus on the tawdrier aspects of Bo's rule represents a missed opportunity to examine the phase of his career which propelled him to public prominence in the first place. The crimes Bo was charged with were not unusual among Party officials, and -- though Bo didn't say it -- he could have easily (and justifiably) claimed he was unfairly singled out.
The cynical view -- that the Bo Xilai trial was "scripted" or "stage-managed" -- undersells the importance of this trial for China, where relatively transparent coverage of a political event represents a real step forward. But the trial once again reveals how convenient outcomes -- not justice --  is what drives Chinese jurisprudence. 
We want to hear what you think about this article. Submit a letter to the editor or write to letters@theatlantic.com.
Matt Schiavenza
is the senior content manager at the Asia Society and a former contributing writer for 
The Atlantic
.