Young Chinese People May Just Not Be That Into Western-Style Democracy
A new study shows that the country's youth have an increasingly lukewarm attitude about democratic political systems.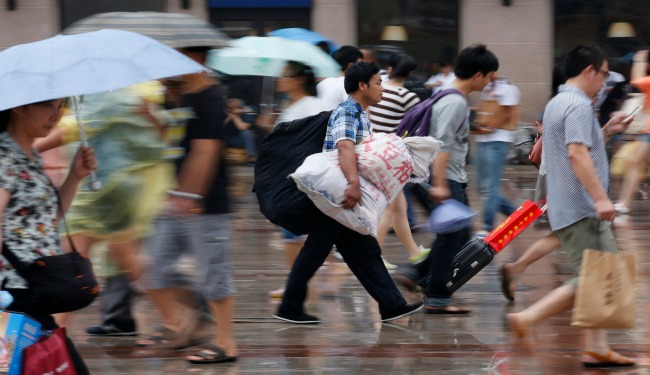 Kim Kyung-Hoon/Reuters
Chinese economic surveys and data are everywhere. Their quarterly or annual release regularly generate excitement, fretting, and plenty of interpretation. And this last round was no exception, leading the
Wall Street Journal
to
wryly quip
that China's second quarter data release was "As eagerly awaited as the first sight of Kim Kardashian's baby, but probably less attractive..."
Far fewer surveys and data are available on Chinese politics, however, or at least in the English-speaking world. Although such studies tend to be rather obscure, they do exist, and even explore seemingly "third rail" subjects like democracy and political governance. In fact, in the mid-2000s, an official in the Translation Bureau of the Central Committee,
Yu Keping
, made a splash with his essay "Democracy is a Good Thing".
In my occasional search for contemporary Chinese political studies, I stumbled upon an interesting new study. Titled "What Kind of Democracy do Chinese Want?", it's a study from the leading state think tank in China, the Chinese Academy of Social Sciences. Zhang Mingshu, the study's author, apparently hopes to distinguish between different types of "democracies". He explains thusly:
Generally speaking, one type is Western democracy. It originated from Greece ... and through the catalyst of the Renaissance and Enlightenment, produced the type of democracy we see today in the United States and England. But another type is China's democracy today, which we call "socialist democracy with Chinese characteristics."
At this point, groans are emanating from astute China analysts about how such arguments typify Chinese political discourse today. What's more, Zhang goes on to say that his exploration of the kind of democracy Chinese want is largely determined by the existing political and civic culture, citing the work of American political scientist Gabriel Almond on how specific civic cultures can shape the type of political system. This, of course, sounds awfully close to the longstanding debate over the lack of suzhi -- loosely translated as civic values -- that make Chinese society unprepared for major systemic changes.
But putting aside these issues for now, some of Zhang's key findings nonetheless may offer some insight into the current state of political attitudes among Chinese, particularly of a younger generation of Chinese. [I can't vouch for the soundness of the methodology, but the author claims that he conducted a survey with 1,750 random samples across four different regions in China. Each of the participants was given a 40-question survey to fill out.]
Table 1.1: Is democracy a good thing?
| | | |
| --- | --- | --- |
|   | Number of respondents | % of respondents |
| Good | 961 | 54.9 |
| Not good | 47 | 2.7 |
| Can't generalize, has to be in context of whether it is appropriate for China's current conditions | 703 | 40.2 |
| Other | 0 | 0 |
| Don't know | 39 | 2.2 |
Table 1.2: Is democracy a good thing? (age breakdown)
| | | | | | |
| --- | --- | --- | --- | --- | --- |
| Age cohort | Good | Not good | Can't generalize, has to be in context of whether it is appropriate for China's current conditions | Don't know | Total respondents |
| 18-21 | 44.1% | 3.6% | 50.5% | 1.8% | 111 |
| 22-31 | 48.3% | 2.1% | 47% | 2.6% | 387 |
| 32-41 | 50.6% | 1.9% | 46% | 1.5% | 411 |
| 42-51 | 63.6% | 2.7% | 31% | 2.7% | 365 |
| 52-61 | 58.3% | 3.1% | 36.2% | 2.4% | 290 |
| 62-71 | 61.4% | 5.5% | 31% | 2.1% | 145 |
| >72 | 65.9% | 0 | 31.7% | 2.4% | 41 |
| Total | 54.9% | 2.7% | 40.2% | 2.2% | 1,750 |
Table 2.1: Is China better or America better? (meaning models)
| | | |
| --- | --- | --- |
|   | Number of respondents | % |
| China is better than America | 666 | 38.1% |
| America is better than China | 140 | 8% |
| They have different national conditions, can't be simply compared | 901 | 51.5% |
| Don't know | 43 | 2.5% |
Table 2.2: Is China better or America better? (meaning models)
| | | | | |
| --- | --- | --- | --- | --- |
| Age cohort | China better | America better | They have different national conditions, can't be simply compared | Don't know |
| 18-21 | 22.5% | 18% | 55.9% | 3.6% |
| 22-31 | 25.1% | 12.1% | 60.7% | 2.1% |
| 32-41 | 35.3% | 7.5% | 55% | 2.2% |
| 42-51 | 41.4% | 6% | 49.6% | 3% |
| 52-61 | 48.3% | 4.5% | 43.8% | 3.4% |
| 62-71 | 55.9% | 4.8% | 39.3% | 0% |
| >72 | 65.9% | 0% | 31.7% | 2.4% |
There is plenty more data from the study (including breakdowns based on educational attainment), but a couple things stand out here. One, there is a clear generational difference, particularly between the post-1980s generation (the so-called
 balinghou
) and those who are older and lived through a more tumultuous era in Chinese modern history. Two, there appears to be a shift to a centrist attitude, also more pronounced among the younger cohorts ("left" in China traditionally meant more hardcore communist/socialist or neo-Maoists and "right" typically meant more pro-West and pro-market). Overall, more than half of the respondents hold a more nuanced view that the Chinese political system cannot simply be compared to that of the United States, presumably implying that each has its own strengths and weaknesses.
In
an interview
with the liberal Guangdong paper
Southern Weekend
, the author further explains his findings (select translation below):



SW: For similar questions, what was the biggest difference in results this time (Zhang had conducted a virtually identical survey in the 1980s)




Zhang: There was a new focus this time, particularly in terms of the delineation between "left, right, and center." The survey results show that the percentage on the "right" is lower, on the "left" higher, and the majority of the public seems to be moving in conjunction with the mainstream media. These three findings were contrary to my expectations. When I did the survey in 1988, there was clearly a much higher proportion of pro-West views among the respondents. That was the early reform era, and society was embracing all things Western ...




... According to these findings, 38.1 percent of the respondents are considered "left", 51.5 percent "centrist," and 8 percent "right." I was not anticipating these results. But if you calmly and rationally think about the people around you, not just those in intellectual circles, but those from your hometown or those you encounter on the street, these percentages aren't too far off. 




SW: In your view, will there be some kind of collision among the three groups you identified above?




Zhang: The study shows that whether your political attitude leans toward liberalism/libertarianism (or "right") is somewhat positively correlated with the level of educational attainment. But at the same time, the higher the level of education, the higher the tendency of taking a more moderate and pragmatic political view. So we can roughly generalize that the more "cosmopolitan" the respondent, the more likely he or she will lean toward centrist or to the right ...




... The mainstream intellectual classes in China today all basically have their own vested interests. If they deviate from the mainstream path even a little bit, they will see their interests damaged. So they can only act in moderation and accommodate the current institutional arrangements. 




Will the intellectual elites collide with other social classes over different political views and values? I think a lot of this is still dependent on the decision-makers in taking the initiative, in proactively understanding and incorporating both from the elites and other social classes and examining the issues comprehensively. 




SW: In your findings, a large proportion is considered "political centrists." You believe that this has a strong relationship with the growth of the middle class. But in China, scholars continue to heatedly debate what kind of people are considered middle class, how many are actually in the middle class, and are the middle class' political views more radical or more conservative. In other words, can we then say that China's "political centrists" are also a highly variable group? 




Zhang: Yes. For the sake of this study, we basically equated those who shared the view "They have different national conditions, can't be simply compared" to political centrists ...




... In reality, decision-makers are by and large centrists. On some issues they may take a position slightly to the "right" and on others, they take a more "left" approach. This often amounts to murky and fuzzy policy adjustments, and that's intentional too, to prevent Chinese society from falling into the extreme conflicts of the past. 






Now what to make of all this? Many will likely dismiss these findings as simply a study meant to provide some intellectual heft for perpetuating the current status quo. Or perhaps the official narrative and media are simply driving these attitudes. At a minimum, surveys like these bolster emerging Chinese public intellectuals who are championing Chinese exceptionalism, like Eric X. Li, contending that China needs an indigenous model, excavated from Chinese soil, not something borrowed and repackaged from the West. 
Whatever the reasons or causes, I'll contend that they are somewhat irrelevant. What is more important is to further determine whether these findings are in fact representative of the prevailing political reality in China today. If this shift is indeed happening on a large, generational scale and will endure, then foreign observers may need to adjust their expectations about what kind of China we may see when the post-80s generation rise into positions of power.
Of course, nothing is preordained, and I have few answers. But I do know that grasping this political reality is as, if not more, important than whether GDP grows at 7 percent or 7.5 percent.