Why Nobody Trusts China's Courts
A murderer's confession puts the public's faith in the judiciary to the test.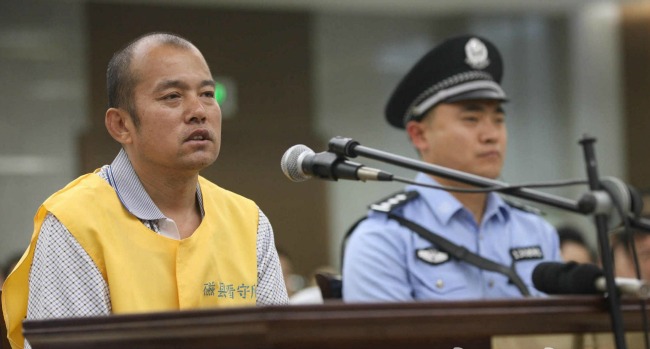 Wang Shujin addresses the Higher Court of Handan City on June 25. (Weibo)
At 9:00 am on the morning of June 25, Wang Shujin was escorted into the Higher Court of Handan City, Hebei province. More than 200 seats in the courtroom's public gallery were occupied. In 2005, the 46-year-old man was arrested on charges of raping and killing three women in 1994 and 1995. In 2007, he was sentenced to death.
What makes Wang's case unique, however, is that he insists his guilt in a fourth murder, but prosecutors have sought to invalidate his confession and affirm his innocence. Scholars say Wang's trial will test the impartiality and integrity of China's judicial system, as well as the public confidence in the judiciary. The verdict, nearly 8 years in coming, has been deferred once again.
The crime to which Wang Shujin has now confessed was thought solved long ago. Another man, Nie Shubin, was executed for raping and murdering the woman in a corn field in Shijiazhuang City, Hebei Province. Wang Shujin has claimed he was the real murderer and is appealing his death sentence, asking for leniency owing to his confession to a fourth murder case. The greatest controversy of the trial is whether Wang Shujin in fact killed the woman -- meaning Nie Shubin was grievously wronged -- or was just trying to reduce his sentence. According to Article 68 of China's Criminal Law, any criminal who not only voluntarily surrenders after committing the crime but also performs major meritorious services shall be given a mitigated punishment or be exempted from punishment.
The courts have repeatedly dismissed Wang's confession and invalidated his appeals upon a finding that Wang's descriptions of what he said he did deviated significantly from crucial evidence found at the crime scene. The official Sina microblog of the Hebei Provincial High Court listed the contradictions: "1. The neck of the victim was tangled with a floral shirt and Wang Shujin did not mention that in his confession. 2. The victim was smothered while Wang Shujin said he strangled and trampled her to death. 3. The times of murder do not match. 4. The heights of the victim do not match either."
Prosecutors argued that Wang Shujin was able to provide some accurate details about the murder only because he worked in a factory near the corn field, and so was familiar with the surroundings.
Since 2005, when Wang was first arrested and confessed to the murder, the trail has been highly anticipated. He has been seeking a reduced sentence since the first trial on March 12, 2007.
On February 22, shortly after the Chinese New Year, law professor Xu Xin wrote on Weibo: "In the new year, we will stick to Nie Shubin's case and never surrender." The tweet was forwarded more than 290,000 times. Denunciation of the courts was prevalent among the over 30,000 comments. The absurdity of the trial has generated disappointment, complaints and exasperation among the public, scholars, lawyers and public intellectuals.
The Oriental Morning Post, a newspaper based in Shanghai, summarized the trial in just three lines: "Wang Shujin: I killed the person. Defenders: Yes he did. Prosecutors: No, he did not." The sarcastic post was forwarded more than 4,000 times and imitated the Weibo account of The People's Daily, the online presence of the Party mouthpiece paper.
Zhu Zhiyong, a columnist, tweeted: "The Hebei prosecutors reject Wang Jinshu's confession outright. It is the flagrant blaspheming of the law and the darkest moment in the history of the judiciary. Jurisdiction should be handed over to another court." He called on the National People's Congress to set up a judicial investigation team.
Even the criminal Wang Shujin, convicted of killing and raping three other women, seemed to be more popular among people than the Hebei court that was determined to affirm his innocence. A popular Weibo user named Writer Tianyou hailed Wang Shujin as a warrior fighting for the reputation of an executed man he never met, while describing the prosecutors as devils.
Beyond simple indignation, the trial has generated discussion of the deeper aspects of the case among some prominent figures.
Xu Xin, a professor of law at the Beijing Institute of Technology, published an article a day before the trial entitled Expect Judicial Justice in the Name of Mothers, expressing great admiration and compassion for Nie Shubin's mother, Zhang Huanzhi. He wrote, "Zhang Huanzhi is struggling for the redemption of the judiciary in the name of mothers. To overturn Nie Shubin's wrongful conviction is not only to give an explanation to Nie's family but also to fulfill a promise to all Chinese mothers that the judiciary will not wrongly kill their children."
Why was it so difficult to launch the retrial? Who was blocking the proceedings? Xu Xin gave an answer:
Firstly, the High Court, which was responsible for Nie Shubin's final sentencing, could not possibly rectify its own wrongdoings. Additionally, this case involved police, prosecutors, a Political Committee, a Party Committee and the administration. If it was overturned, all of the parties would have to be held accountable. Many people in power had to collude to block the proceedings of the retrial. The deepest reason is that China's court system is not an independent entity, and it is subordinate to the administrative department. The court and procuratorate act as branches or extensions of the Party and government.
Some scholars contesting the proceedings in other ways. He Weifang, a highly respected constitutional scholar at Peking University, commented on the verdicts: "I think Wang Shujin has performed major meritorious services because he insists on taking responsibility for a forth crime, and he has thwarted the movers and shakers from covering up the wrongful conviction."
He also asked, "Why has the procuratorate deferred the presenting of the evidence? Why couldn't this have happened at some point during the past eight years? What evidence was presented in this trial? Did any witnesses attend to be questioned by the lawyers? Most importantly, was the court neutral? How opaque!"
Some declined to judge whether Wang Shujin or Nie Shubin was the guilty party, arguing that suspects must be presumed innocent until proven guilty. Mao Lixin, an expert in criminal procedure law, elaborated on this point:
There is not adequate evidence to sustain Wang's guilt or Nie's conviction. Under these circumstances, the principle of 'innocent until proven guilty' should apply to the trial of Wang and Nie. The court did not convict Wang of the Shijiazhuang's murder now, nor should it have convicted Nie then. The sentencings in Nie's first and second trial were too simplistic and rough to tolerate. Regardless of historical reasons, it reflected the nation's perfunctory and arbitrary attitude toward its citizens' lives. Only by implementing the principle of 'innocent until proven guilty' can the criminal judiciary make substantial improvements and establish rule of law.
It is not hard to understand the landslide of rebuke of the court and support for Nie Shubin's innocence, given what happened to the Nie family and the extraction of Nie Shubin's confession by torture.
According to a lengthy report from Southern Weekly, Nie Shubin was 20 in 1994. By all accounts, he was introverted and honest. On September 14, several policemen arrived at his home, where Zhang Huanzhi was working and Nie Shubin had not been at home since the night before. The police told Zhang that Nie Shubin was suspected of committing a crime and was apprehended the previous night.
The police did not fully explain the charges during repeated visits, and the family remained unaware of the charges against Nie Shubin; they even held a joyful wedding for Nie's sister as they had earlier planned.
One day, Nie Shubin's father, Nie Shusheng, received the arrest warrant at the factory for which he worked. The words claiming Nie Shubin was convicted of murdering and raping shocked him immensely. Asked by the police to sign his name on it, Nie Shusheng snarled: "No! My son is not the kind of person who would do such a thing!" "Sign it," the police said, "Your son has confessed."
On October 26, the Shijiazhuang Daily published an article detailing Nie Shubin's crime. The author claimed Nie Shubin was riding bicycle when he was apprehended at the scene of the crime: "He admitted to nothing but molesting the woman at first. But with the police's ingenious use of psychological methods and evidence, the barbaric perpetrator confessed to his crime after a week of interrogation."
From Nie Shubin's capture to his execution in April, 1995, Zhang Huanzhi only saw her son once.
After the execution, Zhang Huanzhi began the long journey of petition and appeal. Nie Shusheng could not accept his son's conviction and death, and attempted suicide twice. He has been bedridden and paralyzed since 1996.
In 2005, Wang Shujin was arrested and confessed to four cases of murder and rape, including that of Nie Shubin's case, stunning the entire country and the Nie family.
However, this twist of fate has not, as of yet, affected Nie Shubin's case. In an interview with the Oriental Morning Post on June 25, Zhang Huanzhi said she has gone to the High Court of Hebei Province every month for the past eight years to appeal to overturn her son's sentence and she has always been told to "wait for notice at home."
The public and legal scholars suspect that Nie Shubin was wronged because the courts have been delaying their response. Nie Shubin was convicted based solely on his confession -- which many believe was forced. Aside from his oral confession, prosecutors did not prove his guilt with witnesses or physical evidence such as fingerprints, blood, or semen.
In recent years, many staggering injustices similar to Nie's case have come to light. In part due to assuming suspects are guilty and requiring that their innocence be proven, instead of the other way around, Chinese courts have maintained a very high conviction rate -- 99.9 percent in 2009, according to official statistics -- so it is no surprise that some of those who stand trial are wrongly convicted.
In March 2013, Zhang Hui and Zhang Gaoping were released from jail after serving 10 years for being convicted of raping and killing a girl whom they gave a free ride. In 2011, a famous lawyer named Zhu Mingyong and a respected prosecutor named Zhang Biao succeeded in soliciting the High Court in Hangzhou City in Zhejiang Province to reinvestigate and retry the case. It was found that the DNA left in the victim's nails matched the DNA of a criminal who was convicted of rape and murder and executed in 2005. The Zhangs said they were tortured for multiple consecutive days and nights to confess.
In May 2010, Zhao Zuohai was released from jail after serving 11 years because the victim named Zhao Zhenshang whom he was convicted of murdering in 1999 returned. It was found that the victim's body had been misidentified by the family as Zhao Zhenshang.
In May 2005, after serving 11 years, She Xianglin was acquitted because his wife, whom he was charged with murdering in 1995, went back home for a visit. She had moved to another province and remarried. In April 1994, the police found a body and determined it was She Xianglin's wife and that he had killed her. She Xianglin said he was tortured for ten days and ten nights.
Other well-known injustices include Du Peiwu's case,Wu Daquan's, Hutengjile's,Zhang Zhenfeng's, and Teng Xingshan's. These and other cases continue to erode the Chinese people's belief in their judiciary and government. Wrote Xu Xin, "Nie Shubin's case might be the last straw that causes the judiciary to collapse."
Zhang Huanzhi has said that she looks forward to the trial, scheduled to take place, but worries that justice will be deferred again and again, and that her son's name will not be cleared before she dies. Though the verdicts have continued to disappoint, she has stated: "I will take good care of myself and conserve my strength to keep on appealing."