Who Will Take Care of China's 'Left Behind Children'?
While their parents work in faraway cities, the country's rural youth are often neglected. What can be done to help them?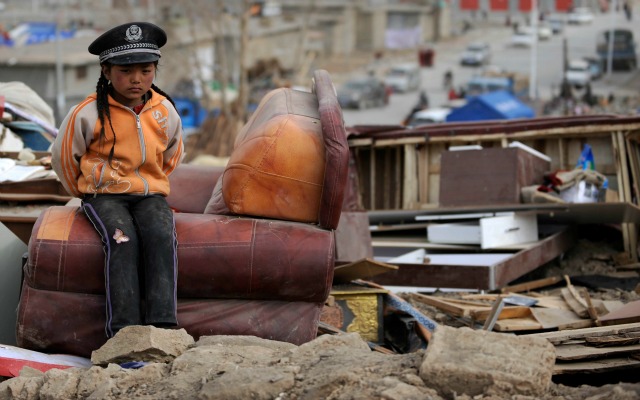 As reports of sexual assault and even murder of children have triggered public debate in China, the safety of the country's youth has become a recurring issue. A July 4 incident in which two left-behind children suffocated to death when accidentally trapped in a wooden box recently inspired one microblogger to call for greater care for the safety of an even more vulnerable subset of China's youth, the so-called "left-behind children," or those who remain in rural areas while their parents earn a living as migrant workers in China's big cities. Shared over 15,000 times, the post was cause for reflection about the roots of this problem, and ways it might be addressed. Weibo user Read Society wrote:
Recently, a number of left-behind children have died in accidents across the country, casting an even darker shadow on the issue of the safety of left-behind children. Their parents are working far away, and their grandparents have weak safety awareness. Truly, we are worried for these left-behind treasures! Where is a safe, secure home for them?

The post was accompanied by checklist that children and their caretakers could use to improve home safety. Left-behind children are more likely to experience suffer injuries than children who live with their parents, and have high rates of both psychological problems and juvenile delinquency. Being subject to less supervision, left-behind children are also more likely to be kidnapped and sold by human traffickers.
Some commenters had little sympathy for the parents of left-behind children. Wrote one, "If you don't have any ability to raise them, then don't have any." Others were more sympathetic to the pressures that gave rise to the phenomenon. "Who wants to leave their homes behind?" Asked Weibo user @zp赖慧, "Who doesn't like to spend time with their children, and watch them slowly grow up? Is that possible in today's materialistic society? In our village, if you don't leave to be a migrant worker somewhere, there's no money to be made planting crops at home!"
Some users called for the government to do something, or think of a solution, and some complained that it had not done much yet. Wrote Weibo user @五言六句, "How long have people been raising this issue, and we haven't seen this country come up with an effective policy? It's negligent!"
According to recent reports, left-behind children number more than 60 million in China. Economic pressures require many rural residents to leave their sons and daughters in the care of their grandparents or others to earn a living in China's more developed cities.
Many factors have driven and perpetuated the left-behind phenomenon. Heavy investment in cities like Shanghai and Beijing has exacerbated the rural-urban divide, while creating a need for migrant workers in sectors such as construction. The hukou registration system makes it difficult for the children of migrant workers to receive education and medical care in cities -- even if their parents wanted to bring them along, they might find it difficult. Sweeping, multipronged policy change may be slow, but awareness of the issue is increasing rapidly as traditional and social media focus in on individuals -- like the two unfortunate children who died on July 4 -- who have fallen through the cracks.