Unable to Cope: China's Inadequate Care of the Mentally Ill
A recent spike in violence -- as well as an escape from a mental hospital -- has highlighted the country's need for better psychiatric care.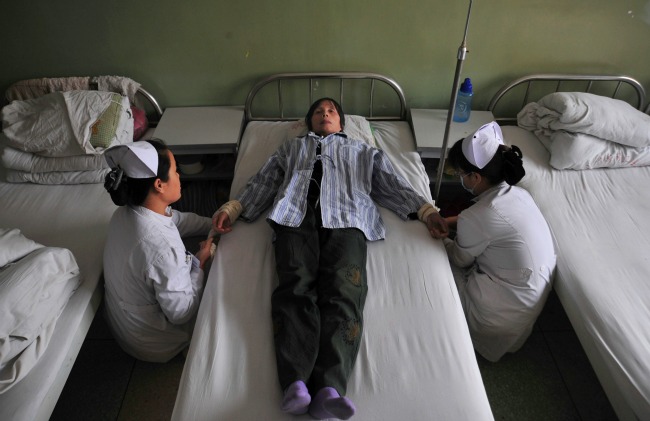 On July 5, 42 psychiatric patients escaped from the No. 3 People's Hospital in Teng county, Guangxi province, in southern China. The escaped patients were later found and recaptured several miles away. It wasn't long before another incident occurred. 12 days after the thwarted escape, two people, a foreigner included, were killed by a knife-wielder, later confirmed to have a mental illness, during rush hour in a popular shopping mall in Beijing. This may just be the tip of the iceberg, showcasing how serious mental health problems have become in today's China.
Statistics released by China's National Center for Mental Health showed that as of the year of 2009, 100 million Chinese suffered from mental health problems with more than 160 million citizens afflicted with serious mental illnesses such as schizophrenia and paranoid psychosis. Such figures indicate that one in every 13 Chinese in 2009 had a mental health problem. Back in the 1950s, the reported ratio of Chinese adults suffering from mental illness was just 2.7 percent, or one in every 37 Chinese citizens.
As for Beijing, where the aforementioned knife attack took place, 71,000 have recently been documented as suffering from serious mental disorders. In fact, a Lancet study in 2011 estimated that the incidence of mental disorders in China increased by over 50 percent from 2003 to 2008. As the number of those reported to suffer mental disorders has increased, some have complained that authorities have not kept pace.
Focusing on the recent spate of violent incidents, Weibo user @躺下听风雨 remarked: "If [similar incidents] occur again, I think the government should take responsibility. They just throw people into society and take care of nothing."
While China has made recent efforts to expand insurance coverage , they have been insufficient; in recent years, only 45,000 people had been covered for free outpatient treatment and only 7,000 for free inpatient care. In Beijing, for example, only around ten percent of the mental patients are provided with inpatient treatment. The rest receive none, either because they cannot afford related fees or because hospitals do not have the space for them.
While some are shocked by theses recent headlines and figures, user @验证狗啊验证 argued that Chinese families provide a much-needed support system: "Most of China's mentally ill are being taken care of by their family and are out there in society." But the comment then took a darker turn: "Do not underestimate your possibility of 'having bad luck'. If you run into them someday, just remember to thank your country at the point of death."
This comment, however, implies certain problematic links between mental illness and violent behavior, a prevalent stereotype in China, where the mentally ill are thought to be more violent than so-called "normal" people and thereby represent a potential risk to public safety. From time to time, when news about mental patients harming others comes out, comments as reckless as one by user @静悟得慧, "why let them out [of asylums or homes] to injure people?" go viral online.
Although a link between violence and mental illness has not been proven, these public perceptions, along with unprofessional and even problematic media coverage of cases of violent behavior involving people suffering from mental illness, have given rise to and perpetuated the stigma towards, as well as the discrimination against, the mentally ill in Chinese society.
Research has shown that although Chinese domestic media do not overtly discriminate against the mentally ill, most of their coverage of stories involving mental illness tends to be negative. For instance, mental patients have mostly appeared in the media as victims or perpetrators of crimes, and unlike physically ill patients, what they receive from the media is deliberate avoidance, indifference, or worse, ridicule.
Fan Baoli, the former chief of a hospital in Tianjin, China, argued that while some mental patients can be cured, many find it tough to interact socially after long stays in hospitals. He also noted that, "society has exhibited discrimination against them, making their reintegration harder."
This rejection affects not only patients but also their caretakers. "People worry that my mental status is also disordered because I am dealing with mental patients every day," said Wang Di, a psychiatrist at Beijing's An'ding Hospital, in an interview with the Beijing News, "A couple of years ago, I was supposed to go on a blind date, but when the guy was told that I was a psychiatrist, he refused to meet me."
Insufficient treatment options and the lack of professional psychiatrists in China contribute to the country's mental health problem, and also leave professionals in the field underpaid and overworked. Guo Hongli, the vice-chief of the Beijing Municipal Mental Health Maintenance Institute, has stated that psychiatrists are engaged in low-paying, high-risk and low social recognition careers.
Worldwide, there are four psychiatrists and thirteen nurses for every 100,000 people. In China, the ratio drops to 1.5 psychiatrists and 2.2 nurses per 100,000. This shortage can sometimes have dangerous consequences. Hu Chaoyuan, the deputy director of the Guangxi hospital from which patients earlier escaped, has frankly admitted that a lack of hospital staff and security personnel was partly responsible for the incident.
Every city has mental health care centers, but they charge patients a lot; some families just cannot afford it. [Yet] once a patient suffers an outbreak of mania, his or her family members are not able to handle it. In this case, they are in need of government help ... the government should offer them a subsidy so that the patient can afford inpatient treatment at those mental health care centers. It would be [even better] if the government could provide free inpatient treatment.
---
This post first appeared at Tea Leaf Nation, an Atlantic partner site.