The Rise and Fall of China's Great Railway Boss
The death sentence of Liu Zhijun, who spearheaded the country's high-speed rail boom, signals the end of an era marked by boundless ambition.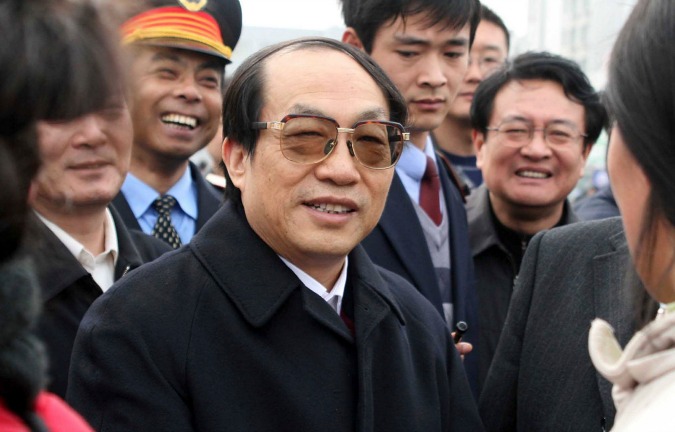 Former Railways Minister Liu Zhijun, in happier times. Liu received a suspended death sentence for his role in a bribery scandal this year. (AP)
Yesterday, Chinese state media reported that former Railways Minister Liu Zhijun received a suspended death sentence for accepting more than $4 million in bribes and helping 11 people receive promotions or lucrative contracts. By Chinese standards, these numbers aren't huge, and Liu seemed, on the surface, to be just another politician nailed in a corruption scandal.
But Liu Zhijun wasn't just any politician and his department -- railways -- wasn't just any other portfolio. (Literally: China's rail network even had its own department, separate from the Ministry of Transportation). And though the evolution of the train system is just one story in the tapestry of China's recent economic history, no other subject better symbolized the country's boom -- and the risks associated with it -- than the railways.
By any standard, the transformation of China's rail network has been astounding. When Liu Zhijun assumed his post in 2003, he inherited a creaky system affectionately known as the "iron rooster." Though extensive -- after all, it serviced the needs of over a billion people and the world's fourth-largest country by land mass -- Chinese trains were slow, antiquated, and inefficient. Under Liu's direction, and the enormous financial backing of the state, China embarked on a high-speed rail construction project unmatched in scope and ambition around the world. Consider this: Until 2011, the train linking Beijing and Shanghai took no less than 10 hours, and usually much longer than that.  Now it just takes four. The train from Shanghai to Chengdu, capital of distant Sichuan Province, once required an arduous 30 hours. Now, this trip needs only 10. By last year, high-speed trains in China criss-crossed over 5,000 miles of land in the country, more than anywhere else in the world.
China's rail explosion hasn't gone unnoticed elsewhere in the world. President Obama earmarked a record $8 billion for high-speed rail as part of the $787 billion stimulus package enacted in 2009, encouraging rail backers that, finally, the car-loving United States would embrace passenger rail. It hasn't happened. And while American politicians bickered and Tea Party activists roared their disapproval, China's high-speed rail plan continued apace, prompting the president to mention Chinese trains in his 2011 State of the Union address. The system that "Great Leap" Liu, so named for his boundless ambition, built almost perfectly encapsulated China's march to prosperity.
But beneath China's great railway expansion was a dark underbelly: there were reports of rushed construction deadlines, shady deals, and corners cut. As long as the trains kept running, nobody seemed to mind. But then on a summer night in 2011, two high-speed trains collided near the city of Wenzhou, killing 40 and injuring nearly 200. Beijing's propagandists rushed to quash the news, burying the explosive story in official media. But it was too late: passengers on the scene photographed and tweeted accounts of the crash, and within days China's government faced its worst public relations incident in years.
The Wenzhou collision was officially an accident -- the result of lightning striking a faulty signal box. But it was difficult to escape the sense that corruption played a part. By then, Great Leap Liu was already out of the picture, felled by his bribery scandal, but in response to the accident China quietly scaled back its ambitions for high-speed rail. Trains reduced their maximum speed by 50 kilometers by an hour. 70 percent of projects were delayed and suspended in 2012. China, a country used to finishing its projects ahead of schedule, was suddenly wondering if its investment in high-speed rail was even worth it.
Indeed, this skittishness toward high-speed rail, almost unthinkable during Liu Zhijun's heyday, is indicative of a new, more tentative mood in China. President Xi Jinping and Premier Li Keqiang have warned that the economy will slow in the coming years, and have hinted that mid-level officials will no longer be judged solely on their ability to foster growth. In addition, the new regime has vowed to tackle corruption, a problem that the former Premier Wen Jiabao judged to be an existential threat to Communist Party rule. Many of these changes are symbolic -- Xi, for example, has cracked down on extravagant banquets and has asked China's politicians to consider carpooling -- but he has also tossed a few big-shot offenders in prison.
Will it work? Already, there are signs that China's ingenuous politicians have discovered ways to evade Xi's new austerity measures, and the Party still dutifully quashes grass-roots movements against corruption. Furthermore, arresting officials doesn't change the fact that, in China's hierarchical system, politicians are not held accountable by the public they serve and thus have little incentive to play by the rules.
One thing is for sure -- no Railway Minister will ever amass Liu Zhijun's power again. That's because in March, the Chinese government decided to split the powerful institution in half, moving some functions over to the the Ministry of Transportation, while a new company called China Railway Corp. assumed responsibility for commercial functions. The breakup has a number of financial implications, but also sends a message that Xi Jinping did not want to throw Liu in prison just to see another crook take his place.
Few expect China to actually put Liu Zhijun to death: Like most bureaucrats who receive a suspended sentence, he will likely serve a prison term instead. And as he stood before a judge, the once-powerful minister apologized -- in a nod to President Xi's new slogan -- for failing to achieve "The Chinese Dream." But for a significant period in China's recent past, no other man embodied it more.