The Precarious Lives of Criminal Defense Lawyers in China
Poorly paid and subject to government pressure, China's small but stubborn group of weiquan nonetheless continue to fight for the country's accused.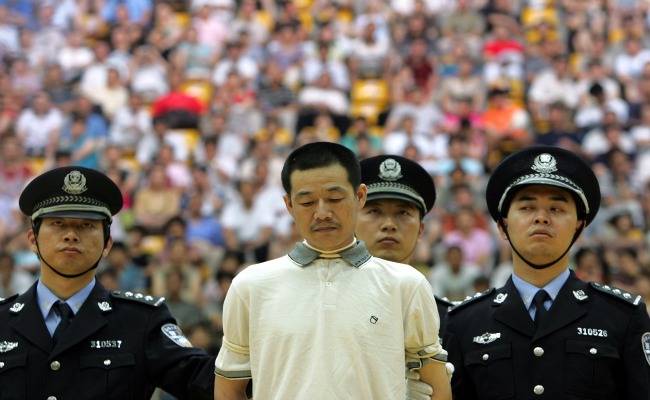 In November of 2012, Li Jinxing saved a man's life. He didn't lift a car or hurl himself in front of a bullet. But, considering the history of capital cases in China, he did something just as extraordinary: he delivered a "not guilty" verdict for his client, Lei Lijun.
Mr. Li is a criminal defense lawyer and a veteran of Beijing's slowly-developing weiquan (rights) scene. To call him a "lawyer," however, may give Western readers the wrong idea. In America, this profession carries with it a certain prestige, not least because of the princely sums many lawyers earn. In China, by contrast, most lawyers earn a living and not much more. Only a few, retained by big, multi-national corporations, ever get really rich.
In America, moreover, lawyers face relatively little personal risk: one performs legal duties, then goes on with one's life. This is fairly axiomatic in the world of patent law, or mergers and acquisitions, or private equity. But even those representing terrorists, pedophiles, and other "low-lifes" are generally accepted as an important part of America's adversarial legal system. Sure, American attorneys who invest heavily in a case, à la A Civil Action, open themselves up to heartbreak. Still, they can show up to work secure in the knowledge that certain extreme forms of retribution -- having loved ones abducted, for example -- are off the table. Beijing's weiquan lawyers, on the other hand, have learned from experience that everything is in play.
I traveled to Beijing last Christmas to meet Liang Xiaojun, a 12-year veteran of criminal defense law. We had been introduced several months earlier by a British NGO that works to strengthen rule of law and increase access to justice in China. Mr. Liang is known for defending members of the Falun Gong, a religion that earned itself "illegal" status in China when members spoke out against the Party. As one of the charity's most active "men on the ground," he was simultaneously involved in a handful of projects, including one (rather long-term) to abolish the death penalty in China.
As an intern at the aforementioned NGO, I was assigned to research and write up theoretical and practical arguments against capital punishment. When that report was finished, I interviewed program officers and other personnel at organizations sympathetic to our cause -- Human Rights Watch, Reprieve, Amnesty International -- to better understand the inner workings of their campaigns. Did they think similar campaigns could succeed in China? They did not. What did they think of China's prospects for abolition? Answers ranged from "Forget it, as long as the [Chinese Communist] Party is in power" to "Give it 100 years; then we'll talk." Their less-than-rosy prognosticating aside, Mr. Liang devoured my reports without waiting for the translation.
For several months, on Skype, I helped him unpack and understand the capital punishment literature and experiences of other abolitionist organizations in Asia. On a few occasions he has interrupted our sessions, apologetically, to answer the door. While the video call continues, the camera aimed at the white-washed wall of his apartment, I can make out his painfully polite conversation with the policeman off-screen: "No, I won't stay in Beijing throughout the Party Congress. Don't worry. I will leave tomorrow for my hometown. I'm sorry, I can't talk now. I have an English lesson. My teacher is waiting. I'm sorry."
Mr. Liang tells me the police "invite" him for coffee every couple of weeks to inquire about his movements. "What are you doing these days?" they ask. "What are your plans for the next few weeks? Are you in touch with any foreigners?" Like the other lawyers I speaks to, Mr. Liang doesn't disguise what he does. He says he answers the authorities' questions truthfully. He considers himself fortunate that he has not been worked over more thoroughly, and attributes his "luck" to the straightforward, a-political manner in which he represents his clients.
The sleeper train from Shanghai approaches Beijing Train Station at quarter-past-eight in the morning -- right on schedule. I dress, as best I can, in the tiny confines of my top bunk and clamber down to join the locals slurping their noodles and tea. Based on past visits, I am astonished to look out the window and see blue sky. The great, gray grid of the Chinese capital wears a shabby trim of snow, which fell a few days earlier. The cold is intense. I call Liang Xiaojun from the train station, who directs me to the law offices of Li Jinxing.
Emerging from the subway, I recognize Mr. Liang from our video chats: a kind-faced Hebei-native with thinning hair and even thinner glasses. He greets me with a wide, slightly asymmetrical smile -- which gathers one side of his mouth into a dimple -- and a torrent of "Very nice to meet you"'s, his fluency leaving him in the excitement of the moment. Together, we ascend 17 floors to Mr. Li's office; the crowded elevator stops several times along the way, and each time grim-faced locals force their way on, repeatedly setting off the "overweight" alarm.
Li Jinxing's office consists of three private side-offices arrayed around a center room, all white-washed and tastefully furnished with dark wood desks. It is deliciously warm -- in northern China, where the winters are punishing, the government runs boiled water through the walls in pipes. A group of lawyers have congregated -- whether because of my visit or as a regular bit of fraternizing, I am not sure. I recognize another collaborator from Skype: Mr. Wen Haibo.
Mr. Wen is an earnest man in his early 30s with a round, almost child-like face. In the months we had worked together, I had been struck by his self-possession and evenness of temperament. Although younger than the others, he has a wife and child. His formal career as a lawyer has already ended, too. After earning his law degree in 2001, he moved to Beijing and began representing small businesses. In 2004, he met Gao Zhisheng, the now-disbarred rights lawyer famous for his dauntless defense of journalists, Falun Gong, Christians, and just about everyone else. It was a transformative meeting. Mr. Wen dropped everything and joined Mr. Gao's practice.
It did not turn out to be a smart career move: Unlike Liang Xiaojun, Mr. Gao was never shy about his political opinions. While the two were colleagues, Mr. Gao excoriated the government in one open letter after another, published a memoir detailing his weeks of detention and torture, and urged the EU and U.S. to boycott the Beijing Olympics. His free speech spree ended as they typically do in China -- with imprisonment and more torture. Because of his ties to Mr. Gao, the Bureau of Justice forbade Mr. Wen from taking any more "special cases." However, when Mr. Wen began his search for a new law firm, rejection after surprise rejection drove home the truth of the matter: the Bureau had blacklisted him for good measure. After a period of being unaffiliated, Mr. Wen was stripped of his license, as per Chinese law.
My host, Li Jin Xing, got his start in intellectual property law and eventually built up a thriving Beijing practice. Today, this side-project brings in enough money to finance his rights work, much of which is unpaid. Despite his humble beginnings in the weiquan community, Mr. Li says, cops are now his constant companions. They tail him most everywhere he goes. Often, when he meets with clients, police camp outside the door.
At the time of my visit, he seems to be inviting more of the same with his new enterprise, the Shu Bin Legal Aid Center. Mr. Li wants to hand-pick a team of China's most capable rights lawyers -- a sort of weiquan All-Star Team. With so many bright lights gathered under its banner, he hopes the Center will attract donations from all corners of civil society. The funds will enable his squad to take any important rights cases that come along, regardless of defendants' ability to pay. It has the distinct feel of a rights NGO, in a country where such organizations are forbidden. Mr. Li is well aware of the government's disdain for such projects. Yet, when I ask, he is adamant that he will not compromise his vision for the Center. "As the head of this operation," I observe, a little too obviously, "you will be the first to get a visit when your lawyers defend a political enemy." "Yes," he agrees, with a resigned shrug. "I will probably get a lot more attention."
At dinner that evening, Mr. Liang, Mr. Wen, Mr. Li and I are joined by another of their lawyer friends, a vociferous, wiry man with scars on his face. He pays me little attention as he and Mr. Li engage in a fast-paced exchange about something or other; I do not even catch his name. Mr. Liang leans over and gestures at the man. "He has been tortured," he observes.
Considering the modest compensation and outsized personal risk, it is fair to ask what draws people to this field. In fact, I learned, criminal law did not feature in these lawyers' early career plans. Mr. Liang spent three years as a teacher in his home province of Hebei, but found he lacked passion for the work. He became a lawyer, he tells me, simply because he had friends in the field, and it seemed more glamorous than teaching. Mr. Wen became a defense lawyer after a chance encounter with Gao Zhisheng. Mr. Li spent his early career as a government clerk. "Most Chinese people are miserable," he tells me, and during that time he counted himself among them. One day he took stock of his life and decided that "being a lawyer [would be] the happiest profession."
I can relate to switching fields in search of meaningful work. But this group, I can't help thinking, gives new meaning to the term "thankless task." When I ask about memorable moments in their careers, the lawyers grow somber. I imagine them mentally reviewing the countless men and women they had represented, along with their respective verdicts: guilty; guilty; guilty; guilty. Even Mr. Li waves my question away with a Chinese phrase I do not grasp. "He does not want to talk about the past," my translator explains. "It makes him feel sad."
And yet, when I ask whether they've ever thought about giving up, Mr. Liang, Mr. Wen, and Mr. Li each respond immediately, forcefully: "No." "Why would I quit?" Mr. Li asked me, puzzled, as if we hadn't just spent an hour discussing his daily harassment. When I ask Mr. Liang how long he thinks he can continue, he shrugs. "I will keep doing this," he says, "as long as I can."
Noting the lateness of the hour, Mr. Li offers me a mattress on the floor of a toasty corner office. I gratefully accept.
During our conversation the next day, Mr. Li suddenly rises to his feet, crosses the room, and bends to pick something up. He returns to the table with a hunk of rusty black rock, which he places between us. It is iron ore, he explains, salvaged from a mine in China's Yunnan Province. He went there to investigate the case of 40-odd miners -- the mine's entire complement -- who were all hit simultaneously with trumped up charges. With the mine "abandoned," the Communist Party was free to swoop in and nationalize it. He hauled the rock back to Beijing, Mr. Li says, as a reminder to be strong. A nice symbol, perhaps, but strength is not derived from symbols alone. What keeps these men going? After two days in Mr. Li's office, I was stuck for an answer.
Suddenly, I remember the Mr. Li's recent victory in the capital case of Lei Lijun, which had been the subject of some congratulatory ribbing when I first arrived. "What about Mr. Lei?" I ask. "Chinese courts have returned such a verdict only once or twice in the past decade. Aren't you proud of yourself?" The mood in the room shifts instantly as Mr. Li tilts back in his chair, a schoolboy's cheeky smile on his face, and ventures a rare answer in English: "Of course."
---
This post also appears at Tea Leaf Nation, an Atlantic partner site.