Inner Mongolia's Weird and Wonderful Genghis Khan Marathon
In a remote part of China, runners contend with poor guidance and water shortages -- but are rewarded with spectacular scenery.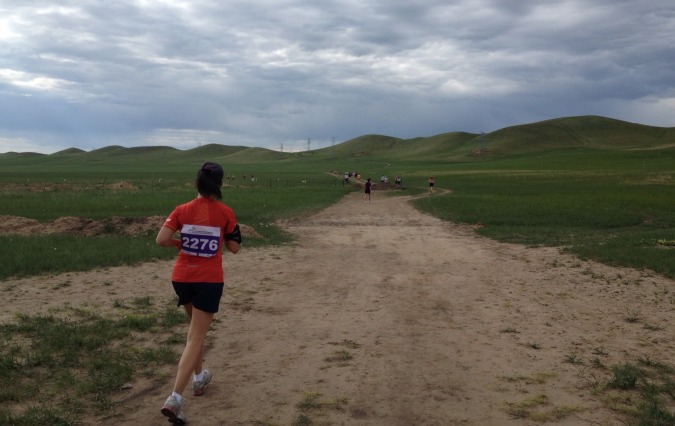 Rolling grasslands served as the backdrop of China's Genghis Khan marathon. (Debra Bruno)
These days if you don't host a marathon, you're not on the map. Disney World, New Orleans, and South Africa -- among countless other places -- have the event. Even Antarctica, which doesn't even have full-time residents, has one. And why not? Marathons are a way to attract tourism and spread a bit of publicity.
China is no stranger to marathon fever. Consider the Genghis Khan MTB Adventure & Grassland Extreme Marathon 2013 which, for the town of Xiwuqi in China's Inner Mongolia, is like a combination of the Rose Bowl, Christmas, and the Fourth of July. The 700 runners and bikers who descend on this town of 60,000 people (a village by Chinese standards) are treated like Martians or maybe African princes -- people gape, surreptitiously take photos, wave, and generally act as if Nicole Kidman or Robert DeNiro just happened to be wandering around.
Much like the public relations genius who convinced tourists to visit frigid and polluted Harbin in winter to see electric-kool-aid-colored ice sculptures, someone had the clever idea to monetize Inner Mongolia's rolling grasslands by bringing avid athletes to town.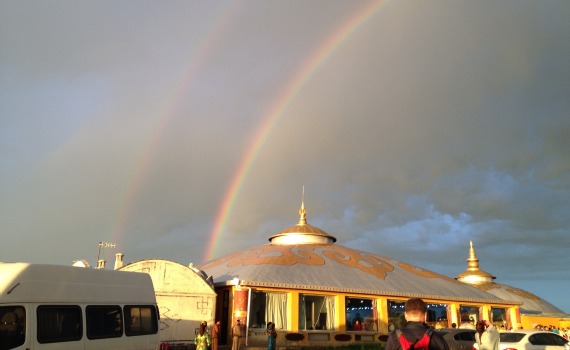 Debra Bruno
China, however, has seen a few bumps in its road to marathon tourism. Xiamen, for instance, made the news a few years back when marathon runners were caught taking public transportation to get a leg up on others, apparently in order to obtain extra points on their college entrance examinations. Beijing has a regular marathon, but the city's notorious air pollution mars the event: last year 30,000 runners faced "hazardous" air pollution at 6 a.m., two hours before the start of the race.
Other events have been more successful. There are two different marathons on the Great Wall of China, and another 100 kilometer, three-day race in Guizhou where runners sleep each night in the village homes of ethnic minority. And soon, there will be a new trail race along the Tea Horse Road in western Yunnan.
But the Genghis Khan is the granddaddy, so to speak, of China's trail races. The first Genghis Khan mountain bike race took place in 2007 and the first marathon followed the next year. Progress has been fast: By last year, the event had 500 participants, and the town of Xiwuqi is committed to another five years, says race organizer Kris Van de Velde of Nordic Ways. "Most of Inner Mongolia is only known for the mining industry," he says, so this was a way for the town to upgrade its reputation.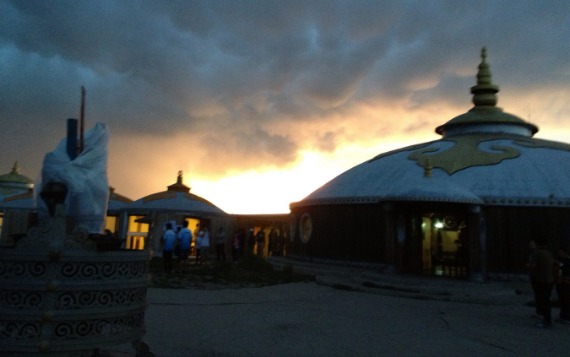 Debra Bruno
The good news is that the event takes advantage of the natural beauty of the sweeping grasslands, a place that feels far more Mongolian than Chinese: Road signs are in Mongolian first, Chinese second, and only occasionally in English. Although Xiwuqi seems to have more sheep in the surrounding hills than people living in town, the city is a drab, boxy place criss-crossed by six-lane roads. But the countryside is dotted with farms, yurts, cows, horses, sheep, goats, and the occasional patch of wind turbines that capture the constant blowing wind from the Gobi Desert. In theory, a perfect venue for a 26-mile race.
The bad news was this: the mob of 700 participants badly stretched the resources of the town and the race organizers. Buses didn't show up when they were scheduled to come, food that was promised fell short, and even though the participants were a mix of Chinese and foreign athletes, most of the helpers spoke only Chinese. My 25-year-old daughter and her boyfriend, running their first marathon, got lost on poorly marked trails and ended up running for seven full hours, dragging past the finish line in the midday sun while the Xiwuqi traffic pushed past them. Other runners said that the water wasn't available every five kilometers as promised, and the "gentle" trail had steeper hills and a harder route than advertised.
Then there was the post-marathon banquet. Held in the Mongolia Khan City, a kitschy collection of concrete yurts surrounding a vast round yurt, the feast featured the worst kind of Chinese banquet food, plus an entire roasted sheep that was brought out on a platter, its head extended toward the sky in an agonized death grimace. As the meal ended, the music began: traditional Mongolian songs, so over-amplified that our inner ears hurt, followed by a rock band, some acrobatics, and I'm not sure what else. At that point nearly the entire room had emptied out to see the better show outdoors: a sunset that managed to peek out after a rainstorm, rolling clouds, and then, the most vivid rainbow, a full arc from horizon to horizon, that I've ever seen. Suddenly that rainbow was doubled, and even the Mongolian performers rushed out of the giant yurt to take photographs of the sky.
After a night inside our concrete yurt, we rented off-road four-wheelers to take in a little more of the countryside, roaring past farms and horses and cows. We came to a hill decorated with an enormous dagger-topped pole. It marked the spot where Genghis Khan famously found his lost horses, Siriguleng and Halagatu. It stopped him -- at least temporarily -- from destroying everything in his sight, and he named the hill after those horses.
On that quiet Sunday morning, there was no sound but the wind whooshing through the grass and making it ripple like water. The race might have been disappointing, but Mother Nature definitely came through.