Here's Some Good News About China, the Environment, and California
Cooperation between the world's most populous country and the U.S.'s most populous state yields a bit of cheer.
OK, there is plenty of bad news on all three of those fronts, and this development goes only so far. But it's positive, and it's creative -- and, from my parochial perspective, it also ties together a variety of strands I've been following for a long time. So, here goes:
The Environmental Defense Fund
recently drew attention
 to a program to establish a carbon-trading market in Shenzhen -- the same factory-dense hub of activity in Southern China I've written about repeatedly over the years. (Sample of
early report
; sample of
later one
; sample
in between
.) From the EDF statement:
Shenzhen, an economically-vibrant city of 15 million on the South China Sea, launched the first of seven Chinese regional pilot carbon market systems slated to begin by the end of 2014.




The Shenzhen market is set include at least 635 local companies that contribute approximately 40% of the city's CO2 emissions, and is expected to result in a 21% decrease in the carbon intensity of the economy in just two years.  Shenzhen is one of seven carbon trading pilots that represent about 25% of China's GDP and may include thousands of companies emitting hundreds of millions of tons of CO2.
This is good in many ways: As an example of the typical Chinese "try a bunch of experiments, and then do more of what works" governing strategy. As one more sign of the type of international cooperation that matters more than any other on climate issues, joint efforts between the U.S. and China. As an illustration of the Shenzhen area's rapid evolution out of the low-wage, low-value-added, dirty-job economic model. As evidence that the Chinese government recognizes that "sustainability" in all its aspects is the very greatest challenge to the country's continued development and even the regime's survival.
And to me it is gratifying in one other way too: Apparently it reflects the fruits of environmental-cooperation efforts between China and California, and specifically the trip to Shenzhen and other cities that 
Governor Jerry Brown of California happened to be taking the day after I finished interviewing him for
my profile
last month. The Shenzhen project and the larger program of which it is part are deliberately modeled on some of the environmental measures that Brown has pushed in California during both his first and his second incarnations as governor.
As I was finishing my last interview with Brown in his downtown Oakland office, the next person who trudged up to the third-floor loft to see him was ... Liam Casey! This is the same manufacturing mogul of Shenzhen whom I have often used as a guide to that landscape. Here is a picture of him coming in to Brown's office.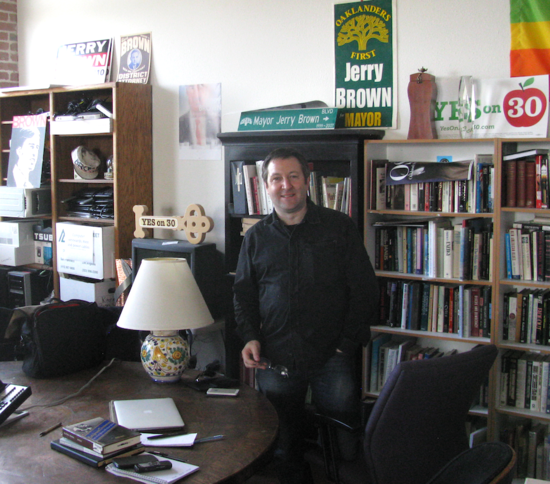 Casey announced in a Tweet today that the Shenzhen announcement was the culmination of work done during the California delegation's visit to China in April. Let's take our good environmental and US-China news where we can find it and recognize this step.