For Chinese Students Abroad, Personal Freedoms—Not Political—Are What Matter
Unlike their revolutionary predecessors, today's students leave China in order help themselves, not their country.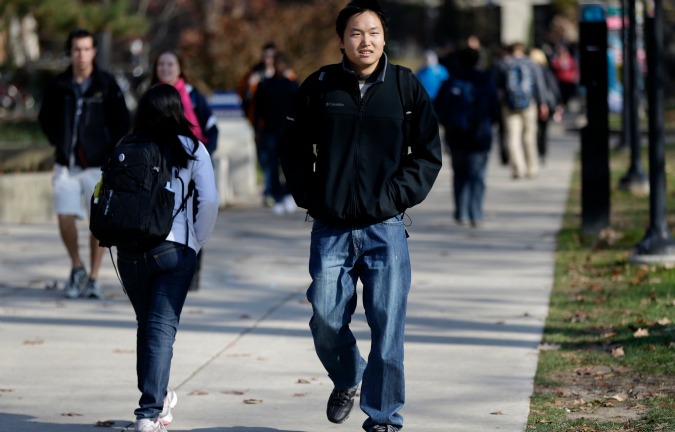 There are nearly 200,000 Chinese students studying in the United States. (Paul Sancya/AP)
Chinese exports may fluctuate with the global economy, but there's one international good that's sitting pretty in terms of both supply and demand: Chinese students. In the last five years, as the United States struggled with the after-effects of the financial crisis, the number of Chinese students studying in the country skyrocketed, nearly doubling from 2008 to 2012. Yet in spite of garnering much media attention, their presence abroad is not unprecedented. The nearly 200,000 students now in the United States are, in fact, heir to a national tradition; many of the People's Republic of China's revolutionary leaders found their footing as foreign students nearly a century ago. Zhou Enlai, who served as Premier under Mao Zedong, and Deng Xiaoping, the father of China's economic reforms, both became members of the Communist Party of China while residing in France in the 1920's. The fledgling Communist Party of China, established in Shanghai in 1921, did much of its early recruiting among idealistic overseas students, many of whom identified with Deng Xiaoping's stated mission for traveling to France: "To learn knowledge and truth from the West in order to save China."
The revolutionary pedigree of these former foreign students have inspired hope among Chinese democracy advocates that the 21st century outflow of students will result in a major inflow of liberal ideals, ones that may challenge Communist Party control. New Tang Dynasty, an adamantly anti-Communist Party television station operating out of the United States, has promoted a vision of returnees promoting reform, calling them the seeds from which democracy in China will sprout.
"[The Party] wants advanced science and technology from the West, and yet they don't want the thoughts that would threaten the CCP's ideology," opposition leader Liu Yinchuan told the station. "China's returnees will make democracy evolve."
The idea of democratization by osmosis may excite democracy advocates, but interviews with this generation of returnees reveal a different set of priorities: While many in the first wave of Chinese students went abroad in order to save their country, those in the current wave of students are leaving China in order to save themselves. Like their predecessors, modern-day returnees from American colleges often describe finding freedom on foreign shores, but it's a freedom that's decidedly more personal than political.
Xu Yawen grew up in Xi'an, where both her parents and her grandfather worked in the local finance bureau. She had long harbored a dream of studying abroad, and finally got her chance through a program that took students from Xi'an International Studies University and enrolled them for two years at Humboldt State University in northern California.
Xu's parents wanted her to study finance, through which their government connections could smooth the way for a stable career. Xu, however, had other ideas. After enrolling at Humboldt State, she became the first mainland Chinese student to pursue a degree in journalism, joining The Lumberjack, the university's student paper. There, Xu wrote profiles of local homeless people and investigated the way California state schools allocated money for international students.
Her work gave her the kind of direct contact with American democracy that most Chinese students never achieve, but when asked what stuck out to her about the experience, Xu's response was more personal.
"Freedom," Xu said. "Freedom on a spiritual level. After I moved to America I could go wherever I wanted to go: hiking, backpacking, partying, traveling. There, your life isn't about your parents. There are no rules, just friends. You learn a lot of things, meet a lot of people, hear different stories. You start thinking about life, about options."
Nian Xixi was raised by a father who taught Kafka and Goethe and a mother who worked at Xi'an International Studies University, giving her an international background that set her apart from other Chinese students at the school. While many of her classmates were holed up in their rooms, Nian spent much of her time traveling around China and partying. But by her junior year of college Nian was desperate to leave the hometown where she'd spent all of her life.
"I love this place, but I felt trapped," Nian said. "I couldn't wait to get out of China, especially from my school. I just wanted to experience a whole different life. I didn't care if it was America or Africa. I was prepared for anything."
In the end, it was an exchange program with the University of Oklahoma that offered Nian a ticket out. There, she finally found groups of friends that matched her interests.
"When I was partying back home, we were the only people who went out to clubs, but in Oklahoma most people would do it," Nian said. "I think a lot of Chinese students are curious about trying different things but they're so timid because they care too much about how people would judge them."
Many American portrayals of authoritarian China conjure up the image of nanny-state politicians and government censors, but the stress felt by most young Chinese people is more likely to come in the form of family pressures related to marriage and career choices.
These pressures can be especially strong for young Chinese women who are saddled with the expectations of grandparents old enough to remember the days of arranged marriages and bound feet. Nian got a heavy dose of these pressures after returning from another year of working and studying in England.
"I thought it was going to just be funny," Nian said. "But it wasn't."
Constant pestering from family members was reinforced by the fact that almost all of her closest friends who had stayed in China were married or pregnant.
"People think it's a problem for me to be single; even though it shouldn't be," Nian said. "I realized I've become the minority, and they think that if you're single you shouldn't be happy. You're not supposed to be happy."
Xu Yawen, for her part, felt a world of difference when it came to dating and gender roles in the two countries. "In general, guys in the West think a woman should be independent, sexy and confident," Xu reflected. "But here in Eastern countries most men think a woman should be obedient. You handle the house, do good housework, do the washing. No need to be smart, no need to be independent."
In the end, marriage expectations and strictly proscribed gender roles contribute to reverse culture shock for those Chinese who come home after studying abroad. The difficulty of re-adjusting to life in China has been documented in studies showing that while just 17 percent of Chinese people who study in the United States reported having difficulty settling into American life, a full 35 percent have trouble adjusting on their return to China.
Xu Yawen struggled with both the social and political limits that she returned to in Xi'an. Many social interactions that previously seemed natural now felt fake, and despite a promising start in journalism, Xu found herself unwilling to re-engage with the Chinese media on its own terms.
"I didn't go to any local press rooms because I was afraid to face reality," Xu said. "I was afraid to listen to my editor tell me what to do, what to cover, what to not cover."
After just a year back in her hometown, Xu is preparing to return to the United States, this time to begin an MBA at Texas A&M-Commerce.
"I want to be an international person, an international citizen," Xu said. "You work around the world, go to different countries and work with people of different backgrounds."
Nian Xixi, meanwhile, returned to a stable teaching job after nearly three years abroad, but she quickly grew restless at home. After just a year she applied to a Ph.D. program in Chinese new media studies in the Netherlands. She has already been accepted and hopes to take up the post when she receives time off next year.
"I don't know if people should belong to a country. We're human beings first and then we're Chinese or American or British," Nian said. "Now, I think China is just too big for me to say it's my home."
These lofty notions of detached, international citizenship may conform to the ideals of contemporary universities, but they differ greatly with the experience of past generations of Chinese foreign students. Today, those activists who want China's young returnees to infuse the country with new ideas -- to be, in other words, the heirs of Zhou and Deng -- are more often than not disappointed. But that expectation, especially in comparison to the revolution-era returnees, fails to account for the massive changes experienced by China in the interim.
The China that Deng Xiaoping and Zhou Enlai longed to save was economically backward, politically tumultuous and divided. When a 15-year-old Deng declared his intention to save China, his country was still in the midst of a "century of humiliation" that would only end with the Communist Party victory in 1949.
In the past century, perhaps no other country has dealt with the consequences of excessive ideology more than China. Small wonder, then, that many students have instead turned inward, leaving the country to find themselves.
As she prepares for her return to America, Xu Yawen has been reading The Analects of Confucius. One sentence in particular, caught her eye.
"To bring peace to all under heaven, one must first govern one's country. To govern one's country, one must first bring order to one's family. To bring order to one's family, one must first learn to cultivate oneself."