Catching Fish Using Birds: Stunning Images of a Dying Art in China
On the Li River in Guangxi Province, two elderly brothers have turned their profession into a showcase for tourists.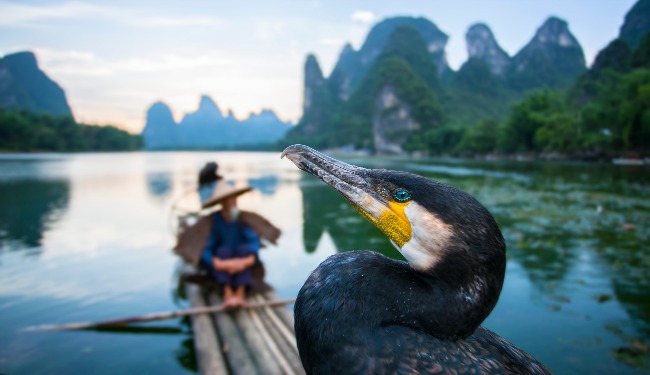 The brothers Huang Yuechang and Huang Mingde have spent a lifetime fishing with cormorants. (Michael Steverson)
74-year-old Huang Yuechuang sat across from me looking like no entrepreneur I'd ever met before. With his classic white goatee, vintage self-made fishing clothing, and a traditional conical bamboo hat, he looked every part the old fisherman he is. A wiry, spry man with a quick smile, Mr. Huang is a semi-retired cormorant fisherman who works about 25 days each month at the scenic Li River around Xingping Fishing Village in Guangxi Province.  There are fewer fish in the Li these days, so the men, raised as fishermen from their teens, have out of necessity become models for the many millions of travelers who visit the area each year.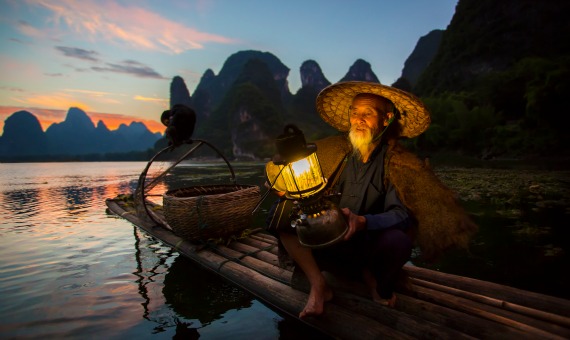 In a bold move, Mr. Huang, along with his 82-year-old brother Huang Mingde, recently ended a long affiliation with a Yangshuo-based tour operator and struck out on their own. The reason was purely financial: The younger Huang's wife was diagnosed with diabetes a few years ago, and the family needed to cover the mounting monthly cost of insulin.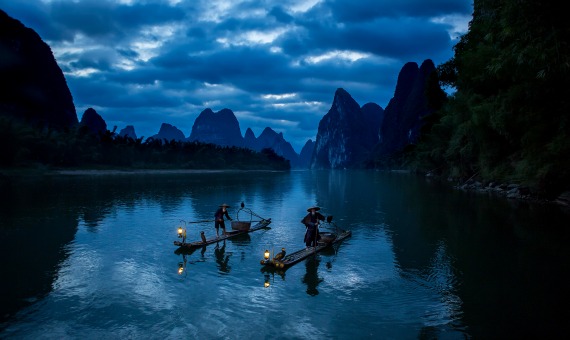 Cormorant fishing is a dying art. For thousands of years, fishermen have used trained cormorants to fish the rivers and lakes of China. The process is simple: The fisherman first ties a snare near the base of the bird's throat, which effectively prevents them from swallowing larger fish, although they can still swallow some smaller fish. When a cormorant catches a fish, the fisherman then brings the bird back to the boat and has it spit the fish up onto the bamboo deck.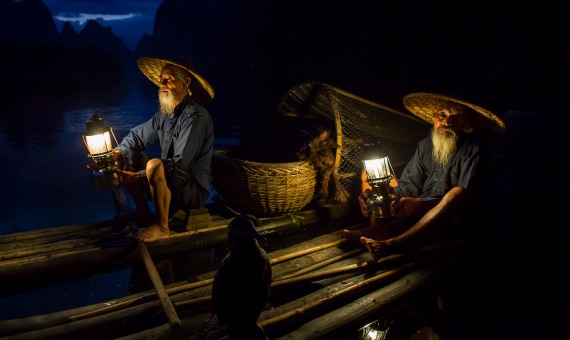 While there aren't many practicing cormorant fisherman left these days, a few, such as Mr. Huang and his brother, can still manage a decent living serving the tourism industry. Mr. Huang first began working with photographers back in the 1970s and never imagined it leading to this. He offers a practical explanation: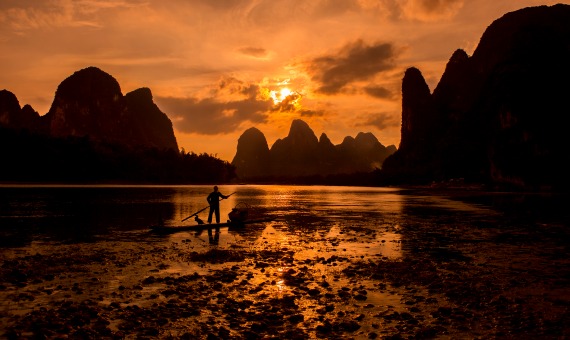 "Tourists are interested in seeing the traditional way of life here, such as fishing with cormorants and lanterns, and we are happy to keep the old ways alive while supporting ourselves." It was a risk for the men to go it alone, but risk is the definition of entrepreneurship. So far, it has worked out well for the brothers Huang.