Are More Chinese Teenagers Reconsidering College?
Fewer students are taking the gaokao, China's notoriously arduous university entrance examination, indicating rising dissatisfaction with higher education as a whole.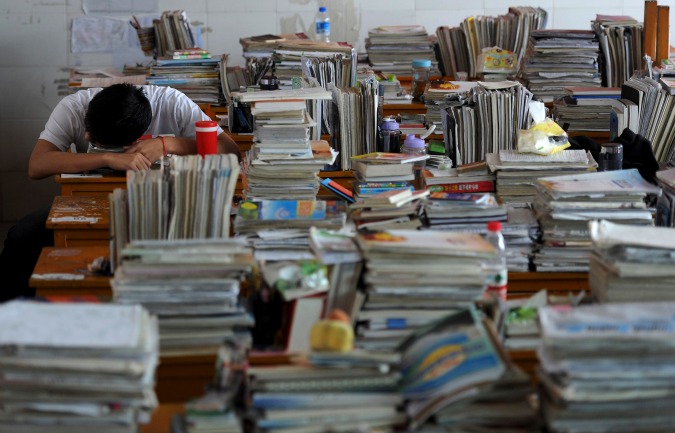 Reuters
Last month, around 9.12 million Chinese high school students took perhaps one of the most important exams of their lives: China's national college entrance examination, as known as the gaokao. At the same time, over one million Chinese high school students decided to give up on this so-called "life changing opportunity."
Over the past five years, figures for those taking the gaokao have been declining quite dramatically, from a peak of 10.5 million in 2008 to 9.15 million in 2012, due in part to the shrinking number of young people in China. On the other hand, the number of "gaokao quitters" has steadily increased. According to the statistics released by the Ministry of Education in 2013, among the one million high school students who gave up on the gaokao, around 80 percent choose to enter the job market right away and the rest are either planning to study overseas or taking the exam next year. Unlike the young people of the 1980s or even 1990s, today, more and more are inclined to believe that knowledge is useless rather than a way to change one's destiny.

The dim job prospects facing Chinese college graduates may be one factor driving the phenomenon. This year, around 6.99 million students are graduating from institutions of higher education in China. Ahead of them is the so-called "hardest job-hunting season of all time." According to the latest statistics released by the Beijing Municipal Commission of Education, only 33.6 percent of college graduates in Beijing have signed employment contracts. In Guangdong province, both the employment rate and entry-level salaries for college graduates are lower than those of vocational students this year.
Since 1999, China has seen an unprecedented expansion in its higher education sector. By 2012, the total enrollment of higher education institutions reached 6.85 million, almost 6 times of that of 1998. As higher education in China has already transformed from system for the elite few to one for the masses, the college admission rate has increased from 4.7 percent in 1977 to 74.86 percent in 2012. The devaluation of a bachelor's degree is inevitable. Long gone are the good old days when a bachelor degree was a ticket to a job after graduation.

However, the skyrocketing number of college graduates alone does not fully explain college students' unemployment and the diminishing attractiveness of a college degree. On Sina Weibo, many users, especially current college students, are strongly defending the saying that "knowledge is useless" by sharing their frustration with their own college experiences. For example, Weibo user @世纪达摩 wrote, "The college requires us to take so many useless courses that neither the teachers nor the students take seriously." Another user, @姹紫嫣红都不是, said, "I find going to college is a waste of time in most cases. I don't think the stuff I've learned will do me any good [in my future career]."
Most of the students complained that compulsory courses like "Marxist philosophy" and "Introduction of Mao Zedong Thought" were totally useless, but time consuming. These kinds of complaints are shared by many companies in the job market, who claim it is difficult to find college students equipped with the professional skills or knowledge they value most, despite the shocking number of graduates. The saying that "knowledge is useless" may not be totally true, but the quality of education at China's institutions of higher learning is far from satisfying in many cases.
Unfortunately, the unsatisfactory quality of Chinese college education may not be the most depressing part of going to college. Capable college students who indeed possess professional skills and knowledge may still find it hard to get decent jobs and reap the rewards of their hard work after graduation if they lack guanxi (connections). It is reported that China's employment market is "increasingly skewed to the well-connected and the well-born," especially when it comes to competition for the better-paying jobs at state-owned enterprises or in civil service, where the use of guanxi is believed to be prevalent.
A more realistic future for graduates who are from poor or rural families is to become members of the so-called "ant tribe," at least during the first few years after they graduate. The "ant tribe" is a term used to describe the group of young college graduates in China who were born in the 1980s, who work low-paid (usually less than RMB 2,000 per month), unstable jobs, and live together in shared rooms in the outskirts of major cities like Beijing, Shanghai and Guangzhou. Their undesirable living conditions following graduation may help explain why nearly 80 percent of those who give up on the gaokao are from rural and less developed areas. For those less well-off families in rural areas, considering the increasing cost of college tuition, it has become less and less appealing to send their child to the college if he or she is likely to become an "ant tribe" member who can barely make ends meet, let alone support the family, after graduating.
According to a recent research conducted by the Shanghai Academy of Educational Science, between 2010 and 2020, approximately 94 million college graduates will enter the job market, but only 46 million white-collar jobs will be available, so nearly half of college graduates may have to become blue-collar workers. In light of this, giving up on the gaokao and skipping college to accumulate more work experience may not be such a bad move after all.
---
This post also appears at Tea Leaf Nation, an Atlantic partner site.