Many Countries Think China's Economy Is The World's Most Powerful
China hasn't surpassed the U.S. in economic size just yet -- but a new poll shows that a majority think it's already happened.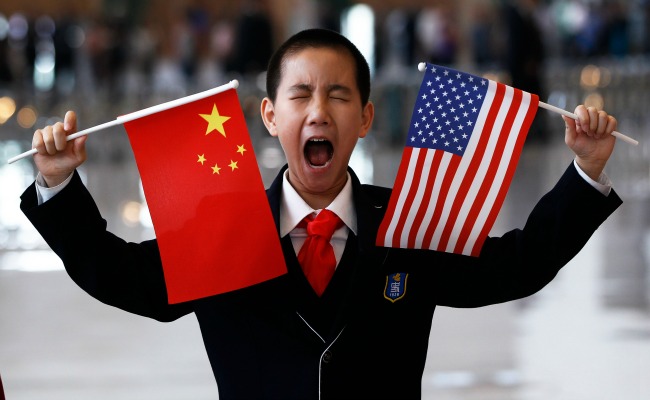 Shannon Stapleton/Reuters
The question of if and when China will take America's place as world's largest and most powerful economy has inspired a lot of debate. U.S. intelligence analysts predict it will happen by 2030; according to OECD estimates, it could be as early as 2016. Going by Chinese estimates, the country's economy might not surpass the U.S. at any point this century.
As for the general public's opinion, China has already overtaken the U.S. as the world's largest and most powerful economy, or will soon. Since the financial crisis, an increasing number of people around the world believe China has surpassed the US, according to a yearly survey (pdf) by the Pew Research Center.
This year's poll of about 38,000 people found that in 23 of 39 countries surveyed, a plurality of respondents said they believed China would or had already replaced the U.S. as the world's no. 1 superpower. Looking at 20 countries polled in 2008 and then again this year, Pew found that the percentage of those who placed China in the top spot went up in all but one country (Mexico). The median percentage of people (the midpoint in the range of percentages in each of the 20 countries) who view China as top dog in these 20 countries rose to 34 percent this year, from 20 percent in 2008. Meanwhile, the median percentage that named the U.S. fell to 41 percent from 47 percent.
In other words, when comparing 2013′s data with that of 2008, there were more countries in 2013 that had a higher percentage of people who put China in the top spot.
The poll also shows that in terms of image, the so-called U.S.-China rivalry may be something of a zero sum game. Some of the regions where the U.S. is most popular are where China is the least popular, and vice versa.
In Asia, the median percentage of those who viewed China well was 58 percent; compared to 64 percent who were positive about America. The clearest cases in that region are Japan, where only 5 percent viewed China favorably compared to 69 percent who had a positive image of the U.S., and Pakistan where 81 percent liked China but only 11 percent viewed the US in good light.
In the Middle East, only 21 percent viewed the U.S. favorably compared to 45 percent who saw China in a good light. Perceptions of China were the lowest in Europe and Canada, where favorability for the U.S. was high.
Here's a list of all the countries surveyed this year, and where they stand on which country is the foremost global economic power.