Why the First Lady's Wardrobe Is Such a Sensitive Subject in China
The Communist Party doesn't want anyone to know how much money its elite members have.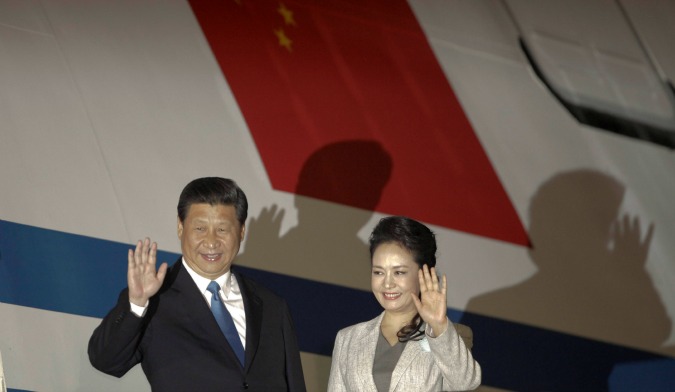 Chinese President Xi Jinping (L) with First Lady Peng Liyuan (R).(Arnulfo Franco/AP)
China's censorship regime has never been completely consistent. Seasoned journalists, activists and writers know how to push boundaries and write about sensitive subjects that raise eyebrows but not Communist Party ire, often using code words to discuss sensitive political subjects. The latest taboo topic in China is fashion, and not just anyone's fashion: Peng Liyuan, the First Lady and wife of current Communist Party president, Xi Jinping, has attracted interest through her elegant sartorial choices.
Peng, who previously held a very successful career as a folk singer, is considered China's first fashionable First Lady. While many of the Internet discussions have praised her style, her name has been blocked in some searches. Li Yuan, Managing Editor of Wall Street Journal China explained that certain searches on Taobao.com, a popular Chinese e-commerce site, have disappeared. "If you search the site, the results that show up will only be about her music CDs," Li said in a video webcast.
This newly censored topic may seem like just another conundrum of life in China -- the Communist Party is paranoid about Internet discussions of their elite in general -- but it actually signals a particular new concern: wealth disclosure.
Because the financial assets of China's top officials are not publicly divulged, Chinese people have begun "human flesh searches" (renrou sousou) to figure out how much their leaders make. This involves scouring the Internet for publicly available information - photos, articles, and records - in order to piece together an official's hidden wealth. A photo of a Rolex or designer sunglasses is enough to land a corrupt official in jail.
In the case of the First Lady, officials fear that speculations about her clothing would lead to public outcry about illegally obtained wealth and hurt the down-to-earth image Xi Jinping has cultivated. Peng's expensive clothing could also undermine the sincerity of Xi's promise to root out the "tigers and flies," a Chinese euphemism for corrupt high and mid-level officials.
These fears have caused the government to take action. In late April, Chinese authorities arrested a handful of activists who, five months earlier, were among the 65 that signed a petition demanding that top Communist Party officials disclose their wealth. After New York Times Shanghai Bureau chief David Barboza wrote an exposé on former premier Wen Jiabao and his family's "billions in hidden riches," the journalist encountered difficulty in obtaining such public financial records for subsequent stories. Radio Free Asia has also reported that officials in various Chinese cities have banned searches for the number of properties that politicians own.
The government is now revisiting a "social management" strategy (shehui guanli) that encourages Party officials to find innovative methods to manage negative public opinion without a need for political reform. David Bandurski of the China Media Project, a site that tracks China's media, notes that this return to social management corresponds with the surge of social media use in China and that it reflects a view of social media as a destabilizing force.
Meanwhile, the censorship has quietly trickled down to Peng herself, as the Party attempts to separate her from any past associations with glamour and wealth. The Wall Street Journal writes, "Ms. Peng already appears to have toned down her image in recent public appearances, often sporting a military uniform and a matronly hairdo, rather than the silk ball gowns, heavy makeup and big perms she used to favor." Peng carefully selects mostly Chinese designer brands in her official outings and photo ops, and her singing career has been significantly scaled down. Her official biography explains how she prefers service to the Party over the glitz of show business, even though she is one of the most famous singers in China and once beat out Jackie Chan for the China Arts Award.
Xi Jinping's image, so far, has not been affected by his wife's superstar status. In fact, people are so enamored with their new president's "common" touch that they even fell for a rumor, mistakenly reported by Xinhua, that he took a taxi journey by himself around Beijing. The since-debunked story reminded the Chinese public of the popular of the 18th-century Emperor Qianlong, who according to legend would go undercover to root out government corruption. But with recent crackdowns on activists, a rollback on transparency, and the painfully slow investigations on high-level corruption, Xi Jinping may turn out to be just another Communist Party president and not the Qianlong the Chinese people so desperately want him to be.