Whatever Happened to the Chen Guangcheng of the 1970s?
A generation ago, Wei Jingsheng found it tough to adjust to life at an American university.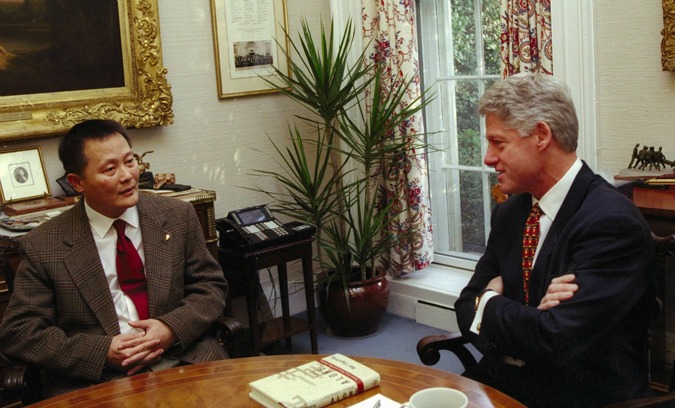 Wei Jingsheng, photographed here with U.S. President Bill Clinton in 1997, is one of China's most prominent dissidents. (White House/AP)
It's a story made for the movies: A brave Chinese dissident, long harassed by his government, arrives in the United States and takes up residency at a prominent New York City university. At first, the arrangement seems to go well. But soon, problems emerge: the university feels that the dissident isn't contributing much to the academic life of the school, and ultimately decides that it'd be best for him to leave. The dissident reacts bitterly, accusing the school of buckling from pressure from the Chinese government, a claim the school denies. Unable to return to China, the dissident then has to decide his next professional home in the United States.
At a glance, this appears to summarize the recent experience of Chen Guangcheng, the blind dissident currently squabbling with New York University. But in fact, this is the story of a different man: Wei Jingsheng, a Chinese dissident who, following his exile to the United States in 1997, completed a brief and unhappy stint as a visiting scholar at Columbia University. Wei and Chen's experiences are not identical, but the similarities between their experience are eerie, and provide insight into the difficulties high-profile Chinese dissidents face in adjusting to their new lives as normal, ordinary citizens.
***
Wei Jingsheng now lives in Washington, D.C., where he runs
a foundation
promoting democracy in China. A slight man in his early 60s, Wei's unassuming nature belies his status as arguably China's most prominent dissident. In 1978, the year Deng Xiaoping consolidated power in China and launched the economic reforms that would ultimately transform the country, Wei Jingsheng was working as an electrician at the Beijing Zoo. One day, he approached a brick wall in the city's Xidan District and wrote a passage calling for China to implement democracy. Unlike the many other notes plastered on the wall, Wei's included his real name and address, and before long he had emerged as the unofficial face of a new movement challenging the Chinese Communist Party's monopoly of power. A few months later, though, Wei was arrested and sent to jail, where he would remain for most of the next 18 years.
Upon his release and subsequent deportation to the United States, Wei found himself sought after by a number of universities, ultimately choosing to work as a visiting scholar at Columbia. Problems arose almost immediately, ranging from the mundane (Wei, a heavy smoker, successfully earned the right to smoke in his office on campus) to the question of what Wei would do at Columbia. Though not a faculty member, and thus not obliged to teach a course, the university still expected Wei to contribute articles and books to the university as well as meet with students. This didn't happen. Two years later, the collaboration not working out, Columbia asked Wei to leave.
Wei doesn't deny his lack of activity at the university. But, in an echo to Chen Guangcheng, he claims that his departure had more to do with politics than with his performance. "When they asked me -- plead with me -- to leave, the reason was because board members didn't want me there anymore," he says. Wei's outspoken views about the Chinese government -- he believes, for instance, that the U.S. shouldn't engage with China economically until China improves its human rights record -- place him at odds with conventional attitudes in academia.  Andrew Nathan, a longtime Columbia China scholar, told the
Taipei Times
in
a 2003 interview
that Wei's views on China were "unrealistic."
***
Reconciling the experiences of political dissidents -- men and women who risk their lives for their political beliefs -- with American university life is challenging enough. But for men like Wei Jingsheng and Chen Guangcheng, both of whom lacking a formal education or the ability to speak English -- adjusting to their new situation proved exceptionally difficult. For Wei, nearly two decades in prison had left him ill equipped to deal with his new-found freedom, much less the usual difficulties expatriates face in a strange country. As for Chen, his relatives in China have continued to suffer abuse and harassment from the local government officials who once enforced his house arrest.
NYU Law Professor Jerome Cohen, the man most responsible for arranging Chen's passage to the university, claims the school treated its famous dissident well, telling
Foreign Policy
in
an interview
that Chen was "obviously being guided by people who have a different point of view from [Cohen's] own." Cohen may be referring to Bob Fu, the Chinese-born director of ChinaAid, a Christian organization which has worked with Chinese exiles in the past. Though Fu denies that his organization is political in nature, he
has spoken out
against Chinese government influence on American academic freedom.
This, too, is a viewpoint shared by both Chen and Wei: that the Chinese government exerts a growing, and malign, influence on American universities. But it's far from clear whether this accusation is valid. Schools in the United States have accelerated their engagement with China, both from admitting more Chinese nationals as well as by building satellite campuses in cities like Beijing and Shanghai. However, according to Professor James Feinerman of Georgetown University, a person like Chen would have "no way of knowing the extent of NYU's relationship with China". Noting that Chen and Wei come from a society in which the government plays a large role in all levels of education, Feinerman notes that it's only natural for a person like Chen to be suspicious that the same principle applies in the United States.
Wei Jingsheng has never met Chen Guangcheng, and claims that the younger man has not reached out to him since moving to the United States. But while he is sympathetic to the pressures Chen has faced, Wei also believes Chen should limit his criticisms of The United States, even if he does not agree with Washington's policies toward China.
"People might say to me 'Hey look -- you too criticized President Clinton'. But I criticized him only on the issue of his cooperation with Chinese government. I never criticized him for rescuing me from China."