What Would A Successful U.S.-China Summit Look Like?
A look at what might come out of President Obama's meeting with President Xi in California.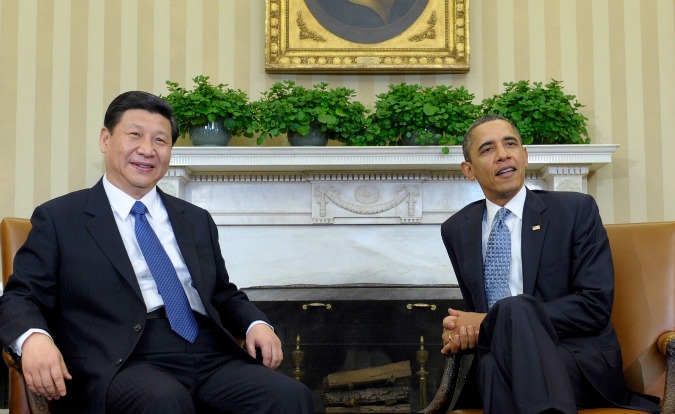 Susan Walsh/AP
In advance of today's summit between Xi Jinping and Barack Obama in California, ChinaFile asked its contributors to envision an ideal outcome and then write a "joint statement" expressing the positive results of the meeting. Here is what they came up with:
We emerge from these discussions with a much fuller understanding of each other's strategic goals and redlines. As our predecessors did in the 1972 Shanghai Communiqué, we identified where we agree and should expand; where we disagree and must manage; and where we should seek greater convergence. Our nations will not be close partners because of deep contrasts in our political systems and different approaches to some international issues.We need not be enemies because we have no territorial disputes, enjoy vast bilateral benefits, and share interests on many global challenges. We have set the following priorities: North Korea, maritime rules of the road, cyber security, energy and the environment. We will stay in constant personal contact to prevent misunderstandings and spur progress. We will meet privately at least once a year in settings like this, as well as at international conferences.
---
We have spent an unusually productive two days together here at Sunnylands. Although we have enjoyed the process of getting to know each other better, obviously we have not solved all the difficult problems that beset U.S.-China relations. However, we want the people of our respective countries -- indeed of the world, to know that we both are fully cognizant of the inescapable roles and responsibilities our two countries now shoulder in our newly globalized world.
---

MORE FROM CHINAFILE
---
Above all, we recognize that we must adopt new and innovative modes of interaction if we are to avoid preventing certain very contentious issues from obstructing our collective progress on equally urgent issues that bind us together in common interest. We simply cannot allow any one of the great challenges of our generation -- that range from climate change, nuclear proliferation, and world trade, to global pandemics, a shortage of water and the peaceful settlement of territorial disputes -- to obstruct us from addressing all of the others. Only if the U.S. and China are able to work shoulder to shoulder will these new global problems have any hope of remedy. So, while we understand that we must continue to broach difficult problem areas where resolution will take time, we also have dedicated ourselves anew not to abdicate our responsibility on the the challenges which will determine the fates of the people's of both nations. You have our assurances that from henceforth we both will work together to assure that both governments assume these new leadership roles in new and more constructive ways.
While today we do not have concrete answers to any of our common problems, we want to assure everyone on our common planet that in the months to come we will bend ourselves with new and unstinting vigor to this task. We both recognize that only through such a renewed effort will we ever be able to elevate U.S.-China relations to the level of effective interaction that the world now requires.
---
U.S. President Obama and Chinese President Xi Jinping held candid and constructive conversations in a cordial and informal atmosphere in Sunnylands, California on June 7-8, 2013. The two leaders pledged to seek jointly to create a new type of great power relationship marked by a stable balance between cooperation and competition, believing that this would contribute to regional and global peace and prosperity. They noted the relevance of how the two militaries operate in the Asia Pacific to this goal. They welcomed the expansion of bilateral military-to-military contacts over the past year. They explored how to build on their common interests in addressing sources of tension in East Asia and the Middle East, and stressed their commitment to the complete denuclearization of the Korean peninsula. They reviewed areas of friction between the two countries and outlined their respective views on human rights, free speech, the rule of law, and the treatment of intellectual property. They agreed on the desirability of establishing ground rules for dealing with issues such as cyber threats, outer space, maritime security, and developing polar regions. They reaffirmed the importance of the bilateral Strategic & Economic Dialogue in meeting the above goals and in addressing other areas in the relationship requiring high level attention. President Xi Jinping expressed pleasure over the growing number of U.S. students and scholars studying in China. President Obama spoke positively of the role that increased Chinese investment in the United States could play in stimulating the U.S. economy. The two leaders agreed such informal meetings should continue on appropriate occasions in the future.
---
A version of this post appears at ChinaFile, an Atlantic partner site.