What Slowdown? Surveys Reveal an Optimistic, Forward-Leaning China
Amid environmental and economic worries, Chinese people remain remarkably positive about their country's future.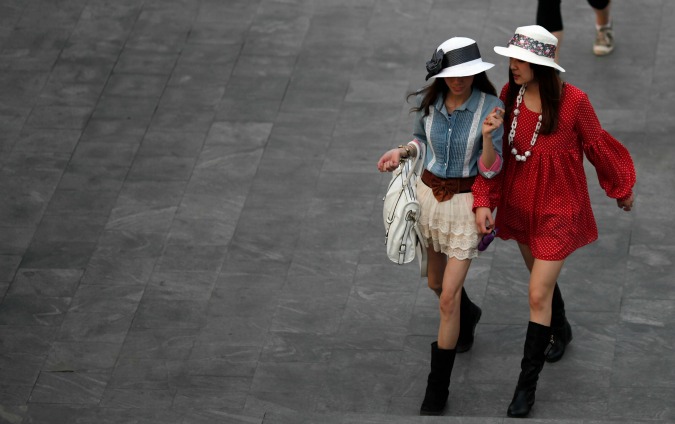 (Carlos Barria/Reuters)
We China pundits spend a lot of our time wondering what Chinese people actually think, often relying on tools like social media to provide a lens into the country. But thanks to two separate polls released recently, we have fresh data on how people in China actually feel about the direction of their country.
The first, from Pew Research Center and released in late May, surveyed people in 39 countries about their opinion of their countries' economies. The second, conducted by Spanish telecom firm Telefonica and the Financial Times, focused on 18 to 30 year-old "millenials" in 27 countries. The results, when pieced together, show a Chinese people that is, on the whole, remarkably optimistic about their country. 
88 percent of Chinese people feel good about the economy, according to Pew, more than in any other country surveyed. By contrast, only 59 percent of Brazilians felt similarly, and just 33 percent of Americans are optimistic. Among China's neighbors, 27 percent of Japanese people and a mere 20 percent of South Koreans reported that the current economic situation in their country was good. 
Economist expectation of a slowdown aside, 80 percent of Chinese people surveyed believe the economy will improve in the next 12 months. Meanwhile, a majority of Japanese, South Korean, and American respondents believe that their respective economies will either stay the same or get worse.
In the Telefonica/FT poll, 93 percent of Chinese people believe their country's best days lie ahead. By contrast, 81 percent of Japanese people believe the opposite about their own country.
In officially Communist China, two-thirds of those surveyed believe they have an opportunity to be an entrepreneur in their country, a figure that is, again, higher than that of Japan and South Korea. 
There are a million caveats to go along with surveys like these, but overall the results are consistent with accounts of contemporary China. For instance, in a recent
ChinaFile conversation
exploring what's right with China, James Fallows cited a "sense of national movement and ambition,"  while Orville Schell mentioned "people hellbent on building a more prosperous and stronger country." Chinese people under the age of 30 have never known economic stagnation, and -- while income inequality is indeed a real and growing problem -- living standards have risen across just about every group in society.
Of course, this doesn't mean that issues like environmental hazards, municipal debt, official corruption, repression of speech, ethnic tension, excessive militarism, and a long list of others won't eventually destabilize China, or are unworthy of emphasis in reporting on the country. But these survey numbers paint a striking portrayal of China's national mood, and one worth keeping mind amid all the talk of a looming slowdown.