The Trial of the Most Hated Man in China: Former Railways Minister Liu Zhijun
Prosecutors seem intent on giving the corrupt official a lenient sentence, sparking nationwide outrage.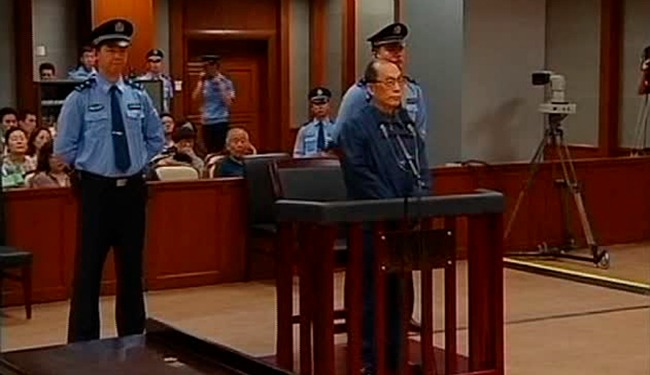 By far one of the most widely followed news stories in China over the past week has been the trial of former Railways Minister Liu Zhijun, China's first ministerial-level official to be prosecuted for corruption. Over the past 24 hours, the most viral post on Sina Weibo has been a revelation that prosecutors advised that Liu be given a "lenient sentence," despite his admitted accumulation of 374 houses and over US $100 million. The post itself, which demanded to know "how heaven could accept" leniency toward Liu, was re-tweeted over 120,000 times, with almost unanimous opposition to leniency in Liu's case.
In another popular comment on the issue,author and businessman Xia Shang wrote:
Former Railway Minister Liu Zhijun's 374 property assets have been confiscated. He had over 800 million RMB and used the power of his position to have or maintain improper sexual relations with 20 actresses in a new adaptation of 'Dream of the Red Chamber.' For this enormous corruption, one hundred bullets should suffice. Yet prosecutors recommended a lenient sentence: why? Because behind Liu Zhijun, every top official knows that he or she is a potential criminal. By speaking out for him, they are speaking out for themselves in the event that their doings are uncovered.
Former head of Google in China, Kai-Fu Lee, responded:
It will cost us even more to give him a lenient sentence. It will come out of our resolve to fight corruption and the new administration's credibility.
Calls for officials to publicly disclose their assets have increased in recent years, as the government has championed anti-corruption efforts. Yet local governments have made it even harder for ordinary citizens to investigate just how many houses a given official might own by restricting access to such information in the name of privacy. Activists who have called for government officials to voluntarily disclose their assets have been detained on the grounds of "inciting subversion of state power."
Responding to news about the call for leniency from Liu's prosecutors, many have also expressed a lack of faith in China's judiciary system. One Sina Weibo user wrote, "I've become accustomed to this; it's no longer strange to me. The law was written by the Chinese Communist Party [CCP]; what they say goes." Another remarked, "Only through public disclosure of assets, freedom of speech, judicial independence, and other policies can we effectively take measures to control corruption, but this would be impossible to implement." Last year, China's Justice Ministry began requiring lawyers to swear an oath of loyalty to the CCP.
Some say the government touts anti-corruption efforts merely to appease the public. Others argue that the anti-corruption campaign is real, but tightly controlled and paced by the government to ensure social order is maintained. Some reforms are genuine - after the extent of corruption in China's Railway Ministry was revealed, the ministry itself was dismantled and the sector opened wide to private investment.
For some, however, the real story was not whether anti-corruption efforts were too fast or too slow, genuine or superficial. Wrote one microblogger:
Right now, I just want to know, for which railways did he take bribes and build tofu-dreg projects [slang for shoddy construction]? Investigating this is far more important than shooting him! Are you not afraid? Or does everyone here plan not to take trains or high-speed rail anymore?"
---
This post also appears at Tea Leaf Nation, an Atlantic partner site.