The Key to U.S.-China Relations: 'See You Again Next Year'
Why the meeting between Barack Obama and Xi Jinping this week in California will be a good thing -- even if nothing is accomplished.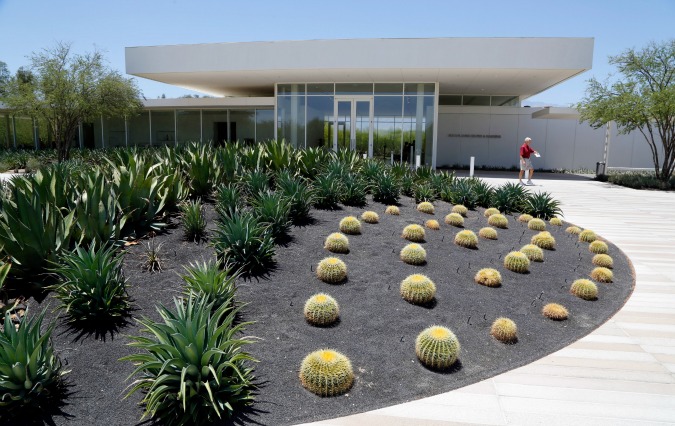 The Annenberg Retreat at Sunnylands, a visitor center and desert garden adjacent to the Annenberg's Sunnylands mansion, that will host U.S. President Barack Obama and Chinese President Xi Jinping, is seen Thursday, May 30, 2013 in Rancho Mirage, Calif. (Reed Saxon/AP)
In the run-up to the shirtsleeves summit between Chinese President Xi Jinping and U.S. President Barack Obama in the California desert at the end of this week, there are no shortages of suggestions about what they should discuss.
Foreign affairs and military advisers are crafting talking points on such hot topics as cyber hacking, territorial disputes with Japan, North Korean nukes and Syria's civil war. Trade and business groups are prepping a smorgasbord of market access and cross border investment staples to chew over.
But the most important sentence these two leaders should say to each other during the July 7-8 confab is very simple: "See you again next year!"
If the U.S. Treasury had a dollar for every time somebody of importance has declared that the U.S. China bilateral relationship is the most important in the world -- bar none -- America's budget deficit would be shrinking faster than congressional approval ratings. Keeping up with fear-provoking prognostications by politicians and pundits about what can and will go wrong in the world if the U.S. and China don't intelligently recalibrate their relationship could be a full-time endeavor.
So, how does it not make sense for the American and Chinese presidents to meet face-to-face, one-on-one, once a year, for a couple of days set aside for just that? The risk-reward calculation for such a weekend retreat does not require an MBA. The downside would be that during difficult times the individuals would suppress their ire, and their aides would scramble to find sufficient common ground to announce a happy outcome.
The upside is that year after year, the two politicians who possess the most outsized influence on world peace and prosperity would sit together as humans and discuss their shared responsibilities and compare the array of burdens and rush of emergencies that disrupt their sleep.
People-to-people is what works best now in the U.S. China relationship. Chinese and American students are developing deep friendships as they study on each other's campuses. Business ties between American and Chinese companies -- and among employees who work together day to day -- are much more friendly and trusting than the headline disputes would lead you to believe.
Long gone are the days when elder statesmen and business luminaries could back-channel messages between the top leaders of each government when the relationship got off track. We already have some five dozen bilateral dialogues through which battalions of American and Chinese bureaucrats talk to each other about everything from climate change to industrial standards to intellectual property rights and human rights. The truth is that these meetings are increasingly serving as forums for people to talk past each other.
Since becoming Communist Party leader last fall, and China's president this spring, Xi Jinping has been increasingly talking about the U.S. and China forging a new kind of big power relationship. What that means has yet to be defined. But the broad strokes involve treating each other as equals. At the same time, some senior Chinese officials have been indicating to foreign visitors that China believes that current international institutions that stem from the post World War II Bretton Woods agreements, such as the World Bank and World Trade Organization, are considered so biased in favor of the West that China believes it may have to spearhead the creation of alternatives.
This is likely the motivation behind the announcement in March in South Africa when the BRICS nations -- Brazil, Russia, India, China and South Africa -- agreed to begin planning the establishment of a new development bank with each country putting $10 billion into the kitty. Some say this is an impossible endeavor given the size disparities, political differences and economic competition that exists between these countries. China is not one of the naysayers. A month later, the man who built the China Development Bank into a powerhouse, Chen Yuan, was assigned to lead China's effort to establish the BRICS bank.
The storied Sunnylands Retreat outside Los Angeles appears to be the perfect venue for this president-to-president conclave. The sprawling estate built by the late media tycoon and political power broker Walter Annenberg has a 25,000 square-foot mansion that has hosted seven American presidents since Dwight Eisenhower signed the guest book in 1966. It has been a place for relaxation, realistic discussions and reflection.
During his presidency Ronald Reagan attended New Year's Eve parties at Sunnylands that brought together his Hollywood and political friends in a setting hidden from public and press scrutiny. The first President Bush hosted the Japanese prime minister at a Sunnylands summit and state dinner during a period of intense U.S. Japan trade friction. President Richard Nixon sought solace at Sunnylands after he was booted from the White House. He left behind this inscription in the estate guest book: "When you're down, you find out who your real friends are."
Right now, U.S. China relations are on a distinct downward trend, and comedian Steven Colbert's description of America and China as "frenemies" is coming too close to being true. Areas of dispute are increasing, the erosion of trust is accelerating and neither country appears to have a clear vision for getting beyond the distinctly different DNA of each country's political system and the pressures of domestic politics that will push the U.S. and China further apart if a path forward is not worked out at the top.
President Xi told National Security Adviser Tom Donilon last week that U.S.-China relations are at a "critical juncture" and that the upcoming meeting should "build on past successes and open up new dimensions for the future." Donilon responded that President Obama is committed to "higher levels of practical cooperation and greater levels of trust, while managing whatever differences and disagreements might arise between us."
The Sunnylands Retreat is located on Frank Sinatra Drive in Rancho Mirage, California. Let's hope that the Sinatra hits "Strangers in the Night " and "My Way" are not on the dinner music playlist.