New Idea for Sino-American Relations: First-Lady Diplomacy
Michelle Obama and Peng Liyuan have a lot in common -- and a partnership between the two would be good for their countries.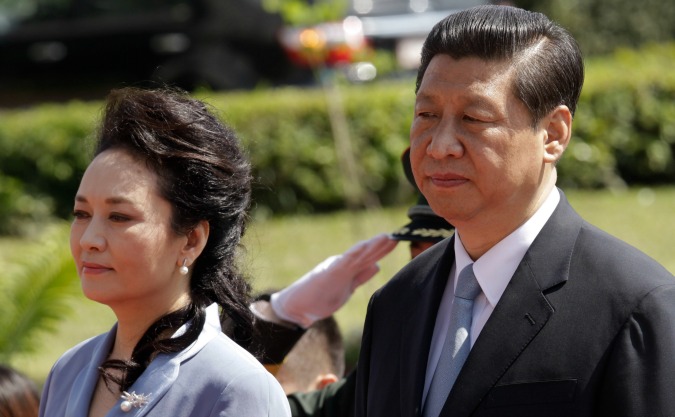 China's First Lady Peng Liyuan (L) and President Xi Jinping (R) (Arnulfo Franco/AP)
At the upcoming U.S.-China summit on June 7 and 8 in California, Presidents Barack Obama and Xi Jinping will meet to discuss a wide range of issues in a "relaxed atmosphere," far from the pressure-filled Washington or Beijing. The summit will be held at Sunnylands, a sprawling estate near Palm Springs. Alongside the geopolitical issues on the table, commentators anticipate that the leaders will focus on developing a more intimate personal relationship during the two-day meeting.
Recent news, however, suggests that the U.S.-China relationship is on the verge of taking a turn for the worse. On June 1, Secretary of Defense Chuck Hagel strongly criticized China on cyber issues, receiving immediate pushback from Chinese Major General Yao Yunzhu. The stakes for the upcoming summit are thus very high: Presidents Xi and Obama have an opportunity to redefine the tone of the U.S.-China relationship, or else risk intensifying acrimony.
In the Sunnylands sunshine, what will help to warm what Noah Feldman recently called an emerging "cool war"? One answer involves two secret weapons: Michelle Obama and Peng Liyuan, the wildly popular first ladies of the United States and China, respectively.
In terms of soft power, an Obama-Peng partnership is a no-brainer. Michelle Obama is already enormously popular in China. Her speech at the 2012 Democratic National Convention lit up Sina Weibo, receiving millions of page views and rave reviews. Peng, a former People's Liberation Army folk singer, doesn't yet inspire the same feelings in the American people, but her glamour and popularity at home have earned her the moniker "China's Michelle Obama." And her success on recent visits to Russia, South Africa, and the Caribbean suggests that she may have the charisma to appeal to audiences beyond Chinese shores. Michelle Obama's credibility would also help Peng charm American audiences.
But a potential partnership between the first ladies could go beyond forming a popular new image for the U.S.-China relationship. Obama and Peng have shown a mutual interest in areas of policy central to our shared future. Two issues seem particularly apt for collaboration: educational exchanges and global health.
First, Peng and Obama could declare that U.S.-China educational exchanges are necessary to increase mutual understanding and build a strong foundation for a positive relationship for decades to come. Michelle Obama has already made support of the 100,000 Strong Initiative, which aims to send more American students to China, a core part of her international agenda. "Studying in countries like China isn't only about your prospects in the global marketplace," she said in 2011. "It's also about whether you can come together, and work together with them to make our world stronger." There could even be a personal dimension to this collaboration: Peng and Xi's daughter studies abroad at Harvard, where both Obamas attended law school. Partnering to increase U.S.-China educational exchanges is a natural next step for both First Ladies.
Second, they could vow to work together to fight the spread of HIV/AIDS in Africa, and to collaborate on other global health challenges. Both women have made health issues central to their individual policy agendas. Peng serves as a World Health Organization ambassador for HIV/AIDS and tuberculosis. On a March trip to the Republic of Congo, she visited AIDS orphanages and pledged to increase her work fighting the spread of the disease in Africa. Michelle Obama has also made the fight against HIV/AIDS in Africa a key cause. The fight against HIV/AIDS could provide a significant opportunity for partnership between the two first ladies.
It's not clear whether Peng would be allowed to play this role, given the strong tradition of Chinese first ladies remaining very much in the background. This is reflected in the fact that the Chinese state-run media has given less attention to Peng in reporting on Xi's visits than have local media in those countries. But the very fact that she has been much more visible than her predecessors on her overseas visits suggests that the role itself is in flux.
In the current environment of suspicion and competition between the two countries, cooperation -- even friendship -- between Michelle Obama and Peng Liyuan could provide a sorely needed deliverable, and might also help give U.S.-China relations a warmer and more trusting tone. This kind of partnership would be new territory for the United States and the People's Republic of China -- but it is precisely for this reason that it represents the kind of creative, positive initiative that the two countries desperately need.
As their husbands hash out geopolitical crises while attempting simultaneously to develop a personal relationship, Michelle Obama and Peng Liyuan have a unique opportunity to spend the two-day summit getting to know one another -- and discussing shared policy interests. These remarkably popular and charismatic leaders should have the opportunity to contribute substantially to the positive development of the U.S.-China relationship. It needs them.