Hong Kong Welcomes Edward Snowden to the Neighborhood
The NSA whistle-blower, who praised Hong Kong for its freedoms, has attracted sympathy from across the territory's political spectrum.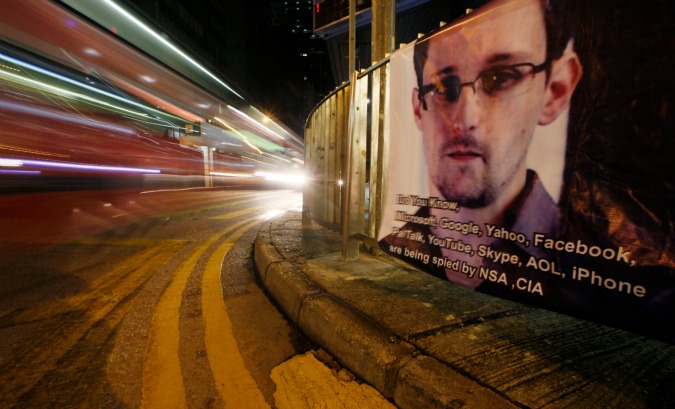 Edward Snowden has emerged as a popular figure in Hong Kong, where he has been based since fleeing the U.S. (Kin Cheung/AP)
HONG KONG -- It may still be early in Edward Snowden's attempt to find safe haven here, but a new poll and a weekend rally demanding that the local government protect Snowden indicate that the people and government of this semi-autonomous region of China may be taking a shine to the 29-year-old whistle-blower.
Just under half of respondents to a recent poll by the Centre for Communication and Public Opinion Survey at Chinese University of Hong Kong (CUHK) said they oppose or strongly oppose the Hong Kong government handing Snowden over to the United States, should an extradition request be made. Nearly 18 percent were in favor of his extradition, with one-third still undecided.
Last week, in an interview with local newspaper South China Morning Post, Snowden revealed that the NSA hacked into hundreds of strategic targets in China and Hong Kong, including CUHK, home to the Hong Kong Internet Exchange, a local internet "backbone" that acts as a hub for internet traffic throughout the territory. Researchers at the university had also been targeted, he added.
Snowden also appealed directly to the former British colony, saying, "My intention is to ask the courts and people of Hong Kong to decide my fate. I have been given no reason to doubt your system."
A rally in downtown Hong Kong on Saturday to support Snowden drew approximately 400 people, as well as dozens of journalists representing local and international media.
"I'm here to support free speech and internet privacy," said local resident and rally participant Selina Cheung, who described Snowden as "brave" for leaking information about the NSA's PRISM program. "He's risked his life -- I really appreciate what he did."
The diverse mix of individual protesters, civic groups and political parties represented at the drizzly afternoon march to the U.S. consulate and Hong Kong government headquarters suggests that Snowden's message has potentially broad appeal.
Snowden seems to have galvanized support from members of both the pan-democrat (a group that traditionally favors greater autonomy) and pro-Beijing camps -- no easy feat these days, given recent disagreements over filibusters and universal suffrage. Legislators from both sides of Hong Kong's political divide were in attendance, demanding that the U.S. stop its alleged hacking and surveillance of Hong Kong.
"We must not let anybody intervene -- either from Beijing or from Washington," pan-democrat legislator Albert Ho said to a cheering crowd at the beginning of Saturday's rally. Ho expressed hope that Snowden would be able to successfully fight any U.S. extradition requests and criticized President Obama for approving the hacking and surveillance activities.
"We demand an explanation from President Obama as to why he has indulged his National Security Agency to undertake such systematic violations of the rights, not only of the American people, but of the people of other countries."
Voices on Hong Kong's pro-Beijing side also defended Snowden. "I think the Hong Kong government should protect him," said Starry Lee, vice-chairwoman of the Democratic Alliance for the Betterment and Progress of Hong Kong (DAB), the largest pro-Beijing party in Hong Kong's Legislative Council.
This apparent unity aside, the fact that pro-Beijing and pan-democrat politicians were both rallying behind Snowden does not necessarily mean that they're viewing him as important for the same reasons.
For the pan-democrats, the possibility of Snowden being processed by the Hong Kong legal system could provide an opportunity to highlight the limits of the territory's autonomy vis-à-vis Beijing. Snowden's plight could also serve to mobilize the masses for a large protest march planned for July 1, aimed at pressuring Beijing and its allies in the Hong Kong government to grant universal suffrage for the 2017 chief executive and 2020 Legislative Council elections.
Meanwhile, pro-Beijing politicians see in Snowden's case a chance to remind their supporters that while they support a closer relationship with the mainland, they are still Hong Kongers. The potential value of Snowden as a bargaining chip for Beijing to use in discussions with the Obama administration in the future could also be an influencing factor. It is possible, of course, that the handful of politicians here who have expressed support for Snowden so far -- a group that does not include Chief Executive Leung Chun-ying or former security secretary Regina Ip -- genuinely think that he deserves protection from the U.S. government.
Snowden's initial maneuvering in Hong Kong appears to have provided him with a small but significant base of support in a delicate situation that may soon feature protracted legal and diplomatic wrangling. Meanwhile, his whereabouts in Hong Kong are still a mystery. Washington has yet to file an extradition request, and state media in Beijing has urged the U.S. to observe "due respect for sovereignty of jurisdiction." In other words, this is only the beginning.