Ghana's Gold-Mine Arrest, China's Latest Headache in Africa
The recent arrest of 120 Chinese miners raises uncomfortable questions about the country's economic strategy in Africa.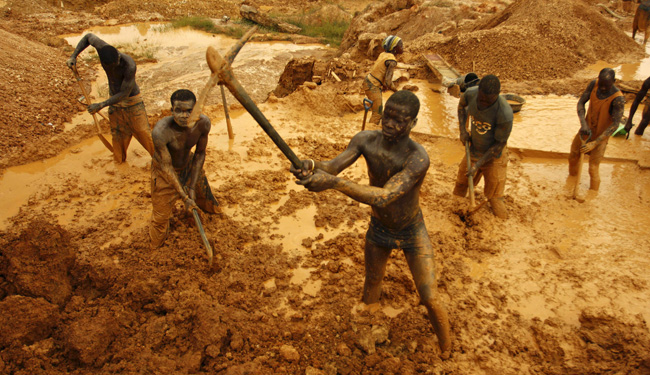 In March 2013, Xi Jinping visited three African countries -- Tanzania, South Africa, and Republic of the Congo -- during his first trip abroad as the President of China. In 2012 alone, more than 2,000 Chinese companies have invested a total of US $20 billion. Increasing interaction between African countries and China seem to paint a rosy picture of the relationship, but the recent crackdown by the Ghanaian government on illegal gold miners, which resulted in the arrests of 124 Chinese workers in Ghana, has raised some red flags. As of June 7, five days after the crackdown, negotiations are still continuing in the hopes of resolving the crisis, according to the Embassy of China in Ghana.
---

MORE FROM TLN
---
This is not the first time Chinese gold miners in Ghana have faced the imminent threat of being detained, beaten, shot, or even killed. In October 2012, a 16-year-old boy was shot to death while fleeing from armed security forces in the gold-rich Ashanti region. During that operation against illegal miners, more than 100 Chinese citizens were arrested. In the last few days, pictures sent from Chinese nationals, either arrested or still hiding out in the woods, are full of gory details and convey a sense of desperation.
On Sina Weibo, user Hu Jinghua (@胡靖铧), an angel investor, posted a viral essay on Weibo shortly after the news broke. The essay, which Hu claims was written months prior by a friend, accused Chinese miners in Ghana of carrying out acts of racial discrimination and sexual harassment against the local population. The post accused the Chinese in Ghana of "talking every day about how to take food from the [Ghanaians]" and wrote that "many [Chinese] will spend over ...1,700 RMB on a Fujianese prostitute in Kumasi [a city in Ghana] but aren't willing to give a few rotten peppers to a [Ghanain]." It also asserted that the guard dogs at Chinese mines eat better than the Ghanain workers.
The post was shared and commented upon numerous times, with many questioning the accuracy of its detailed allegations, before it was deleted by censors. In addition to its unfavorable portrayal of overseas Chinese, the post's religious overtones may have made authorities queasy -- it argued that "disciples of Jesus treat the [Chinese] with an openness and benevolence that they cannot understand." (The essay can still be viewed at FreeWeibo.com, which captures deleted posts.)
The vast majority of the Chinese gold miners in Ghana come from the small county of Shanglin in Guangxi, a province approximately of the same size as Ghana. Categorized as one of the impoverished counties receiving aid from the national government, the county is witnessing an unusual wave of transformation; imported cars are often sighted on the streets, and new real estate construction has become common. The source of the wealth can be traced back to the gold mines of Ghana. More residents in Shanglin are still considering joining the gold mining business in Ghana in spite of safety concerns, lured by the tales of abundant wealth accumulated in a short period of time, while opportunities are lacking at home.
Despite the hopes for jobs and income in Ghana, gold miners from Shanglin face an array of risks on a daily basis. Chinese nationals are often the managers and technical specialists of their mining operations, while employees hired locally in Ghana carry out most of the manual labor. Burglaries and mugging are of common occurrence at the gold mines, and lives have been lost during armed robberies.
Additionally, regulations issued by the Ghanaian government do not favor Chinese gold mine investments. According to Toni Aubynn, CEO of the Ghana Chamber of Mines, licenses to operate small-scale mines are only issued to Ghanaian nationals, but foreigners can provide technical support and equipment. Therefore, Ghanaian-owned small-scale mining operations seek Chinese funding and equipment. Many Chinese nationals have flooded into the gold mining industry seeking business opportunities without understanding the licensing issues.
The most recent wave of arrests targeting illegal Chinese gold miners in Ghana has brought attention to a group of individuals too often overlooked while discussing China's involvement in Africa. These gold miners are not associated with the state-owned enterprises that are the most influential in Africa, and their personal security is not guaranteed. Like the gold miners from Shanglin, many Chinese nationals choose to migrate, despite the risks, for job opportunities on an unfamiliar continent. For the Chinese government, how these individuals' lives will be protected is a new challenge, and one that is going to linger as China continues to expand into a variety of sectors in Africa and elsewhere.
According to a June 9 report by the Financial Times, the Chinese embassy in Ghana has reached an agreement with Ghanaian national security and immigration authorities to release all Chinese gold miners held in detention centers. However, fearing more violence and robbery, thousands more Chinese miners remain in hiding.
---
This post also appears at Tea Leaf Nation, an Atlantic partner site.