Definitely Western, Maybe Subversive: Stand-Up Comedy Catches On in China
At smoky Beijing clubs, quick-witted locals are trying their hands at a new art form.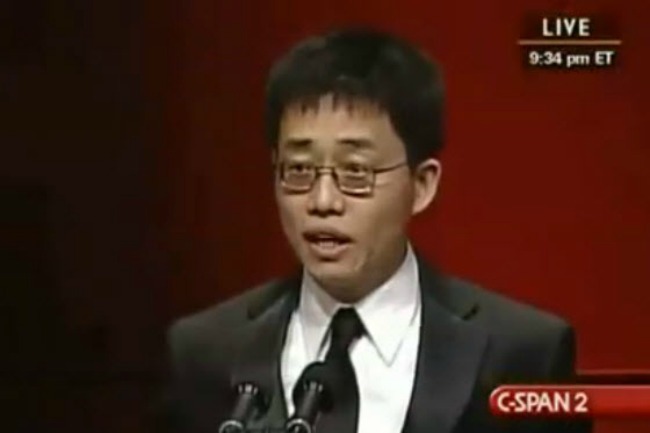 Chinese-born stand-up comedian Joe Wong, who performs in English, serves as an inspiration to a new generation of comedians in the country. (Sina Weibo)
Down an alleyway in one of Beijing's historic neighborhoods, people are piling into the dingy back room of a bar. The lights are low, the air is smoky, and beer is flowing. But this is not just another night out for the city's hipster set: It's Wednesday night at Hot Cat Club, which means comedy night.
Working the room and dispensing high-fives is a 29-year-old American named Toby Jarman, a member and regular performer at the club. Jarman came to Beijing in 2011 when his wife was recruited to teach at an international school. Prior to moving to China, he had been involved in the stand-up comedy scene in Portland, Oregon and in March 2012, craving the buzz of being on stage again, Jarman approached Hot Cat's owners with the idea of an open-mic night.
"They had no idea what stand-up comedy was but they liked the idea of attracting more customers," he says. The plan appears to be working. A year later, there's an open mic at a different bar in the city four nights a week, and tonight at the Hot Cat Club a crowd comprised of equal numbers Chinese and Westerners jostle for standing room.
On stage is the most talked-about new comedian on the scene, Tony Chou. By day, the Shandong Province native is a reporter for China Central Television (CCTV), the country's staid state-run broadcaster. Tonight, however, he's sporting a shiny dinner suit, frilly shirt and a baby-faced grin. The 29-year-old kicks off his set: "I'm Tony Chou. Like every other product you value in your life, I was made in China." He then proceeds to inform an audience packed with American expatriates why he doesn't like Americans.
The audience howls. This combination of choirboy charm and calculated offensiveness has won Chou something of a cult following; that and the fact that he's trying his hand at some political material.
Given his media background, Chou is well aware of the potential pitfalls of taking a swipe at politics in China. That's part of the advantage of performing in English, he explains, mocking his imperfect -- though fluent -- grasp of the language: "If the foreigners don't understand my English, neither do the Chinese."
Chou, who name-checks the successful Chinese-American comic Joe Wong as an inspiration, has ambitions to do comedy full-time. With an eye on reaching a bigger audience, he's taken the bold step of putting a video of his most edgy material online, although he admits that the Chinese subtitles he overlaid are purposely "not very clear".
But, making people laugh in a language other than your mother tongue is never easy. Is Chou hoping to develop a Chinese-language stand-up scene? He's not entirely convinced it would work. Chou has met a few people who are experimenting with the form and is hopeful that it will cross over into Chinese one day, but warns, "If the culture does not match the audience, that would be a barrier."
Chou is cognizant of comedy's rich history in China, from court jesters during the pre-20th century dynastic period, to the still-popular performance art known as "crosstalk." This traditional form usually functions as a two-person dialogue and, like stand-up comedy, the skill involves setting up and delivering punch-lines. But the similarities between the two are limited.
According to Chou, in crosstalk "you tell a story in the third person that has nothing to do with you. It's about story-telling rather than giving your own opinion or judgment. Western-style comedy is much more personal, about true experiences or observations that you want to share with others."
He adds, "Chinese people laugh more at weakness; Westerners are about poking fun at authority." But despite these differences, Chou believes that today's crosstalk practitioners are taking some cues from stand-up, integrating up-to-date references while staying true to the historic form.
This cultural mash-up is not surprising, considering that the popularity of video sharing websites and pirated DVDs means that young, educated Chinese has easy access to North American stand-up. Talk to these comedy fans, and the names that come up time and again are Russell Peters and Chris Rock as well as the late George Carlin and Mitch Hedberg.
Jarman would love to see more Western comics in Beijing, but admits that stars like Peters are used to the "red carpet treatment", something that may not yet be on offer in the city. He feels that he and his friends are still building the scene from the ground up, and his excitement about the process is palpable.
"The best thing is the people that are involved. The stand-up community in Beijing is close and supportive of one another. It hasn't yet developed into the competitive, cut-throat world that stand-up usually is. That happens once money gets involved," he says.
For now, though, the scene is cozy and welcoming, with an atmosphere that Jarman believes encourages people to get up and try new things.
Back at the Hot Cat Club, a lanky American leaps on stage clutching a chuanr -- or meat kebab -- in one hand and a microphone in the other. He starts beat-boxing to the tune of Vanilla Ice's "Ice Ice Baby," then delivers a pitch-perfect rap on the intricacies of catching food-poisoning from eating Beijing street food. The crowd roars with laughter and cheers as he charges off stage.
He might not be Russell Peters, but for the audience at the Hot Cat Club, he's comedy gold.