China's Latest Discount Product: Drones
A new market has emerged for inexpensive Chinese weapons, changing the regulatory calculus.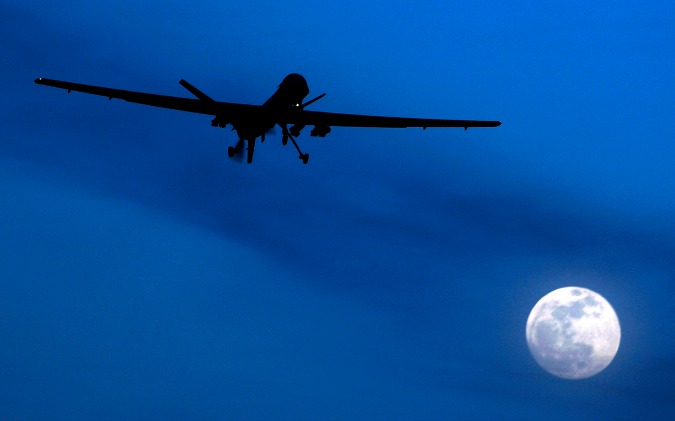 Kirsty Wigglesworth/AP
Want to buy a military-grade drone? That won't be easy, unless you've got a good relationship with Beijing.
This week's Paris air show highlighted the trouble with the burgeoning drone economy: While the technology is better than ever, there still aren't many people who can legally buy unmanned vehicles. Civilian buyers still face restrictions on usage. U.S. and European regulators are still mulling rules for drones to share airspace with planes and helicopters. And strict trade restrictions make it difficult for the traditional leaders in the field, U.S. and Israeli defense contractors, to export their drone technology. Just months after the first sale of U.S. drones to a non-NATO country, Germany cancelled the purchase of four Eurohawk drones after delays in certifying them for flight in Europe.
All the better for Chinese aerospace companies, which aren't hindered by such rules. As a result, China could become a drones "proliferator" to developing countries, according to a report  released on June 13 by the U.S.-China Economic and Security Review Commission."Chinese companies appear to be positioning themselves to become key suppliers of UAVs in the global market ...Chinese UAVs are likely to be attractive to developing countries in Asia, Africa, and the Middle East, particularly given their price points," the report concludes.
China is developing UAV technology for widespread use in surveillance and combat. Almost every large manufacturer for the Chinese military hosts a research center dedicated to drone technology. The government proudly displays new designs at air shows and military parades. Earlier this year, Chinese officials considered using a drone to kill a drug trafficker in Myanmar who had murdered 13 Chinese sailors.
The portability and low cost of drones produced in China makes them more attractive, according to the report. An example: China's Wing Loong, a drone that is sometimes compared to the U.S.'s Reaper, costs $1 million; the Reaper goes for around $30 million or more.
China's drone technology is, according to some, about two decades behind that of the U.S. But China's technology could be alluring enough to strengthen its ties to other emerging markets. China has already used its satellite technology for this purpose: Nigeria, Brazil, Venezuela and Pakistan have all bought or received Chinese satellites in exchange for Chinese access to their natural resources. In this way, drones become a kind of soft power currency for China, especially if no one else is willing to sell them.