China, The Atlantic, and the Foibles of Big Data, All in 1 Post
"Mr. Serving Dishes" comes to San Francisco and offers American manufacturers new hope.
Act One:
Late last year I revisit my friend Liam Casey, the Irish entrepreneur deeply involved in the global outsourcing-industrial complex, at the headquarters of his
PCH International
  company in Shenzhen, China. I do an an update on his views of the shifting trends in world manufacturing, in an Atlantic story called "
Mr. China Comes to America
" -- source of the photo above, showing him and one of his factory lines.
     Act One-and-a-Half: Liam tells me to watch for word of his opening a new design center in San Francisco, emblematic of the Bay Area's taking on an expanded role in the ever-faster branding-design-manufacturing cycle.

Act Two
: TechCrunch runs
a nice story
last week on the opening of the new SF design center. The title of the story is "Mr. China Goes to San Francisco," with gracious references to the ongoing Atlantic chronicles of the activities of Mr. China. It also explains Casey's current ambitions for the center, and in general:
A teetotaling Irishman, the inexhaustible Casey ostensibly lives in a hotel [JF: the Four Points Sheraton] in downtown Shenzhen but is nearly always in the air. He and his cross-cultural team make nearly all the accessories you can imagine for multiple vendors. You couldn't point a finger in a Best Buy without hitting a product PCH builds.
He envisions his new building as a gateway to China and a way to help clients - and the public - understand the vagaries of mass manufacturing.

Those are the China-related and Atlantic-related parts of this item. Now, we come to Big Data part:
Act Three
: A number of auto-translate bots convert the TechCrunch story to Chinese -- and then evidently back out again. Here is the way it looks when it has made the round trip from English to Chinese and then to English. The headlines, from a site tracking pickup of our articles, will give you the idea: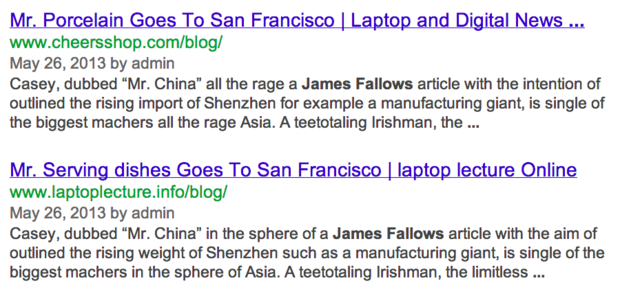 Liam Casey has both enjoyed and been mildly embarrassed by the jokey moniker "Mr. China." Let's see how he likes becoming "Mr. Serving dishes." All this is in the ongoing category of "big data making us smarter, sort of."