Are Hong Kongers Losing Patience With Beijing?
Edward Snowden's decision to flee to the territory puts a spotlight on its growing discomfort with mainland Chinese meddling.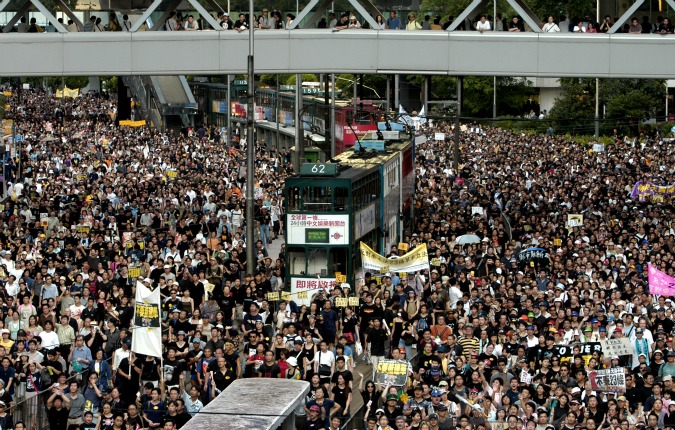 Tens of thousands of people pack a Hong Kong street while marching to Hong Kong government headquarters, July 1, 2003, to protest the Hong Kong government's plans to enact an anti-subversion bill that critics fear will curtail civil liberties. (Vincent Yu/AP)
The recent NSA surveillance scandal has not only thrown the global spotlight on whistleblower Edward Snowden, but also on the place Snowden chose to flee to: the Chinese territory of Hong Kong.
"Hong Kong has a strong tradition of free speech," Snowden said in an interview from his Kowloon hotel room. "The people of Hong Kong have a long tradition of protesting in the streets, of making their views known."
Intentionally or not, Snowden has chosen an interesting time to seek refuge in Hong Kong: the next 12 months are likely to see plenty of street protests and dissent in this tiny former British colony. Growing distrust of China's ruling Communist Party, an increasing distaste for mainland Chinese visitors, and an unpopular local government form the backdrop for an issue that a large number of Hong Kongers are seeking to force with local and Beijing officials: universal suffrage.
On July 1, 1997, Hong Kong was handed over to the People's Republic of China with assurances that it would be allowed to govern itself as it sees fit, excluding matters of national security, defense or foreign relations. But over the past 16 years, Beijing's influence has crept slowly into most major aspects of daily life here, including politics, economics and even education. This has not gone unnoticed by Hong Kongers.
On July 1 of this year, tens of thousands are expected to march across Hong Kong Island, beginning in Victoria Park, the site of the annual vigil in remembrance of the 1989 crackdown on Tiananmen Square. Protesters will make their way past government offices before stopping in Central, Hong Kong's main business district -- where a potentially larger protest known as Occupy Central is planned for next year.
"Our march will end in Central as a message to the central government in Beijing that if we are not granted the universal suffrage that we've been promised, then we will return next year," said Jackie Hung, convener of the Civil Human Rights Front (CHRF).
A loose alliance of groups representing a stir-fry of interests from religious organizations to anti-discrimination groups to the Falun Gong, CHRF organized the biggest demonstration in Hong Kong since its return to Chinese rule when half a million people marched through the territory on July 1, 2003 to protest proposed anti-subversion legislation. The massive demonstration led to the shelving of the legislation and the downfall of then-chief executive Tung Chee Hwa.
***
Hong Kong's political system is based upon its mini-constitution, Basic Law, which became the territory's fundamental legal document with the 1997 handover and is, in theory, the framework for Hong Kong to enjoy an open civil society and unfettered autonomy through 2047. Basic Law may allow Hong Kong to appear relatively democratic compared with mainland China, but calling the political system built upon it a "democracy" is a stretch.
As in most democratic systems, Hong Kong has numerous political parties, but broadly speaking there are two primary camps: pro-Beijing and pan-democrat. The pro-Beijing or "pro-establishment" group operates under the idea that, as part of China, Hong Kong should work with Beijing toward common goals. The pan-democrats, on the other hand, are a group of parties, scholars and activists that believe in protecting Hong Kong's autonomy and improving democratic freedoms.
At the core of the issue is the unconventional structure of the Hong Kong government, which consists of an executive (referred to as the "chief executive") and the unicameral Legislative Council (usually shortened to LegCo). Similar to a city mayor, the chief executive position has always been a sore spot for many Hong Kongers, as each of the three to serve post-handover have been selected by a Beijing-controlled electoral college. Promises for direct elections for the chief executive position have been pushed back to 2017, just 30 years before Hong Kong is to be reintegrated with the mainland political system.
LegCo, though resembling a robust parliament, similarly falls short of democracy. It consists of legislators from so-called geographical constituencies, in which they are elected by people from regional districts and functional constituencies, where special sectors of Hong Kong society are given a say in government.
Functional constituencies are a lightning rod for critics of the local government, because corporations can be given voting rights. Given the strong funding and central government backing of pro-Beijing lawmakers and that big business in Hong Kong votes pro-Beijing, the pan-democrats have found their political options increasingly limited in recent years. Pro-Beijing supporters of the functional constituency mechanism praise its diverse representation of Hong Kong society, but pan-democrat detractors view it as a stacked deck that favors politicians answering to the Communist Party as well as their big business cronies.
***
In this atmosphere of gridlock and frustration, universal suffrage has now become a rallying cry for pan-democrat legislators and activists, who are framing it in now-or-never terms. The number of people participating in the upcoming July 1 march is widely seen as a preview of what to expect from another demonstration planned by pan-democrats for next summer -- Occupy Central.
First proposed by Hong Kong University law professor Benny Tai Yiu-ting in January, the Occupy Central movement wasn't taken very seriously until it was given a massive boost by comments made by China's National People's Congress Law Committee chairman Qiao Xiaoyang in March. Hong Kong's next Chief Executive must "love the country, love Hong Kong, Qiao said, adding that only Beijing-approved candidates would be allowed to stand in the 2017 chief executive election.
An internal memo from the office of Hong Kong's current chief executive, Leung Chun-ying, leaked in May, provided additional momentum for Occupy Central. The memo stated that future policy submissions must be assessed in terms of "mainland reaction and related public relations measures," wording that inspired pro-democracy broadsheet Apple Daily to run the headline: "Hong Kong is screwed."
The continued erosion of Hong Kong's autonomy and denial of universal suffrage is unsustainable, said Chan Ka Wai, Executive Director of China Human Rights Lawyers Concern Group. "The Hong Kong public basically trusts the government's promise that we will enjoy true universal suffrage for the chief executive election in 2017 and true universal suffrage for the Legislative Council election in 2020."
"If that finally doesn't come, I think the Hong Kong people will be so frustrated that they will find their own way to express their anger -- I'm very sure that some social chaos will occur. That will not only be a social issue it will quite certainly also have an impact on economic development."
Chan is not the only one who sees chaos on the horizon in Hong Kong if universal suffrage is not resolved in the coming year. Opponents of the protests warn that social unrest would upset the delicate balance that guarantees Hong Kong's prosperity.
"Hong Kong is a big business and financial center -- Occupy Central would certainly bring chaos and not be good for its image," said Tam Yiu-chung, LegCo member and chairman of the Democratic Alliance for the Betterment and Progress of Hong Kong (DAB), the pro-Beijing party that has the largest representation in LegCo. Tam said he and DAB support universal suffrage, as determined through consultation between Hong Kong's government and citizens.
"Everything can be discussed, but plans to Occupy Central are illegal," he said. "The central government has treated Hong Kong very well since the handover and has abided by the Basic Law."
Tam said the pan-democrats' confrontational attitude toward Beijing was making them politically irrelevant and that they'd chosen a path with an outcome in which all they are capable of is "making noise". Regina Ip, chairwoman of the pro-Beijing New People's Party and a member of LegCo and the Executive Council (similar to the chief executive's cabinet) was less diplomatic. In a recent op-ed piece in the South China Morning Post, Ip suggested that universal suffrage may not be the actual goal of some pan-democrat leaders.
"Is it really necessary for the organisers to go to such provocative lengths to force Beijing to respond?" she wrote. "Have they calculated the risks and downsides of the mass occupation of Central district turning sour, triggering a violent confrontation and even the unleashing of the People's Liberation Army onto the scene? Or is that the real, covert purpose of the organisers -- provoking a mini-Tiananmen incident in Hong Kong?"
Following the February proposal for the rezoning of a pier in Central for use in "training and berthing" by the People's Liberation Army, Ip's comments have been viewed as a thinly-veiled threat by some in the territory's pan-democrat group.
One of the more visible and well-known members of this group is Leung Kwok Hung, a hirsute activist-turned-legislator better known by the nickname "Longhair," and a founding member of the League of Social Democrats (LSD). Leung is an outspoken critic of Beijing's human rights record and advocates a major overhaul of Hong Kong's political system to better address social inequality. Referring to to Chief Executive Leung (no relation) as a "closet Communist" and pro-Beijing parties as "CCP agents," Leung said that there was no need for Beijing or Hong Kong government officials to decide how to define universal suffrage for Hong Kong.
"We should hold a referendum," Leung said. "Let the people decide. We should do this before Occupy Central next year. But if it doesn't happen then I of course will support Occupy Central."
Leung, who describes the current Hong Kong government's strategy as "don't annoy China and don't annoy the rich", said that important social issues, especially Hong Kong's widening wealth gap, were not going to be addressed by LegCo, which has become a "rubber stamp teahouse" in which Beijing always gets what it wants.
Although Leung is viewed by some in Hong Kong as a showman and unnecessary boat-rocker, his negative view of the current government is shared by many. In a May survey by Hong Kong University's Public Opinion Programme, the public sentiment index made up of appraisals of local government and society, opinions of the government were at a 10-year-low, the worst since half a million people took to the streets in July 2003.
In the decade since that protest, the rescue of Hong Kong's sagging economy and the national pride from hosting the 2008 Olympics boosted public sentiment significantly. But the China-Hong Kong relationship has largely soured since then, with more and more Hong Kongers, especially the younger generation, viewing mainland Chinese as uncivilized invaders. Meanwhile, many mainlanders complain of Hong Kong as being arrogant and ungrateful.
In the end, the Chinese Communist Party holds most of the cards in this dispute, and Qiao Xiaoyang's recent comments -- along with a lack of any noticeable progress -- suggest that Beijing simply granting Hong Kongers universal suffrage in the next chief executive and LegCo elections is unlikely.
"Of course they think this is all related to their power," said lawyer Chan Ka Wai about officials in Beijing overseeing political developments in Hong Kong. "They hold on to power to make sure that everything is acceptable to them. The problem is that we must ask what kind of future we want for Hong Kong. The Chinese government always says Hong Kong is very important in terms of economic development. But our economic development cannot be separated from our political openness."