A Friendly User's Guide to the U.S.-China Summit
Answers to your questions about President Obama's meeting with Xi Jinping.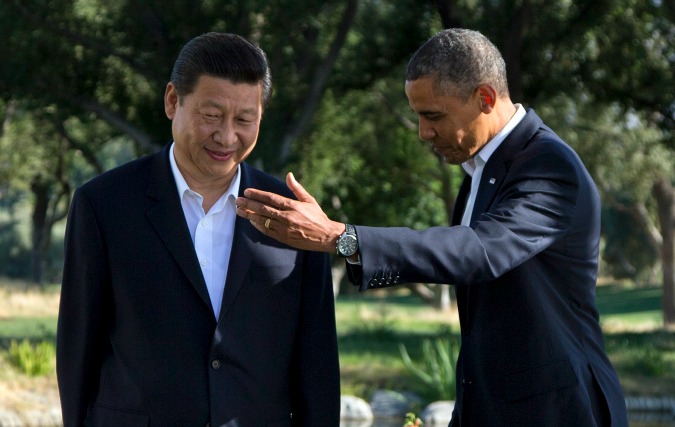 Chinese president Xi Jinping and his American counterpart Barack Obama at their first day of meetings in Rancho Mirage, California. (Evan Vucci/AP)The weekend summit between Presidents Barack Obama and Xi Jinping has finally arrived amid weeks of speculation. Will the substance of the meeting match the anticipation? Only time will tell -- as even if the summit goes very well, any deliverables are likely to be modest. That said, the simple fact that the two men will meet in a relaxed setting makes the gathering important and worthwhile. So what do you need to know about the two-day "shirtsleeves summit" between the leaders of the world's two largest economies? Here are some answers to frequently asked questions:
Why are Xi and Obama meeting in California? Is the White House not good enough?
When President Obama invited Xi Jinping's predecessor, Hu Jintao, to the White House for an official state visit in 2011, the Chinese leader arrived under-dressed (wearing a suit rather than tuxedo) and sans wife, making for
an awkward photograph
 with the immaculately turned-out First Couple. This image was consistent with Hu's stiff image -- he was noted for his colorless personality even by the dour standards of Chinese politicians.
Xi, by contrast, is something of a natural. Born into China's Communist aristocracy -- the president's father Xi Zhongxun was an important official in the early days of the People's Republic -- the younger Xi is seen as
comfortable and relaxed
 in an international crowd. An informal "shirtsleeves summit" suits Xi's cosmopolitan image, and provides him with an opportunity at the beginning of his term to establish a personal connection with President Obama. And, perhaps mindful of past sentiment, Xi is bringing along
his glamorous wife Peng Liyuan
-- even though
Michelle Obama is staying in Washington
. Xi isn't the type to ignore protocol.
A personal connection? Does that kind of thing really make a difference? After all, President Bush said he saw into Vladimir Putin's soul, and look how that all turned out.
Not really. After all, each head of state represents the interests of his country and will not make important decisions based on his feelings for a fellow leader. And as Stephen Walt of Harvard pointed out in
a recent blog post
, the main grand strategies of China and the United States are at odds with each other. Washington, as the world's only superpower (sorry, China's not there yet), seeks to preserve its current position in global affairs, while Beijing wants control over "core interests" in the East and South China Sea. For this and other reasons, some analysts expect a
"cool war"
 to serve as the enduring paradigm in the region, and no matter how much Obama and Xi might like each other, the two countries will inevitably be at loggerheads in the future.
So what's the point of the summit? Why should Obama and Xi even meet at all if their core national interests aren't aligned?
Just because Obama and Xi themselves can't fundamentally alter the trajectory of Sino-American relations, it doesn't mean the two leaders won't be able to cooperate on issues of mutual interest. The most important of these issues is North Korea. Since Xi Jinping assumed the presidency, China has expressed less patience with its mercurial ally, strongly condemning Pyongyang's third nuclear test earlier this year. Neither Beijing nor Washington wants to see a nuclear armed Kim Jong-un, and both are keen to re-start talks aimed at securing a diplomatic solution to the crisis. But the United States (along with South Korea) is unwilling to  meet North Korea without a pledge that Pyongyang will abandon its nuclear weapons,
China doesn't share this precondition
. Rest assured this difference in policy will come up during the Xi-Obama summit.
But beyond the issues aside, a meeting between Xi and Obama has benefits in and of itself, even if the two presidents fail to find much common ground. President Xi himself told outgoing U.S. National Security Adviser Thomas Donilon that he thinks the meeting will help develop trust between the two presidents. And even in the worst case it's difficult to imagine U.S-China relations being worse after the summit than before.
What about cyber spying? How on earth are Obama and Xi going to find common ground on this?
Cyber-spying has emerged as the most serious recent sticking point between the United States and China, especially after the technology security firm Mandiant announced the existence of a Chinese army unit practicing cyber espionage from Shanghai. China has officially denied any intention to hack into U.S. corporate or military interests, and has also accused the U.S. of being guilty of cyber-spying themselves.  As of yet the United States, aside from going official with its accusations, hasn't formulated a policy response to the online hacking issue.
Obama will almost certainly raise the issue with Xi. But will the revelation that the National Security Agency (NSA) has collected data on cellphone conversations as well as overseas internet connections take the sting out of the president's message? In
the press conference
after their initial meeting, Obama demurred when asked about cyber security, saying the two leaders hadn't yet had "in-depth conversations" about the subject and referring to the NSA situation as a "very limited issue". However, in the event the two leaders do discuss cyber spying in detail it wouldn't be surprising if Obama were more circumspect than usual in his approach.
In any case, China and the United States ought to figure out
some ground rules
for dealing with cyber spying issues, since fresh revelations will almost certainly emerge with some frequency in coming years.
So is this meeting even a big deal? What can we expect to come of it?
Summits between China and the United States have historically attracted a lot of attention, ever since President Richard Nixon met an ailing Mao Zedong in Beijing in 1973. Six years later, Mao's successor Deng Xiaoping became the first top leader of the People's Republic to visit the United States, famously donning a ten-gallon hat and taking in a performance by the Harlem Globetrotters. Subsequent meetings between U.S. and Chinese leaders have been less publicized, but any time the heads of state of the world's two largest economies gather, it's a big deal -- especially if the two economies have such a competitive relationship.
Despite all the talk of "high stakes," it's unlikely much will come out of this meeting beyond
a joint communique
and, perhaps, a plan to re-start North Korea talks. But at the conclusion of the meeting, the two presidents will have had a chance to discuss the world -- and their countries' place in it -- without the distractions of a G20 meeting or a UN General Assembly. Whatever the tangible outcome of the California summit, Presidents Xi and Obama will have gotten to know each other better, and even in the complex world of international politics, that counts for something.