With Sidney Rittenberg, in Seattle
A chance to hear about history, first-hand.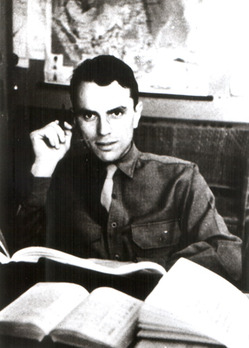 Sidney Rittenberg
's
The Man Who Stayed Behind
(with Amanda Bennett) is a genuinely astonishing book. To be more precise, it is a dramatic account of a genuinely astonishing life.
Rittenberg, who grew up in Charleston, South Carolina in the 1920s, went to China in the 1940s as a language expert with the U.S. Army (right) -- and stayed for decades, as a committed believer in Chinese Communism and the new path being blazed by Chairman Mao. His loyalty to the country and its leaders survived his two long stretches, totaling 16 years, in solitary confirement as a political prisoner there in the early 1950s and again in the late 1960s. He still travels back and forth to China and, in his 90s, is actively involved in US-China affairs.
This evening -- Tuesday, May 14 -- I will have a chance to talk with Sidney Rittenberg about China then and now, at an event in Seattle sponsored by the Washington State China Relations Council. It's at 6pm at the ACT Theater; details here. I understand that C-SPAN intends to film his remarks, but if you're in the vicinity, please consider coming. I have met him before but am tremendously excited to have a chance to ask him about his experiences and views. It is an opportunity to hear about history, first-hand.