Why China Executes So Many People
Despite growing opposition, capital punishment remains entrenched in the country's justice system.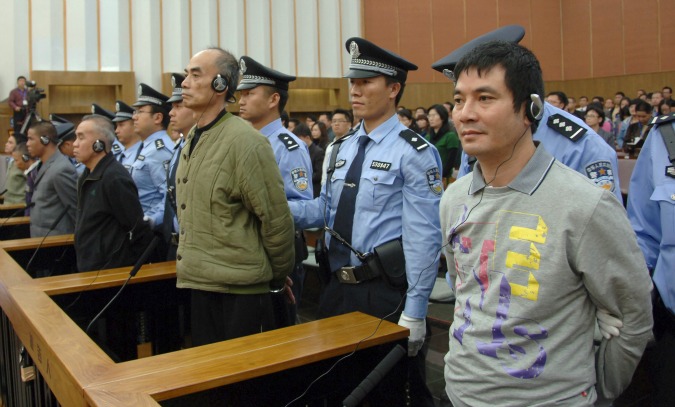 Suspects listen to their verdicts at a court in Kunming, Yunnan province, November 6, 2012. (Reuters)
Zhang Jing has only seen her husband four times in the past four years. This Thursday, it will have been be exactly two years since they last met.
And she may never see him again.
That's because Zhang's husband, Xia Junfeng, a former street vendor in the northeastern city of Shenyang, was sentenced to death in 2011 for stabbing to death two chengguan, who are much-maligned city management inspectors responsible for enforcing law and order.
The sentence is now under final review by the Supreme People's Court in Beijing. If approved, Xia will not be able to appeal and will be executed.
Zhang, 37, still adamantly believes that her husband is innocent.
"They charged him with intentional homicide. But how could my husband have 'intentionally' killed someone if they first beat him up?" Zhang questioned. "He was only defending himself. If he'd known what would happen, would he still have done it? Of course he wouldn't have. Even if he escaped the death penalty, he'd lose freedom for the rest of his life behind bars. Isn't that a very painful thing?"
"Also, why didn't they call defense witnesses to testify in court? Why only call upon the chengguans' witnesses? I feel it was very unfair," she said.
Cases like Xia's, where there's a chance that the accused could be innocent, are the focus of the anti-death penalty efforts in China. "Even those who strongly support the death penalty don't support condemning an innocent person to death," said Teng Biao, a human rights activist and founder of the non-profit Beijing-based China Against Death Penalty. Teng also served as the defense lawyer for Xia in his appeal.
A report released last month by the human rights group Amnesty International said that, as in previous years, China executed more people last year than the rest of the world combined. While the official number is unknown -- executions are considered state secrets in China -- most estimates place the number at around 3,000. By contrast, 42 people were executed in the United States last year.
Opposition to the death penalty exists in China but faces many obstacles, including pro-execution government propaganda, class and income inequalities, and the lack of an independent judiciary. Another issue, alas, is popular indifference. But while anti-death penalty activists say public education is needed to get the message out, they believe change ultimately needs to come from the top -- something that they're not optimistic about at all.
The death penalty has deeply-entrenched roots in China, and the notion of sha ren chang ming, the Mandarin equivalent to "an eye for an eye", is rife in Chinese literature and tradition. But a judiciary beholden to the interests of the Communist Party arguably has a bigger impact.
"If the case is deemed to be detrimental to social stability, the government might order the courts to issue the death penalty," said Liu Weiguo, a Shandong-based rights lawyer. Even some supporters of the death penalty, like Guangzhou lawyer Cheng Zhunqiang, say that its legitimacy depends on the existence of an "extremely fair and just" judiciary, which China lacks. The current judicial system is unfairly skewed against the disenfranchised, and the application of the law is utterly arbitrary.
Prominent human rights lawyer Liu Xiaoyuan recalled a typical example: Gu Kailai, the wife of disgraced Politburo member Bo Xilai and convicted murderer, was given a suspended death sentence due to mental illness. Meanwhile, a villager from the impoverished southwestern province of Guizhou that Liu represented was refused a psychiatric assessment by the judges who eventually sentenced him to death.
The poor are further disadvantaged because they cannot afford to "buy back" their lives by offering financial compensation to the victim's family in return for them not pressing charges. This issue loomed large in the case of Zhang Jing. "We're just hawkers. We don't have money. We can't afford to compensate. It's impossible," she said.
Besides these legal questions, death penalty opponents contend that the government's propaganda seeks to convince people that killing is appropriate in certain circumstances. Six decades of Communist rule have inculcated the idea that an individual life can be sacrificed for the greater good, a belief exemplified by the one-child policy.
There's also a sense, reinforced through propaganda, that killing "bad people" is inherently just. In March, national television ran live footage of the run-up to the execution of four foreign nationals convicted of murdering 13 Chinese sailors on the Mekong River, an event that received international media attention. Shortly after the execution, Hu Xijin, the editor of the nationalistic state-run newspaper Global Times, declared to his 3.6 million followers on Weibo that "it is necessary to resolutely pursue revenge and send a stern warning to those who kill Chinese people."
These efforts appear to be working. A survey of respondents in Beijing, Hubei and Guangdong conducted in 2008 by the Max Planck Institute revealed that almost 60 percent supported the death penalty. Unsurprisingly, capital punishment provides great legitimacy to the Communist Party, which claims to be satisfying popular sentiment and public indignation when it executes corrupt officials. China is one of the very few countries that has the death penalty for economic crime and has shown little mercy with disgraced government officials. And, in a country in which free speech isn't guaranteed, the public hears few arguments against the death penalty in the national media.
Chinese opponents of the death penalty know they face a daunting environment.
"Very few people are aware of the concept of abolishing the death penalty, let alone the consideration of societal improvement and benefits that comes with getting rid of the sentence. Only an extremely small minority knows about it," said Beijing-based human rights lawyer Li Heping. "An overwhelming majority, including some members of the legal profession, think that the death penalty is a right and proper punishment. They have not thought about this issue in depth."
Liang Xiaojun, who works with Teng Biao, pointed out that China Against Death Penalty is China's only grassroots organization that pays close attention to the death penalty issue. "The movement is not on track yet. We were only recently set up, so our influence is still quite limited," he said.
For now, death penalty opponents are aiming to limit its use by first abolishing the sentence against non-violent crimes. China currently has 55 offenses that are punishable by death -- the most in the world. Of these, 31 are non-violent offenses. But in the long term, death penalty opponents have a much higher aim: to completely overhaul the way the practice is judged in Chinese society.
Will this happen? Ultimately, most activists believe change requires leadership from the top. Many countries that abolished the death penalty did so before public opinion had swung in favor of ending it. The Communist Party, with its lack of political opposition, would face few hurdles should it choose to change this policy. Nevertheless, few Chinese are optimistic.
Back in Shenyang, Zhang Jing said she's mentally prepared for the ruling, which could come any day.
"I don't dare give myself even a little hope. I'm afraid I won't be able to take it," said Zhang. "If the sentence is upheld, that means justice no longer applies. What can you do?" Her voice trailed off.
"I hope the death penalty can be abolished, not because of my husband's case, but because I know that there're many wrongful convictions," she said. "But it's a long, long road ahead. I don't know when it'll happen, I don't know how many lifetimes later, but definitely not within my lifetime."