Mo Yan: 'I Just Want to Write—Leave Me Alone'
The Nobel laureate's refusal to discuss politics raises a question: Do cultural figures in China have a responsibility to be dissidents?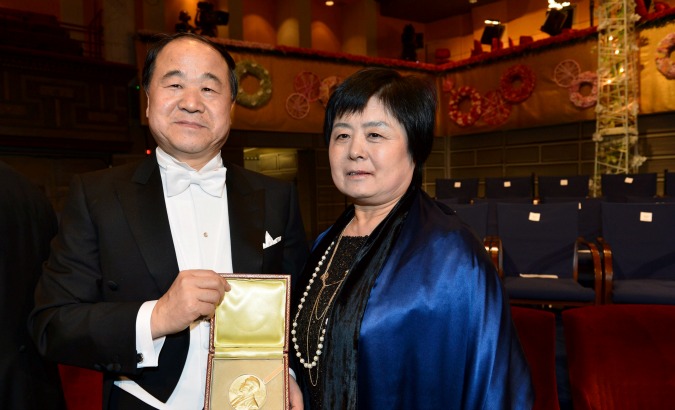 Mo Yan (L) of China, winner of the 2012 Nobel Prize for Literature, smiles as he poses next to his wife Du Qinlan after receiving his prize during the Nobel Prize award ceremony at the Stockholm Concert Hall in Stockholm December 10, 2012. (Jonas Ekstromer/Reuters)
Whether or not I deserved the Nobel Prize, I already received it, and now it's time to get back to my writing desk and produce a good work. I hear that the 2013 list of Nobel Prize nominees has been finalized. I hope that once the new laureate is announced, no one will pay attention to me anymore.
This is how 2012 Nobel laureate Mo Yan ended a recent speech at the 2nd Sino-Australian Literary Forum in Beijing, where he shared the stage with 2003 laureate J.M. Coetzee. No doubt Mo Yan is trying to end the debate on whether the Nobel selection committee had made the right decision in awarding the prize a Chinese author who does not comfortably fit the "dissident" box.
Mo Yan directly addressed a main controversy that surrounded him since his win: "Should Nobel laureates take on more social responsibility?" His answer was a firm negative:
The prize money does not come out of taxpayers' pockets, so I don't have such responsibilities. I hate partisan politics and how people gang up on opponents based on ideology. I like to come and go on my own, which allows me to look on from the sidelines with a clear mind and gain insight about the world and the human condition. I don't have the capability or interest of becoming a politician. I just want to write, quietly, and do some charity work in secret.
Mo Yan added that while it is laudable when Nobel recipients feel compelled to act in the name of the award, the decision not to do so, whatever its motivation, should not be portrayed as immoral. Mo Yan noted that he "really did not want to attend" the literary event and then went further, asking event organizers to stop inviting him, and asking fans to stop visiting the places he has lived. Chinese local media have recently reported that tourists have been taking home bits and pieces of Mo Yan's former residences.
Mo Yan has never hidden his desire to return to his writing desk. Since last October, when his selection as Nobel laureate was announced, Mo Yan has made few domestic and foreign media appearances. On Sina Weibo his last message was from last October, thanking his fans and welcoming criticism from his detractors.
It is not surprising to hear Mo Yan point out that a Nobel laureate has no technical obligations for increased social activism. Even before he won the Nobel Prize, Mo Yan spoke negatively on the public duties that can come with literary awards. It is also in line with his pen name, which means "don't speak" in Chinese. The phrase refers to an ancient saying calling ordinary people to refrain from speaking out in public, especially on state affairs. However, now that he is China's first officially acknowledged Nobel laureate, his sincere desire for a low-profile openly runs against his adoption by the Chinese government as a national symbol and source of pride.
It is no secret that the Chinese government has been actively campaigning for a Nobel award to be awarded to a Chinese writer living in China. A front page article in thePeople's Daily after Mo Yan's win framed the award as an overdue recognition of an "ancient civilization" and "literary world power," directly related to China's current "peaceful rise," and conveniently ignored the fact that another Chinese writer, dissident Gao Xingjian, won the Nobel prize for literature while living in exile in France.
In contrast with official efforts, Mo Yan has emphasized that he considers the award to be a recognition of his individual literary achievements. He denies both the political nature of the award decision, and the claim that his win represents an achievement on China's development path. In his acceptance speech for the Nobel prize, he only mentioned "China" three times, all in an attempt to contextualize Gaomi, his home region in China's Shandong province, carving out a place for this town and its traditions in a global body of oral and written literature.
On Weibo, Internet users generally showed support for Mo Yan's speech. Many described his call for the public to ignore him as "a daring act" and "brave." As @米斋 puts it: "I used to just enjoy his novels, but now I enjoy Mo Yan as a person as well: he speaks his mind." The broad consensus that Mo Yan should be allowed to return to his writing table is likely enhanced by an awareness that his award has been hijacked by national interests.
Mo Yan's speech was also widely reported in Chinese state media, yet hardly garnered a mention abroad. That's too bad, because his message is worth noting outside of China as well. Until October, he will remain the most recent Nobel laureate in literature. Whatever one's opinions on Mo Yan, his works, or the Nobel prize may be, it's beyond debate that he has issued a thought-provoking challenge to how both foreign and domestic commentators define the role of Nobel Laureate.
---
This post also appears at 
Tea Leaf Nation
, an
Atlantic
partner site.