It Isn't Getting Any Easier to Get a Doctor's Appointment in China
A Chinese company wanted to make it easier to set up hospital visits. Here's why the government shut down this popular service.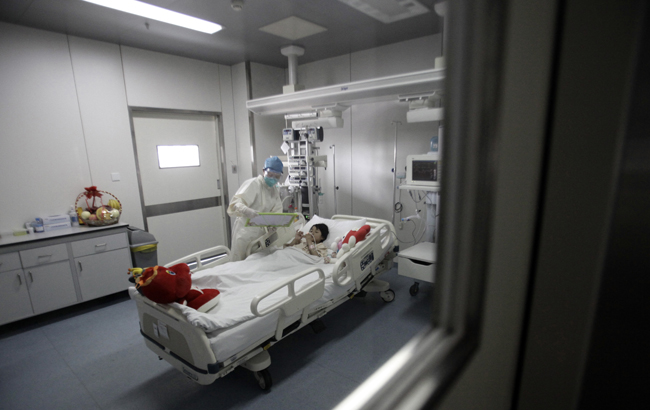 How hard is it to book an appointment at a Chinese hospital? A self-professed IT savvy father by the handle of Fast Knife Blue Shirt (@快刀青衣) wrote a commentary about his eight-hour ordeal to book an appointment at a well-known children's hospital. His two-year old daughter had been suffering from a persistent fever in spite of a week of IV injection at a local Level-II hospital. Had the government's online appointment service worked, he wrote, he would not have gone to the hospital at 2:30 in the morning.
Over the next eight hours, he queued multiple lines and elbowed "professional queuers" before triumphantly securing an appointment. Upon examining his daughter, the doctor banged on the desk and shouted, "Her situation is a very common case of fever. How could you have allowed it to be treated into a case of pneumonia?" The children's hospital proceeded to prescribe some medications instead of IV injections, and his daughter has since recovered.
In China, long queues for appointments at early dawn hours are familiar sights at prestigious hospitals. Distrustful of quality of care from average hospitals, patients clamour for opportunities to consult with doctors at Level-IIIA hospitals, the highest quality of hospital care in China. The situation has given rise to a niche market of scalpers, some of whom sell appointment slots for more than 50 times the official price to desperate patients and their families.
In a bid to provide a much-needed service, on May 20, China's e-commerce giant Taobao introduced a free hospital appointment-booking system covering 600 hospitals in 18 provinces, including Beijing and Shanghai.
Yet, just short of three days after the launch, Taobao announced that it will withdraw the service from the Beijing market following complaints and threats of investigation from the Beijing Health Bureau. Links to appointment booking to 18 hospitals in Beijing, notably those not affiliated with the municipality, including the well-known 301 Hospital run by the People's Liberation Army, are still on Taobao.
According to The Beijing News, in issuing its objection to the Taobao service, the Beijing Health Bureau is concerned about potential risks to patient data confidentiality and protecting the public welfare nature of hospital appointments. The bureau suggests citizens to use its officially-sanctioned and non-commercial telephone and Internet booking services.
However, something else may be at play. The Beijing Health Bureau operates the Beijing Unified Hospital Appointment System, a free public service that competes with Taobao's, in which the city has invested over 10 million RMB (about US$1.6 million) toward its operation.
In a letter posted on its Weibo account, Taobao apologized to users in Beijing for the decision to withdraw the service. Taobao has maintained that it has offered the service, free of charge, to help fight against hospital appointment scalpers.
Dr. Yi Jia, a doctor at Peking Union Medical College Hospital, one of China's best hospitals, once wrote on her microblog account on Sina Weibo that while the hospital charges 14 RMB (about US$2) for a patient's consultation with her, a scalper sells her appointment for more than 50 times the official price, or 800 RMB (about US$130). This means that the scalper can pocket up to 4000 RMB per day selling her appointments. Another doctor from the same hospital lamented that since all the evening appointments at the hospital are bought and sold by scalpers, he is essentially "working every day for scalpers."
With the proliferation of the Internet, scalpers are also providing "online booking" services. A Zhejiang woman reported to a local paper that while she has not been able to secure an appointment through the hospital's online booking platform, she was able to secure an appointment for 50 RMB by going to an online scalper, which was cheaper than the average cost of 150 RMB through an offline scalper. The woman paid the online scalper through Alipay, Taobao's parent company Alibaba's online payment platform.
Although free of charge, Taobao's service does require users to provide their personal information like a cell phone number. This collection of personal information appears to be the sole objection from the Beijing Health Bureau when it flagged the concern over patient data confidentiality and the involvement of a "private market" party in providing a "public welfare" service such as hospital appointment booking.
But China's Internet users are skeptical of Beijing's official lines of objection. A netizen by the handle of "A Canoe in a Dream" commented on Caijing.com.cn, "The Beijing Health Bureau may have forgotten an important fact. The 114 appointment booking platform (the government sanctioned telephone appointment service) is a classical example of public-private partnership. By abusing its public authority to intervene in the market and make false accusations, what are the true intentions of the health bureau?" Another commented, "The officials are furious that they did not reap benefits."
Dr. Gong Xiaoming , deputy professor of Peking Union Medical College Hospital, also wrote on his Weibo account, "Mindsets molded by the command economy cannot keep pace with the footsteps of a market economy and will deploy baffling compulsory measures. If sufficient market-driven measures are allowed, would the problems of taxis and healthcare remain so difficult?"
An online poll conducted by Caijing.com.cn also showed overwhelming objection to the Beijing Health Bureau's claims. The poll asked: "What is your view of Taobao's hospital appointment system being terminated?" Of the 843 votes collected as of May 27, close to 70% opposed the government interference.
Since Taobao's announcement, health bureaus from Guangzhou, Zhejiang, and Jiangshu have indicated that they do not plan to suspend Taobao's service. Industry commentators believe that Taobao's experience in Beijing is because the service disturbs established orders and threatens relevant parties' interests. Another industry insider, however, attributes the whole episode to a misunderstanding. According to the source, the Beijing Health Bureau was misled by media reports that presented Taobao as having access to sources of hospital appointments instead of acting as a portal that links users to appointment booking platforms.
---
This post also appears at Tea Leaf Nation, an Atlantic partner site.