Does Anyone Trust the Chinese Red Cross?
A look at the organization's worsening image problem.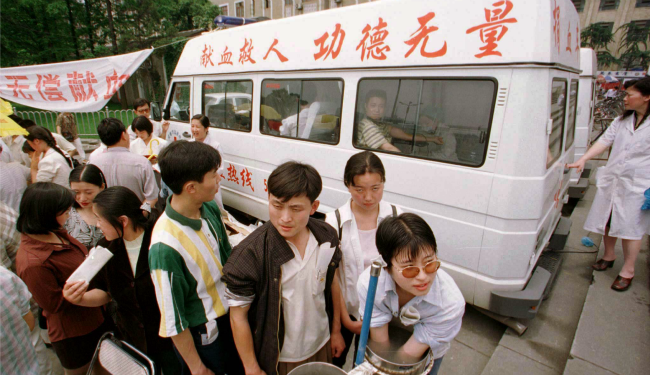 Chinese volunteers queue to sterilize their arms before entering a mobile laboratory to donate blood in China's southeastern city of Chengdu. (Andrew Wong/Reuters)
On April 20, the most severe earthquake since 2008 struck China. In the days since, aid organizations have mobilized to provide food and shelter to surviving victims in the disaster area, many of whom lost their homes. Yet in sharp contrast to the outpouring of aid five years ago when a magnitude 7.9 earthquake struck Wenchuan, Sichuan province, the government-run Red Cross Society of China has seen only a trickle of donations, with most people choosing to donate to other charities - or not at all.
The Red Cross Society of China, which is not affiliated with the International Red Cross, has earned a reputation for being untrustworthy. In June 2011, a young woman named Guo Meimei, who claimed to work for the organization, flaunted her luxury goods and extravagant lifestyle on social media. While this incident in and of itself qualified as a PR disaster -- the fact that Guo had not actually worked for the Red Cross has barely registered--recent news concerning the charity organization has not helped it regain public trust.
Here are just a few of the articles about China's Red Cross that have come out since the earthquake that shook Sichuan eleven days ago:
The Chinese Red Cross has claimed that despite online criticism, it is not experiencing a "crisis of credibility." To prove the point, Red Cross officials reported that as of one week after the 2013 earthquake, donations to the Red Cross accounted for over 53 percent of all donations to foundations engaged in disaster relief. Yet the Chinese Internet has been rife with reports that government organizations have required employees to make minimum individual donations, and even schoolchildren have been forced to make similar donations. One citizen journalist wrote,
There are three reasons why the Red Cross has collected so much in donations: 1) government work unit donations are required to go to the Red Cross; 2) central government enterprises and state-owned enterprises, as well as large-scale private enterprises donate to the Red Cross due to policy considerations; 3) well-meaning people who don't understand what's going on have made donations.
In an attempt to demonstrate the organization's commitment to clearing its name, the executive vice-president of the Red Cross Society of China even claimed she would resign if the Red Cross was unable to regain its reputation in two to three years. However, as commentators pointed out, she would be of retirement age by that time anyway.
Hong Kong media report that donations are drastically lower than five years ago. According to politician Raymond Wong, in the three days following the 2013 earthquake, donations there were down to 5 million Hong Kong Dollars (about U.S. $640,000) from 56 million HKD  five years prior. Wong made an impassioned speech against the proposal to send 100 million HKD  to China for disaster relief, stating that the people of Hong Kong had lost faith in the government's ability and willingness to ensure that the money would reach its intended destination. The video of Wong's speech went viral in mainland China, and the vast majority of mainland Web users expressed their agreement with Wong's criticisms.
Another Hong Kong politician, Claudia Mo, articulated the reasons that the Red Cross - and the Communist Party-run government -- were "trust-bankrupt:" money donated in 2008 had been embezzled. Schools constructed with Hong Kong donations in 2008 crumbled due to the use of cheap building materials. Hong Kong media were not allowed into the disaster area to provide oversight. In short, using the money of Hong Kong taxpayers to fund disaster relief would represent tacit approval of the corrupt system through which the funds were channeled.
Yet netizens complained that although the accusations Mo and Wong were accurate, they were unlikely to have any real effect. Wrote one, "I support Raymond Wong, but I think that not donating is at best thumbing your nose at your opponents. It won't change the system or policies. Strengthening oversight? It's a nice dream, but you don't have the power to realize it. Anyway, I support the model of the One Foundation."
The One Foundation, founded by Jet Li in 2011, is a public fundraising foundation that has also provided disaster relief in the wake of the April 20 earthquake. While the Red Cross Society of China is closely tied to the government, One Foundation remains independent. One Foundation has also remained one step ahead of the Red Cross in organizing social media campaigns and facilitating donations: it accepts eleven forms of online payment, including PayPal. Meanwhile, the Red Cross Society of China accepts only one. In the eleven hours immediately following the April 20 earthquake, the Red Cross Society of China collected 142,843 RMB (about US$23,000), while the One Foundation collected 22.4 million RMB.
Yet even the One Foundation has not been immune to suspicion. Wrote one Weibo user, "Privately run foundations like the One Foundation lack oversight; I trust them even less. At any rate, I'll donate to whoever opens their books to the public first." Egregious misuse of public funds by the Red Cross and the government has not only harmed their reputations, but also the ability of the public to trust any charitable organization.
While various aid organizations and charities fight to reestablish their reputations, and the government proclaims that the push for reform will lead to a corruption-free era, the people who feel the consequences of corruption, distrust, and defiance most keenly are those in the earthquake disaster area. The crisis of credibility has real consequences: lower donations and inefficient donation methods mean delayed aid, or even a lack of aid, to the people who need it most.
---
This post also appears at 
Tea Leaf Nation
, an
Atlantic
partner site.