China's New Governing Style: Crisis Management
As its recent experience in Kunming shows, Beijing can handle environmental protests. But is this approach sustainable in the long term?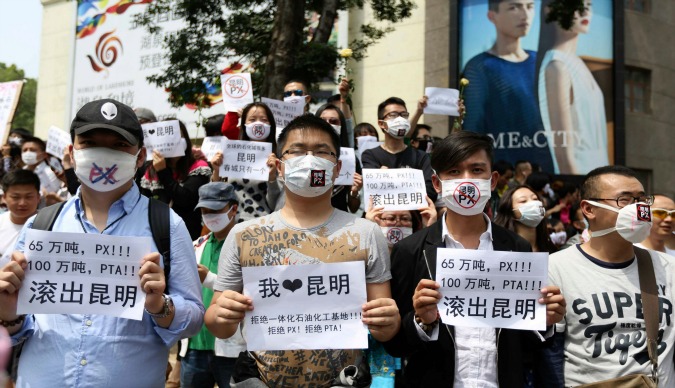 Residents wearing masks hold papers written with slogans such as "PX get out of Kunming" and "I love Kunming", as they protest against a planned refinery which produces the chemical paraxylene (PX), at a square in Kunming, Yunnan province, May 4, 2013. (Wong Campion/Reuters)
Kunming, the capital city of Yunnan province, has become the latest city in China to be rocked by environmental protest. On May 4 and then again on May 16, 1,000 to 2,000 protesters took to the streets to demonstrate against the construction of an oil and chemical refinery in the nearby city of Anning by the state-run oil company China National Petroleum Corporation.
Kunming Mayor Li Weirong attempted to placate the protesters -- offering to open a personal Weibo account through which residents could communicate with him and even promising that the project wouldn't continue if "most of our people don't agree with it." The South China Morning Post offers a fascinating blow-by-blow account of the beleaguered mayor's interaction with the protesters.
It is tempting simply to add the Kunming protest to the growing list of Chinese urban environmental protests, and note once again that the Communist Party has not found the right balance between economic development and environmental protection. However, the real significance of these protests is that they signal the failure of Chinese institutions to adapt to the changing needs and demands of the people for a greater voice in the political process. Environmental politics has become a game of crisis management.
Formally, there are a few ways in which Chinese citizens can participate in environmental decision-making. For one, they can take part in reviewing environmental impact assessments for proposed large projects in their neighborhoods. As Chinese scholars have noted, however, there are a number of limitations to this process: only a small percentage of projects are subjected to compulsory public participation; the timing and duration of engaging the public is short; the method of selecting those who can participate is often biased; and the amount of information actually disclosed is often quite limited in an effort to prevent social unrest.
Chinese citizens also have the right to engage the system through a formal complaint system: writing letters to local environmental protection bureaus complaining of air, water, and waste-pollution. According to the 2010 Environmental Statistical Yearbook, in 2010, there were over 700,000 such complaints. During the 11th Five-Year Plan, the Ministry of Environmental Protection, itself, received 300,000 petitions on environmental matters. But complaining is one thing -- getting something done about it is another. All told, there were only 980 administrative court cases about environmental impact assessments and only thirty criminal cases from 2006 to 2010. It is estimated that not even 1 percent of environmental disputes are resolved in court.
Non-governmental organizations are an important force in pushing for transparency in China's environmental situation, but their success is limited. The Institute for Public Environment and the U.S.-based Natural Resources Defense Council have joined forces since 2009 to prod local officials to release the environmental data required by law, and publish an annual transparency ranking for 113 Chinese cities. Some local officials have gotten the message. One official from Hunan Province People's Congress uses his Weibo account to "name and shame" polluters, leading one named company to put in place new environmental clean-up technology. Many other officials, however, continue to ignore the NGOs' efforts.
Without effective political institutions, what is emerging in China at the local level is governance by crisis management. Local officials, petrified by these mass protests, simply bow to the will of the demonstrators. While this may keep the peace in the short-term, it is not a recipe for good governance over the longer-term. China need only look at the experience of Thailand, the Philippines, and South Korea to understand how failure to address people's calls for greater participation in environmental decision-making may contribute to far greater political challenges for the ruling government.
---
This post appears courtesy of CFR.org, an
Atlantic
partner site.