China's Latest Environmental Initiative— Banning Outdoor Barbeque
In an effort to curb pollution, Beijing has floated a proposal to curb the outdoor grilling, a staple of the city's culinary scene.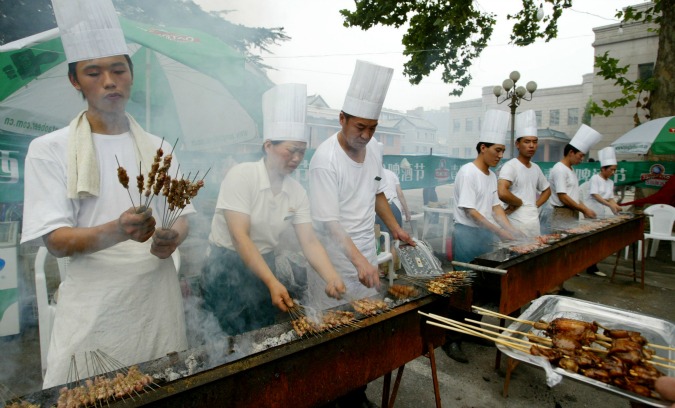 Chinese workers sell barbequed meat in Jinan, capital of eastern Shandong province, (Claro Cortes IV/Reuters)
Air pollution in China's capital is so bad that executives are turning down jobs, people are dying prematurely, gas masks have become fashionable and the smog can even be seen from space. At the end of March local media reported that the country would spend 100 billion RMB ($16.3 billion) over three years to clean up Beijing.
But the city authorities have their own cheaper idea: a crackdown on outdoor barbecuing.
The move threatens to stamp out the highly popular outdoor food stalls that line Beijing alleys during the warmer months, selling cheap barbecue skewers and icy beer to customers sitting on tiny plastic stools. Unlicensed barbecuers will now face fines up to 5,000 RMB, reports the state-run China Daily, and could have their cooking utensils confiscated.
This barbecue ban has been mooted before. However, when the environmental ministry began soliciting opinions last February on the possible measure, it was roundly ridiculed on social media.
For one thing, there's the question of effectiveness. Motor vehicles and nearby factories are far greater contributors of dangerous air pollutants, as Vance Wagner, a researcher at the International Council on Clean Transportation, told China Realtime Report . Despite government assurances of imminent action to clean up the air, conflicting interests among politicians and state-owned enterprises have so far prevented any serious attempts. The problem is worsening: March was the smoggiest in 52 years, according to official figures.
Then there's the question of proportion -- whether the relatively small air-quality impact of a barbecue ban would be worth the sacrifice to Beijing street life. "To have [barbecue] while shooting the breeze with friends in the summer is a must for us, and nothing can replace it," Lu Shuze, a 27-year-old primary school sports teacher told the China Daily. "This has been a part of my life since college."
ICCT's Wagner agrees. "The idea that street vendors or regular consumers need to share that burden [of cleaning up the city] is just not fair, and it diverts attention from the real culprits," he said. "It's such a shame, because outdoor barbecues are such a wonderful part of Beijing."
They aren't the only one who thinks so. In his press briefing on the crackdown, city administrator Dang Xuefeng perhaps unwittingly romanticized Beijing's barbecuing culture. "As the weather warms up, the streets gradually fill up with roadside barbecue spots, sizzling kebabs on the grill and cold beer," Dang told the China Daily, adding that these "also create serious air pollution and undesired noise for the neighborhoods."