Chen Guangcheng: 'Communism Has Always Been a Scam'
In this interview, the Chinese dissident discusses human rights, Internet censorship, and what the international community can do to help individual freedom in China.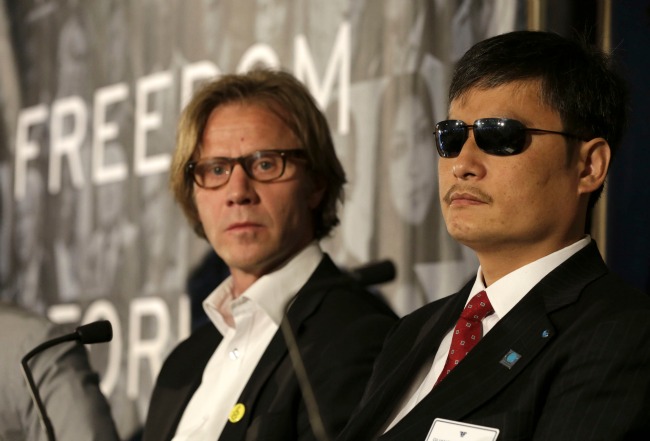 OSLO, Norway -- Chinese leader Xi Jinping has coined a new slogan, urging the country's increasingly wealthy population to pursue "the Chinese dream." But many dissidents there see the country's free-speech situation as more of a nightmare.
Chinese human rights activist Chen Guangcheng believes the situation for activists in China has only worsened since Xi has taken charge. Speaking with reporters on Monday at the Oslo Freedom Forum in Norway, he said international governments should step up pressure on Chinese leaders if they hope to encourage true change in China.
A blind, self-taught lawyer, Chen made international headlines last year when he escaped from years of house arrest and sought asylum in the U.S. Embassy in Beijing. Since then, his family has been targeted through what appear to be revenge attacks. Meanwhile, Chen has continued his fight for openness and justice in China from his new home in the U.S., where he is a visiting scholar at New York University School of Law and is authoring a memoir scheduled for release this fall.
An edited transcript of Chen's interview through an interpreter with a small group of reporters from media outlets around the world, including The Atlantic, follows:
I understand your family is still being harassed -- how does that affect your work?
The persecution has never stopped. They punctured the tires of [family members'] cars. They've thrown bricks and rocks through their windows. My nephew was put in jail. The phone line was cut at my mothers' house. Perhaps the reason is that this is the one-year anniversary since I escaped from China. Perhaps people went crazy over this. I think they also see that I'm making a lot of talks, I say things they hate to hear.
It does not affect me. It strengthens my will to disclose the very evil and authoritarian nature of the Chinese regime. It makes me more determined to fight for human rights.
How should other countries react toward countries like China to strengthen the fight of activists like yourself?
I think international society should make it clear their attitude and abide by their principles to support human rights in China and not to cave in because of the economic benefits of doing business in China. China is now in the process of transformation, and it is just beginning. Those in power in China understand that, and some of the people in China at the grassroots level know this too. However, it remains very much unknown to the international society. I think they should also approach civil society groups in China and walk side-by-side with them.
Can you be just as effective an activist outside of China as inside?
I'm probably more effective outside of China, but the nature of the work here is different. There is work needed to be done inside of China, but also work that needs to be done outside of China -- such as promoting civil rights, democracy, and justice.
Do you think that the change in leadership has caused any increased openness in China?
Definitely not. I think it's actually going backward. For example, the government recently announced the "7 no" policy -- seven topics that aren't supposed to be mentioned by schools or party committees.
What are some the advantages -- and limitations -- of Weibo and other online platforms for increasing conversation among dissidents in China?
It's a very common platform accessed by all -- it is very fast paced and has a lot of agility. Even though there are a lot of people censoring it, a lot of the information they want to censor has already been forwarded among the netizens. They can never get full control of the information.
Of course, there are some limitations. For example, the censorship committee has the power to shut down your accounts, they can remove your posts, and opinion leaders are more carefully monitored. Twitter is a useful tool, but that is blocked by the great firewall. Not a lot of people have the technology to circumvent the firewall.
Do you agree with Communism?
I think that Communism has always been a scam. When Marx was working on Communist ideology, he mentioned a few extremes, and he was painting too rosy a picture.
To boil it down, I don't think Hu Jintao or Xi Jinping believe in Communism themselves. And I don't believe any of the political leaders believe in Communism themselves, otherwise they wouldn't need to accept bribes and they wouldn't be so corrupt.
What should the international community be doing to put pressure on China?
One simple way to do that is to deny entry of these officials who participate in human rights repression into foreign countries. When they commit crimes, they know what they did was wrong, but they still choose to do it for their personal interest. An effective countermeasure is to let them pay the price, either morally or economically.
Foreign media has played an important role. Among the numerous incidents of human rights abuse in China, only the tip of the iceberg has been exposed. But I think that works to a great effect, and they should continue to strengthen that effort.