Beijing's Blue Berets: UN Peacekeeping and the Evolution of Chinese Diplomacy
But will language barriers get in the way?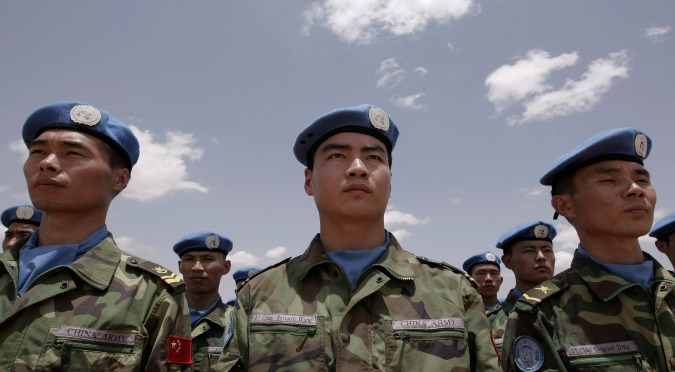 Reuters
At the Poste de Ruzizi border crossing between Rwanda and the Democratic Republic of Congo, the light blue berets of United Nations peacekeeping troops are clearly visible. On the Congolese side of the border, locals, businessmen, NGO workers and uniformed troops from around the world compete for the attention of a single listless border guard.
As heavy raindrops fall and the red dirt begins to darken, a dozen Pakistani peacekeepers jump out of their white UN range rovers and fight their way to the front of the melee. Five neatly dressed Chinese peacekeepers, dutifully waiting their turn, allow themselves to be pushed out of the way.
"We try and be friendly to them, but we just can't communicate," says one Pakistani peacekeeper as he elbows his way to the front of the line. "Everyone on my team speaks English, and some French. But none of us speak Chinese."
With little fanfare, in the space of 20 years, China has steadily increased its commitment to UN peacekeeping missions. Today, the country contributes more peacekeeping troops than any other permanent member of the UN Security Council, with 1,860 "blue beret" peacekeepers deployed across nine different UN missions. By contrast, the United Kingdom has 298 peacekeepers in the field, the United States a mere 118.
On April 16, China released its latest biennial white paper on the state of the People's Liberation Army (PLA). The document, published by China's cabinet equivalent, the Information Office of the State Council, emphasizes the PLA's "active role in maintaining world peace, security and stability" through contributions to multilateral peacekeeping operations (PKOs). "Tough, brave and devoted, Chinese peacekeepers accomplish all their tasks in an exemplary manner," the paper says.
But on the ground, Chinese peacekeepers might not always live up to Beijing's expectations. One issue is the communications gap between peacekeepers and the locals they are trying to protect. "Languages are a problem for every nationality," says Sofia Candeias, who worked for the United Nations in Bukavu from 2010 to 2012 and saw how difficult it can be for all parties to communicate with each other.*
China, though, is new at peacekeeping. Chin-Hao Huang, a researcher at the University of Southern California specializing in Chinese international security policy, is convinced that as the country's commitment to peacekeeping grows, troops will become more adept at operating in foreign environments.
"As the PLA troops interact with foreign counterparts, UN officials and local people on a human level, they begin to understand the importance of peacekeeping, of security and development, security sector reform, and overall conflict sensitivity," he says. Chinese contributions to the international security agenda are self-enforcing; as China takes on more responsibility in global security tasks, it realizes the importance of becoming ever more involved.
"Participating in UN missions is an unobjectionable way for China to fly its flag," says Professor Richard Betts, Adjunct Senior Fellow for Security Studies at the Council on Foreign Relations. "The UN is about multilateralism, not imperialism. Participation in missions is an ideal way to be muscular, but without offending."
It is impossible to ignore the expansion of China's military capabilities. Official figures show that Chinese defense expenditures have averaged 12.1 percent growth per year since 1989, but U.S. Department of Defense reports indicate that real figures may be much higher. There are few ways China can convince the international community that its intentions are benign, says Betts. Peacekeeping is one of them.
In addition, increasing Chinese commitment to peacekeeping is a relatively simple way to garner support from smaller nations in the United Nations . "China came late to the UN table, but saw the influence that India -- traditionally one of the major contributors to peacekeeping missions -- has built up through peace and security operations," says Jayadeva Ranade, a member of the Indian National Security Advisory Board. Despite still contributing significantly fewer troops than India or Pakistan, China has learned that peacekeeping is an excellent way of increasing its soft power at the UN.
But reconciling China's growing commitment to peacekeeping with the country's stated policy of non-interventionism is problematic. The inviolability of state sovereignty has served as the rhetorical backbone of Chinese foreign policy since the "century of humiliation" -- a period of Western and Japanese intervention and imperialism in China -- came to an end in 1949. This commitment extends to the present day. In his first press conference as prime minister on March 17 Li Keqiang asserted that despite willingness to "shoulder our international obligations", China's leadership maintains an "unshakable commitment" to state sovereignty.
However, as Chinese emigration, foreign investment and international commitments continue to multiply, the Chinese attitude toward global engagement on the world stage is becoming more nuanced.
As well as promoting good will, peacekeeping missions can serve to protect Chinese assets and citizens. China's stake in global stability is growing exponentially along with its foreign investments: stable countries, after all, generally make for better trading partners.
China's experience in Libya served as a valuable lesson. Amid the collapse of the Muammar Gaddafi regime in 2011, China had to rent, beg or borrow planes and ships in order to evacuate 36,000 of its citizens, ultimately relying on commercial vessels. This embarrassing incident exposed the PLA's relative inexperience -- the country has not fought a war since its skirmish with Vietnam in 1979 -- in spite of recent modernization efforts.
In recent years, China has deployed engineers, logistical units, medical units and transport experts to peacekeeping missions, all of whom have gained valuable experience operating in unfamiliar environments alongside troops from around the world. However, China is yet to contribute combat forces. Armed peacekeeping troops, authorized under Chapter 7 of the United Nations Charter, may prove more of a liability than engineers and medical doctors: Having to fire on locals could undermine the positive feelings that China is trying to cultivate abroad.
So for now, Chinese peacekeepers take on relatively safe roles, designing infrastructure, guarding hospitals, and administering both western and Chinese medicine at clinics across Africa.
Back at the Ruzizi checkpoint, the five Chinese straight-backed peacekeepers smile at the Congolese women pushing in front of them, their starched uniforms getting slowly soaked by the African rain.
---
* This paragraph has been updated to more accurately reflect the comments of Sofia Candeias.