Why Chinese Migrant Workers Are Abandoning the Country's Top Cities
Every year, workers living in Beijing or Shanghai visit their homes for Chinese New Year. More and more are deciding not to come back.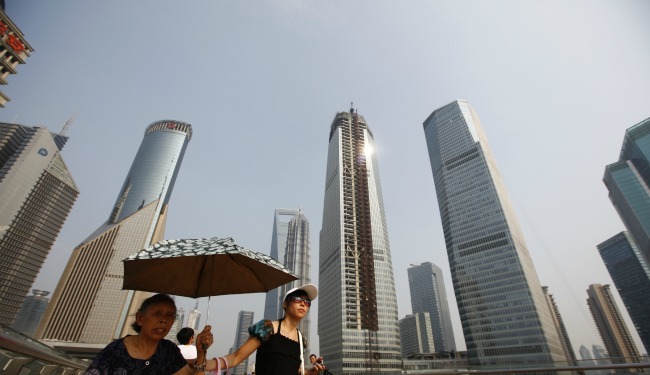 In Beijing, budget rental housing -- especially bunk beds, small apartments and single rooms in the more dilapidated hutong areas -- are easy to find after Chinese New Year. This is because many migrant workers who leave the capital for their home regions for the new year choose not to return. Although there are no national statistics on this still under-researched phenomenon known as the "tide of return" (huixiangchao), the numbers of workers who leave China's overcrowded coastal metropolises to pursue their dreams in humbler settings has been steadily growing in past years.
Between December 31, 2012 and February 22, 2013, the large coastal city of Xiamen "lost" 36,200 registered migrant workers, and hourly salaries for cooks and cleaners are on a steady rise. On Sina Weibo, a popular micro-blogging platform, user @猫爷困了commented: "The pressure is really huge. I should pack up my mattress and get going too."
After their stints in the cities, most migrant workers no longer return to toil in rice paddies. Instead, they find employment in China's rapidly growing inland cities of various sizes. While this phenomenon fits with the new Chinese leadership's vision for the future of urbanization, which involves encouraging the growth of small and middle-sized cities, it is still unclear what long-term effects these new movements will create and what they will mean for China's future.
The "tide of return" began after the 2009 financial crisis, during which approximately 20 million migrant workers, mostly in the export-dependent Pearl River Delta, found themselves without work and were forced to return home. Since then, stimulus packages including investment in inland transportation development and increases in employment opportunities have made large interior cities like Zhengzhou, Chengdu and Chongqing increasingly attractive places to work for laborers from those regions, since they no longer need to make the personal sacrifices of leaving their families too far behind.
Many workers from inland provinces welcome the option of leaving the coastal region and first-tier cities, since they often face discrimination and alienation as outsiders, regardless of their line of work or the color of their collars.
So what exactly is changing in China's interior? And which factors are decisive in persuading some to stay and some to go? On the one hand, it's the clear economic development and social welfare reform back home. Places like Chengdu are experimenting with reforms to China's infamously discriminatory residential registration, or hukou system, allowing more people from the countryside to settle in the city. Local governments in inland provinces that encouraged surplus labor to try their luck elsewhere a few years ago are now vying for migrant workers to come work in local industries, carefully documenting their progress. For example, in Pengxi, a county in Sichuan, local authorities organized four large job fairs targeting homebound workers right around the Chinese New Year, resulting in over 3,000 signed contracts.
But due to rapid development in inland China, a return home does not necessarily mean returning to a familiar place. As a recent returnee to rural Hebei told Tea Leaf Nation: "I hadn't returned for three years, and my home region had changed so much! The former low buildings have been replaced by rows upon rows of high rises. I could hardly find my way home. I heard they are encouraging people to start small businesses in the tourism sector ... and I plan to make use of this opportunity."
Better transportation links allow many returnees who work in nearby cities to return to their home towns and villages and see relatives on the weekends, a vast improvement compared to working in coastal regions and making it home once a year at best.
What's more, the coastal host cities have so far have been rather unappreciative of the migrant workers' contribution to their development. Complaints from native residents often result in crackdowns on the low-quality housing and schooling for migrant workers, without being replaced by realistic alternatives.
For all the government's talk of migrant workers needing to become formal urban residents, not enough is being done to help them. For migrant workers with children, educational opportunities are often key considerations in their decision to stay or leave.
As Hou Jun, a migrant from Sichuan who came to Beijing in 2000, explained to TLN, "We are staying for our daughter to be able to attend middle school in Beijing for two more years. Education here is better and we already paid the outsider fee for non-Beijing hukou holders for her to attend school here [in their case, a sum of 12,000 RMB (just under $2,000) or about 25 percent of their combined annual income]. She will not be able to go to high school here, anyway, because of her hukou, so we plan on returning to Chengdu when she completes middle school. Things are very different in Chengdu from when we left. There are jobs now. Salaries wouldn't be as high in Chengdu, but there we wouldn't have to pay 75 percent of my salary for rent and we could work closer to where we live. We have never quite felt at home in Beijing anyway."
But Ms. Hou added: "We decided to take our child with us. Many friends around us are actually returning to be with their children back home, who are being raised by their grandparents. They realize that not seeing their children grow up is too great of a price to pay, especially now that they might actually be able to save more money for their child's education by going home. "
While migrant worker parents have been fighting for their children's right to access a superior high school education in Beijing, the Chinese capital has so far been extremely reluctant to extend educational equality to migrant workers' children. Exceptions, such as the recent opening up of vocational schools to non-hukou holders, come with long lists of provisos.
The "tide of return" has also swept up college-educated white collar workers, who crowded the shiny high rises in Beijing, Shanghai and Guangzhou as high-paying job opportunities at large companies tended to be concentrated in these metropolises. As Jia Yixiao, a college graduate from small-town Hebei explained to TLN, "I don't know about migrant workers, but as for university graduates, there are incentives to return. For example: guaranteed job placement if you transfer your hukou back home, or a 3,000 RMB gift."
Considering the brutal work schedule and bleak prospects that many young white-collar workers face in Beijing, Ms. Jia finds a return to the provinces increasingly understandable. "Regional cities have now developed better all-round living environments -- you will have everything you need and prospects to keep moving up the career ladder outside of Beijing and Shanghai too," she said.
For college graduates, the pressure to buy an apartment is a significant factor in their calculations. A recent online poll on this subject revealed that 62.5 percent of the participants working in first-tier cities have plans to buy property back home, and as many as 87.5 percent of the respondents thinks this is a good time to do so. In the Chinese New Year period, housing sales in second and third-tier cities surged. Advertisements read: "Why don't you come back frequently and buy a house for your parents? It can be your back-up plan..."
Ma Sang from Chengdu is on her first job in a major publishing company based in Beijing. She regularly works over time and finishes editing manuscripts on the weekends. She noted the powerful combination of lower property prices and aging parents: "Most of us are single children. It's good to be around as they are getting older." But like many, she is not giving up on the capital quite yet: "I didn't come here to give up that easily and I like my independence too ... I'll give it a few years."
Regardless of social status, TLN interviewees complain about pollution levels in the capital. "At home, we have much better air ... it's one of the advantages of developing a bit later," a migrant worker from Guizhou joked. College graduates also mention the advantage of owning a car in an environment in which one would actually be able to use it, rather than on Beijing's congested ring roads.
Will all this moving back chip away at the urban-rural and regional development gaps? With a rapidly declining labor-age population, a decline in the number of migrants may soon start to become a headache rather than a relief for Beijingers, as it already has in factory-dominated coastal cities facing labor shortages.
For the moment, government policies and unintended byproducts of China's rapid urban development are intersecting in ways that, once again, get people to move. In the last 30 years, it was often rational for individuals to leave their homes for the better part of their lives. These decisions often allowed them to forge much better living standards for themselves and those back home, but at great personal cost. Now -- although the balance is still far from being tipped -- the arrows might also point the other way.
---
This post also appears at 
Tea Leaf Nation
, an
Atlantic
partner site.