Underneath China's Wealthiest, Millions Remain Underground
The country dominates a quarter of the global luxury market. But a significant percentage of Chinese are just struggling to get by.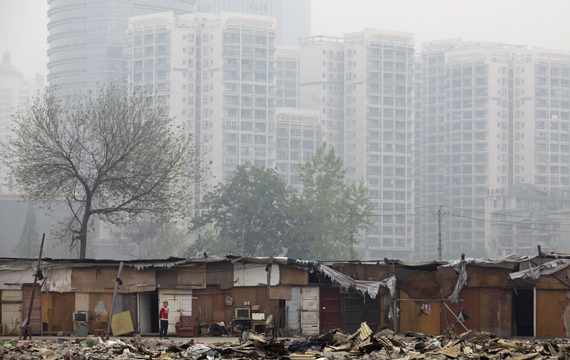 Carrie Bradshaw, lead character of HBO's "Sex and the City," has landed in China. Admired for her glamor, prowess and Big Apple know-how, Carrie and pals Tiffany's, Barneys and Gucci commanded a four-page spread in the 2011 inaugural issue of Yue Magazine -- a publication designed for China's one-percenters visiting or living in New York City.
This overt pandering to a well-heeled audience of diplomats, media moguls, corporate executives, and entertainers is resonating in the fast-growing world of Chinese wealth. If a magazine dedicated to rich Chinese in New York sounds exceedingly narrow, it's worth noting that a quarter of the global luxury market is dominated by Chinese shoppers. 60 percent of them make their purchases abroad, often along Madison and Fifth Avenues.
The move from Mao to now, from monochromatic Red Army uniforms to Milan-made suits with narrow lapels, is reflective of blurring socio-economic lines. With a rapidly rising middle class, the current generation is increasingly keen on forging independent, sometimes ostentatious identities.
"Chinese are just like people all around the world -- impressionable, aspirational, and occasionally subject to the whimsy of outlandishly-priced beautiful things," said Jonathan Landreth, Managing Editor of online magazine ChinaFile, in an email to Tea Leaf Nation. "Some seem to be beginning to want to stick out, rather than blend in. Considering their numbers -- [that's] no surprise."
Yue's glossy, ad-rich issues capitalize on this growing interest in Western haute couture. For the wealthiest citizens, the perception of American or European-born quality is a huge incentive. There are several reasons for this, Landreth explained.
"This is partly a function of the herd mentality ... and partly a function of a basic mistrust among many Chinese of the quality and safety of made-in-China goods of all kinds, many far more fundamentally important than the latest handbag."
By contrast, poorer residents are generally limited to those domestic and often inferior brands, a fact that only fuels a growing disdain for sub-groups like Yue's flush audience. For that reason, many Chinese are skeptical of the government's recent announcement of a "retreating" income gap.
"A journalist called to ask me to comment on today's macroeconomic figures," wrote professor of finance and economics Xu Xiaonian on Sina Weibo, China's most popular micro-blogging platform. "To use the words of [popular children's story writer] Zheng Yuanjie, 'no-one would even dare to write a fairy tale like that.'"
Many in China scrape by in harsh existences far removed from the elites who favor Manolo Blahnik and Rolex. Migrants who have come to cities to work as security guards, pedicurists, waitresses, and salesmen are often derisively referred to as members of the "rat tribe" because they are unable even to afford housing at street level or above.
In Beijing alone, an estimated one million are relegated to living in abandoned basements and air-raid tunnels partitioned into windowless, one-room apartments. Monthly rent for a single that sleeps two and three people can range between an affordable 300 and 700 RMB (about $50 to $100). But kitchens and bathrooms are communal. Hallways are dank, dark, and airless.
Photographer Sim Chi Yin spent two years shooting members of the capitol's so-called "rats." "You have a rich-poor divide: The [rats] live in two different worlds," Sim told Tea Leaf Nation. "Sometimes, the apartments above are quite posh; in one instance, [there was] even a hotel. Then the basements tend to be claustrophobic, housing hundreds of migrants."
Nevertheless, Sim says these low earners make the best of things by dressing their subterranean homes with floral bed sheets, stuffed animals and, ironically, posters of fashion models. They are plucky, she explained, but -- economically and literally stuck in the cellar.
The spending of the rich and famous, meanwhile, is insatiable. Consultancy McKinsey & Company forecasts that China will dominate more than one-third of worldwide luxury spending by 2015, a stark comparison to an urban underbelly populated by people referred to as rats.
Their frustration runs deep and Web-wide. Tea Leaf Nation has repeatedly reported on online outcries by Chinese Web users, some of whom are considerably more grassroots than common depictions of netizens as urban, coastal elites would suggest. "For grass-roots Chinese who feel deeply abused, [the Internet] perhaps is their only opportunity to address the unjust gap [that] they feel exists between themselves and the rich and powerful, even it's only by oral 'revenge,'" cautioned Xu Danei, a columnist for theFinancial Times.
For all its leadership's invocations of "harmony," China thus remains in a precarious state. While the world looks to it as a model of disciplined intelligence and corporate hustle, swathes of its people are looking critically inward -- waiting for their own chance to grab at the brass ring; or perhaps waiting for Yue's Bulgari-clad, jet-setting readership to slip.
---
This post also appears at 
Tea Leaf Nation
, an
Atlantic
partner site.