Job Posting of the Day: Chief Pornography Identification Officer
Qualified applicants only, please!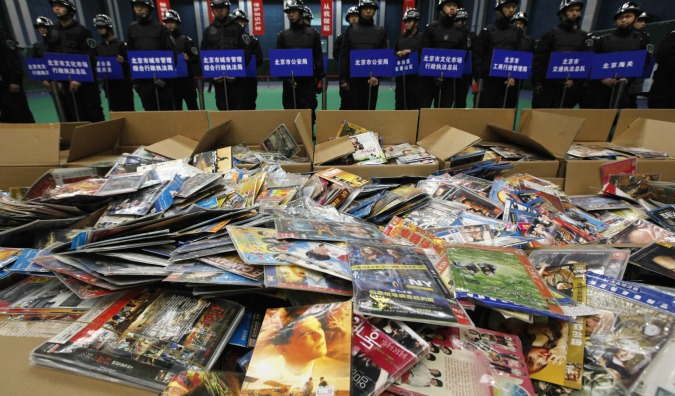 Security guards stand next to pirated DVDs which will be destroyed during a campaign against the production and distribution of porn and pirated publications, during a photo opportunity inside a gymnasium in Beijing January 10, 2011 (Grace Liang/Reuters)
China's quixotic attempt to purify the Internet of all vice has led to what has to be this year's most entertaining job posting. Via ChinaSmack, a company called Anquan (which means "safety" in Chinese) is looking to hire a "Chief Pornography Identification Officer" to, you guessed it, search the Internet for porn and report back about it.
That sound you heard was a hundred million college students updating their resumes.
The job description describes, well, basically what you'd imagine. You watch Internet porn. You describe what you see. You then watch more porn. The requirements, too, are pretty straightforward, though (amusingly) even this job requires a college degree. (Hey, no wonder colleges offer classes in pornography appreciation!) The pay isn't bad, either: Anquan is offering a salary of 200,000 RMB per year (just over $30,000) which, even in first-tier Chinese cities like Beijing and Shanghai, is pretty decent). Especially considering that a lot of people would probably do the job for free.
When you think of Chinese Internet censorship, sexually explicit material typically doesn't come to mind. Yet pornography -- referred to in Chinese as "yellow" content -- is every bit as illegal as political dissent. Even during the relatively freewheeling Deng Xiaoping years three decades ago, the Chinese government launched a campaign against "spiritual pollution", fining and occasionally imprisoning distributors of sexually explicit material.
Nevertheless, China's web-savvy youth are just as familiar with pornography as their counterparts across the world. According to ChinaSmack, Anquan's job posting was shared over 120,000 times in just the past week. One thinks that whomever lands the job, however, won't be invited to too many career fairs.