In China, Even Earthquakes Are Political
How will the government react to Saturday's disaster?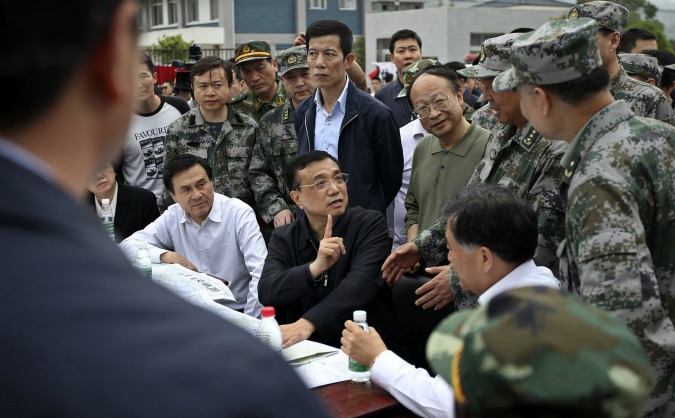 China's Premier Li Keqiang (C) visits after a strong earthquake hits Lushan county, Ya'an, Sichuan province, April 20, 2013. (Reuters)
Here's what we know about Saturday's massive earthquake that has, for the second time in five years, thrown China's Sichuan Province into despair: Over 200 people are either dead or missing. Over 11,000 are injured. 17,000 more are homeless, a number that will surely go up. And while the toll from this quake was much lighter than the May 2008 tremor that claimed nearly 70,000 lives, the damage done from this earthquake is significant. This is a major disaster.
In 2008, Beijing dispatched then-Premier Wen Jiabao to Sichuan right away, eager to correct an impression that it couldn't handle major crises. The avuncular Wen kindly reassured the region's grieving survivors -- famously referring to himself as "Grandpa" -- and promised a huge amount of government aid. The reaction this year was little different. Premier Li Keqiang flew directly to the town of Ya'an (near the epicenter) and reportedly spent the night in a tent as a gesture of solidarity with the earthquake's newly homeless survivors.
The takeaway from this tragedy is that Beijing, at long last, has learned how to handle natural disasters. After all, earthquakes aren't, at least on the surface, political: you can't accuse tectonic plates of fomenting dissent. The events in Sichuan provide the Chinese government with a rare public relations opportunity to gain legitimacy through crisis management.
Yet as we learned in 2008, even natural disasters have political consequences. Soon after the dust cleared and Premier Wen returned to Beijing, grieving survivors wondered angrily why so many of the county's schoolhouses collapsed while government buildings stood. And when the artist Ai Weiwei
attempted to document
each of the earthquake's victims in a piece of politically-inspired art, he was beaten and detained by local security forces. A natural disaster quickly turned into a shameful example of government corruption, an issue that increasingly poses an existential threat to Communist Party rule.
Will this time be different? Superficially, yes: The earthquake happened on a Saturday when far fewer children were in class, so China was spared a repeat of 2008's horrific school collapse tragedy. But now there are rumblings that the government is taking too long to provide shelter to the newly homeless. And
then there's this
, from the
South China Morning Post
:
But Zhang Xueming, a rescue worker from Wenzhou-based Blue Sky Rescue Team, said the road conditions were not the main problem. "Most of the tents are provided by companies and they all want them to be sent to major areas to get more public recognition," he said.
Later, the piece quoted a villager from a remote area who complained that the government is only taking care of those living in larger towns.
It's hard to imagine any government handling a disaster of this proportion seamlessly, and there are always going to be victims who feel unjustly compensated for their losses. But it'll be worth keeping an eye on the Chinese government's handling of this disaster in the coming days and weeks. Beijing might think that an earthquake, in comparison to, say, ethnic unrest in Tibet, is an apolitical crisis. But in China, where the Communist Party has a say in just about everything that goes on, politics can't be entirely escaped.