Chinese Film Director: 'Censorship Is Torment'
Feng Xiaogang -- often called "China's Spielberg" -- brings up a taboo subject in a speech.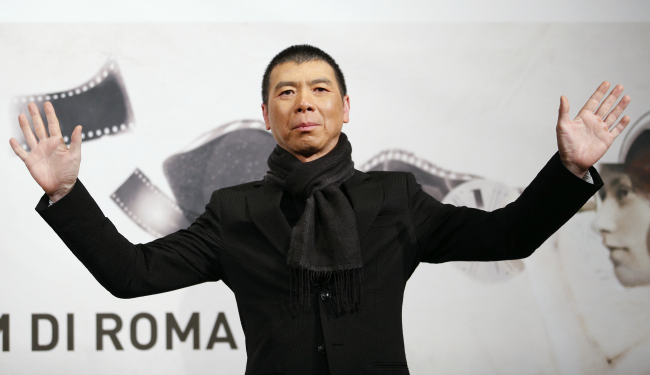 It is ironic yet befitting. "In the past 20 years, every China director faced a great torment," said director Feng Xiaogang, who was called China's Spielberg by Newsweek, "and that torment is [beep]."
The censored word, as anyone reading Feng's lips can surmise, is "censorship."
Feng is one of Chinas' most prolific and successful directors, producing 15 films in 18 years by his own count. Tea Leaf Nation's Wendy Qian recently wrote that a recent film of Feng's, called Back to 1942, subtly critiques the Communist Party .
Feng made his remarks on April 12, when he accepted the honor of "director of year" from the China Film Directors Guild. The video of Feng's acceptance speech has gone viral on China's social media. One post containing the video was retweeted more than 10,000 times on Sina Weibo, China's favorite microblogging platform.
Feng choked up with emotion before he spoke about censorship, and as soon as he did, the attendees in the ball room let out a collective "whoa," breaking into applause. Feng continued:
A lot of times when you receive the order [from the censors], it's so ridiculous that you don't know whether to laugh or cry, especially when you know something is good and you are forced to change it into something bad. Are Hollywood directors tormented the same way? ... To get approval, I have to cut my films in a way that makes them bad. How did we all persist through it all? I think there is only one reason -- that this bunch of fools like us love filmmaking -- are entranced by filmmaking -- too much.
While censorship of Chinese films is a well-known fact of life, it is rarely a subject of open discussion. Last year, director Lou Ye posted directives from China's censorship body, SARFT, and gave Internet users a peek into this mysterious system.
Feng's speech appeared to function as a cue to Internet users, many of whom responded with sympathy and support. Some echoed Feng's words, decrying the online censorship that is a fact of life on the Chinese social web. Many exclaimed the decision to bleep out Feng's mention of censorship was "painting the eyes on a dragon," a figure of speech which refers to the finishing touch necessary to bring something to life. In other words, the ironic result may only have rendered Feng's message more poignant.
---
This post also appears at 
Tea Leaf Nation
, an
Atlantic
partner site.