Can Hollywood Romance Chinese Film-Goers?
Chinese people clearly love American movies. Can Hollywood capitalize? The latest in an ongoing series of discussions with ChinaFile.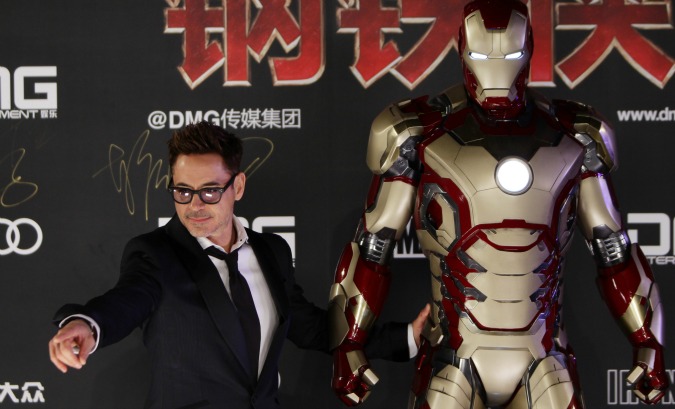 Cast member Robert Downey Jr. poses for a photo with an Iron Man figure during a promotional event of the movie "Iron Man 3" before its release in China in early May at the Imperial Ancestral Temple of Beijing's Forbidden City, April 6, 2013. (Jason Lee/Reuters)
Last week, DreamWorks Animation (DWA), the Hollywood studio behind the worldwide blockbuster Kung Fu Panda films, announced that it will cooperate with the China Film Group (CFG) on an animated feature called Tibet Code, an adventure story based on a series of recent Chinese novels set in 9th-century Tibet -- even as China's policies on Tibet are regularly targeted by Western human-rights critics and are a persistent challenge to Beijing's efforts to improve China's international image. DWA CEO Jeffrey Katzenberg told The Wall Street Journal that Tibet Code has no "secondary agenda," but was chosen because it is a "blockbuster story."
Arguments can be made both for and against this highly visible publicly traded American company's decision to aid a state-run studio that answers ultimately to the Propaganda Department of the Chinese Communist Party in the making of an animated -- and thus more easily dubbed and exportable -- film about Tibet when China's own domestic media long has had its hands tied when trying to tell Tibet stories .

Trading automobile tires or medical equipment with China seems to me to be one thing. But trading the media savvy to use animation and mass marketing know-how to entertain and, yes, teach the world about far-away Tibet in a way that's unlikely to deviate from Beijing's oficial line that the territory has always been a part of China is another kettle of fish entirely.
---
When Katzenberg denied any political motivation behind DreamWork's decision, he was telling the truth.
Hollywood's change of heart from Kundun and Seven Years in Tibet to Tibet Code has little to do with ideology. Hollywood was not out to smear China then and is surely not on a mission to rehabilitate China now. It's the bottom line that the studios are attuned to. It's no secret that Hollywood increasingly is reliant on revenues from overseas markets and now China is the world's second-largest movie market in terms of ticket sales.
It's important to note, too, that the censorious Chinese state is not the only one to blame for Hollywood's compromise. After all, affluent Chinese moviegoers like to see China in a flattering light. What's missing from the incessant political narrative about censorship and control is the more complex commercial logic and cultural dynamic at work that makes the Sino-Hollywood courtship so intriguing.
Furthermore, Hollywood paid ample attention, from day one, to what is permissible and indeed preferred in its export destination. A significant proportion of the correspondence in the 1920s, 30s and early 40s between the Hays Office and China reflected American studio executives' concerns about Chinese sensitivities, both cultural and political. During China's Republican Era, U.S. studios modified their pictures to appease the Chinese state and the public, both ultra-nationalistic and hypersensitive to China's humiliations at the hands of Western powers.
Lastly, cheerleading for an assertive superpower has been one of Hollywood's greatest talents. For almost a century, Tinseltown was at the forefront of promoting U.S. soft power by puffing up the American way to sell more movie tickets on the home front. The diversion to a new master in China simply follows the same logic.
There is no doubting the power of cinema in shaping values and perceptions. With the Chinese emphasis on expanding its "soft power" by promoting Chinese culture around the world, film has become an important component in China's "going out" campaign. And what could be a better tool than Hollywood's help in facilitating China's image-lifting campaign?
Ultimately, Hollywood has to decide what China business it wants to be in. Google's China profit dwindled after it pulled its search engine out of China . Meanwhile, Apple and Microsoft made headway in China by complying with Chinese censorship. Sooner or later, more companies will have to confront similar issues.
---
A version of this post appears at ChinaFile, an Atlantic partner site.