Allure of United States Remains for Emigrating Chinese
In spite of their country's booming economy, many Chinese people still seek opportunities to work, study, and live in the United States.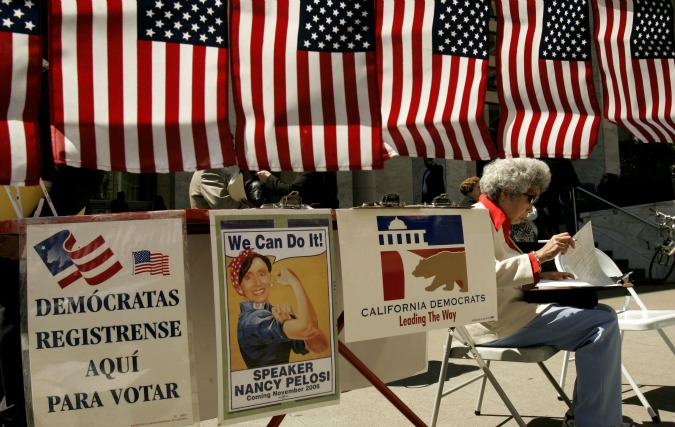 Qizhen Song of China registers to vote following a naturalization ceremony. (Robert Galbraith/Reuters)
China's new president Xi Jinping has made the achievement of the "Chinese Dream" the goal of his tenure, but for many among China's elite, their dream may be emigrating to another country. According to a report by Center for China & Globalization on China's immigration trends published in 2012, an immigration wave is sweeping up many of China's wealthiest and most educated people.
When Joanna Jia walked in the EB-5 Info session held in a bank conference room in Qingdao, Shandong province, she was surprised by how young the other eight attendees looked: most were in their late 20's.
The EB-5, an American investment immigration visa, has become very popular among Chinese middle and upper class. According to the China International Immigration Report, among those Chinese with assets of over 100 million RMB (about $16 million), 27 percent had emigrated abroad and 47 percent were considering doing so; among those with assets of over 10 million RMB, 60 percent had finished or been in the process of applying for an EB-5 visa.
"We hold info sessions in big cities like Beijing, Shanghai, and Shenzhen almost every week," said Mrs. Li, who works in Globevisa, one of the EB-5 consulting firms in Shanghai. Some of these sessions are open to the public, others targeting a high-end clientele are by invitation only.
Two years ago, Joana Jia attended three EB-5 info sessions in Qingdao and one exclusive event, where each participant would get personalized advice. Jia says she attended because she wanted to find out whether her parents could have a better retirement if they emigrated to the U.S. Because Jia looked like a young student, she did not get much attention at that event and therefore was able to observe other participants closely.
Jia said she sat close to one powerful figure in the municipal government "who spoke with a very low voice and asked how to invest more than the required amount for EB-5 and whether his wife and son could get out immediately. One year later, he was arrested."
Many are turning to online forums to share information anonymously. Globeclub BBS is one of the most popular forums for discussions about emigrating overseas. As of April 16, 2013, there are 434,989 posts and 43,890 members on this forum. On April 16 alone, there were 4,009 new posts and replies.
A "diamond level" post on the web site Globeclub reveals the top reasons that most Chinese elites emigrate to the U.S.: better education opportunities for their children with less competitive college entrance exams; the safety of their property; better social welfare; and a better lifestyle, including having a passport that makes international travel easier.
According to a survey by real estate website Soufun.net, among a sample size of 5,000 people, the top listed reasons to invest and emigrate overseas are better living conditions (41.5  percent), better education conditions for children (35.43 percent), and better retirement conditions (14.68 percent). According to a report by Guangming Daily, 80 percent of Chinese billionaires immigrate for better education opportunities.
In interviews with Tea Leaf Nation, a number of Chinese immigrants in the United States said they shared the motivations set forth on websites like Globeclub and Soufun. One major reason is educational opportunities. According to China's Ministry of Education, the number of Chinese students studying abroad increased by 17.65 percent from 2011 to 2012, while the number of student returning to China increased by 46.6 percent.
"If it were not for my daughters' [ability] to attend schools here, I would not have immigrated to the U.S.," said Mrs. Yang, an EB-5 investor who invested one million dollars to create an international trade venture in 2011 and got conditional green cards for her family. (She had to prove that her investment created ten jobs after two years.)
Yang made her fortune in international trade between China and the U.S., but she never thought about emigrating overseas before her elder daughter applied for college in the U.S. Now she lives in New York with her two daughters, with one attending college, and the other attending primary school. Yang is still trying her best to navigate the American system.
"I feel in China it is sometimes easier for business, because money could help you do many things that seem impossible at the beginning," said Mrs. Yang.
In 2011, Lisa Zhou and her parents were surprised by a piece of good news: they were issued a permit to obtain American green cards. The application had been filed ten years ago by a relative who lived in the U.S., and they had already forgotten about it.
At the time, Lisa Zhou was a college senior in Heilongjiang province, applying for graduate programs in the U.S., and she recalled the difficult decision process her family had faced.
"My parents had never left China; they do not speak English. They have a sense that the U.S. is a better place, but they have no idea about what the U.S. is really like." For her wealthy but relatively traditional family, to move abroad meant giving up many comforts and undertaking risks.
Zhou's family eventually decided to obtain green cards and they have emigrated to California. The deciding factor was that becoming a green-card holder would benefit Lisa's education and career development in the U.S. Now Zhou studies electrical engineering at Columbia University. With a green card, she knows how easy it would be for her to find a job after graduation, while her peers will have a hard time finding someone to sponsor H1-B work visas.
Another student in Lisa's program named Alex Xu has been anxiously looking for a job in the U.S. For him, working here is much more desirable than working in China.
"Here you do not need to worry too much about personal relationships; no need to worry that your research outcome would be stolen by your instructors, your school or so on," said Xu.
Two years ago, Angela Zhang applied for her green card when she was reading her first year in the master's program at the School of International and Public Affairs (SIPA) at Columbia University. Before SIPA, she worked in finance in Beijing. Zhang said that after living in New York for almost one year, she decided to apply for green card. So she looked up the EB-5 projects, invested half a million dollars and spent $20,000 to hire an immigration lawyer. After one year, she got her green card. Now she lives half of the time in China and half in the U.S.
For Zhang, the green card is just one part of her life experiment. But she does think the living conditions in U.S. are much better.
"My home is near Taihu Lake [near Suzhou city] and it is smelly for a whole summer; I just went to Beijing and I felt I was poisoned by the air. We're worried about food safety; our families ask relatives in rural area to help us raise several pigs," Angela said. "There must be some people who apply for green cards for political concerns, but I never met any of them. If they are in such cases they won't tell me."
China, however, may be a land of more opportunity for some.
For 20 years, Joe Wong has been a successful real estate broker in New York. He has helped numerous Chinese investors buy properties there. According to Wong, many of those investors are simply hedging their risks by making investments abroad. Wong said that most people he knows decided to immigrate to the U.S. in order to accompany their children, who are attending middle schools. "In some cases, my clients told me China is better in terms of opportunities to make money," he added.
"In terms of making money, I think there is more freedom in China than in U.S., as long as you are flexible," said Mr. Lin, who used to be a middle class businessman in mainland China. In 2010, he moved to the U.S. and applied for political asylum, claiming he was persecuted by the Chinese government. However, as a man in his 50s, he revealed that his true intention was to have a comfortable retirement here.
Better economic prospects and a familiar social system are driving many emigrants home. Lisa Zhou, the Electronic Engineering student at Columbia, plans to go back to China after graduation. She wants to work in sales and believes that she is better adapted to China's system, and called the system in the U.S. "too stiff."
Simon Wu decided to return to China with his wife in 2007. After graduating from the University of Arizona in 1997, he worked in U.S. and got a green card in 2001. While he enjoyed success in the U.S., he decided to return to China because he missed the culture and his family.
Ironically, he chose to become a U.S. citizen in order to return to China. As a green card holder, he would have had to return to the U.S. each year to maintain the green card.
Being a U.S. citizen "is no trouble in China. Indeed, I get paid better," said Simon Wu. Nowadays, he works in a foreign bank in Shanghai and seems to have achieved both the Chinese and American dreams: making a good living in China, while knowing that his children can take advantage of education opportunities in the U.S. in the future.
---
This post also appears at 
Tea Leaf Nation
, an
Atlantic
partner site.