Why No One Trusts Government Charities in China Anymore
The Chinese view a new law that treating charitable giving as a tax as basic "wage robbery."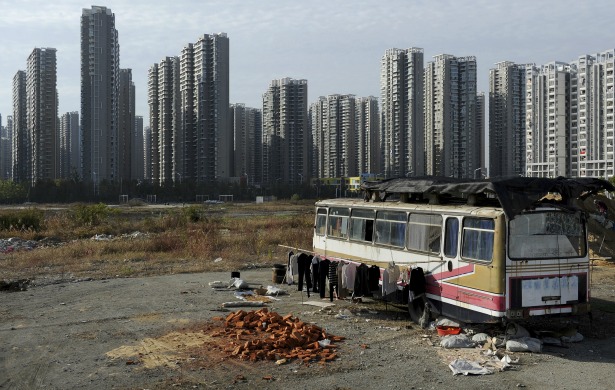 "What is the concept [behind] the Charity Law? A certain amount from everyone's paycheck will have to be donated, just like a tax... and one single Charity Law can solve all problems facing charity in China."
This controversial idea to treat charitable giving as a tax came from a recent interview of Zhou Sen, the Honorary Vice President of the China Charity Federation and a representative of the National People's Congress, China's law-making body. Soon after, this remark stirred a national debate on Sina Weibo, China's Twitter, attracting over 300,000 comments in just a few days. Web users shared their anger and frustration towards an idea they denounced as "shameless" and "legalized robbery," with one Web user vividly opining that Zhou Sen's "head has been kicked by a donkey." Some even christened the proposal with a new name: "Wage Robbery Law."
This controversy is in fact a reflection of public distrust toward government-backed charity organizations in China, which have been trapped in a series of PR crises starting in 2011. In April 2011, a picture showing an invoice for a meal costing 9,859 RMB (about US$1,586) and paid for by the Red Cross of Shanghai Luwan District was posted on Weibo. This turned out to be the start of a collapse of public trust towards Chinese government-backed charities. Two months later, a 20-year-old girl named Guo Meimei, claiming to be an employee of an arm of the Chinese Red Cross, posted pictures that, as TLN reported, "showed Guo driving a Maserati, posing against a wall of Hermes bags, and otherwise living a life far beyond the means of any honest charity worker." Though later the Chinese Red Cross Association claimed "no connection" with Guo, this event again attracted national focus, the overwhelmingly negative sentiment accumulated heavily hit the reputation of Chinese gov-backed charities especially the Red Cross.
In December 2012, a widely reported scandal again attracted national attention -- cash in donation boxes in Chengdu for disaster relief were left uncollected for four years, causing the money inside the boxes to grow mold. Further investigations and apologies followed and a social monitoring board was even established to oversee charity reform. But the problem has not gone away. The Executive vice president of the Red Cross Society of China, Zhao Baige, admitted in an interview early this month that "public trust cannot be recovered in a short-run."
Given the deplorable recent history of certain Chinese charities, it's small wonder that web commenters are cool toward the idea of forced donation. Historian Lei Yi (@雷颐) hit the nail on the head when he posted on Weibo: "Is this [enforced donation] called charity? Government-back organizations lack transparency, [so] donors are fewer and fewer, [so] you compel them? ...the right path is gaining public trust." User @Braveheart-121 brought the analysis further: "The Guo Meimei incident is just a lighting fuse for the charity crisis. The [government's] reluctant to give up control of the charity is in a sense a denial of the charity's transparency."
In fact, in China, the de facto boundary between the government and charity organizations is hard to define. The opposition the public shows to charitable organizations might be most accurately seen as a transfer of the distrust citizens feel towards their government. While Web users are dissatisfied with charities and their less-than-independent bureaucracies, the charitable organizations themselves also face an identity dilemma due to the current regulations. They can either fail to register with the government, and be illegal organizations, or they can register and implicitly submit to some degree of governmental control.
According to Jia Xijin, the Deputy director of the NGO Research Center of Tsinghua University, in order to register an NGO in China, the organization itself must find a "Unit in Charge" (业务主管单位), which includes related government organizations or organizations with government authorizations. From the government's perspective, oversight of an additional (non-profit generating) entity is simply a pain. In addition, governmental suspicions towards social organizations in general are deep-rooted. The very term "social organization" is more or less a sensitive label associated with threats to the Party's leadership. Thus, most registered social organizations are the ones initiated by the government itself, which are impossibly named "G-NGOs" (Governmental Non-Governmental Organizations) rather than civil NGOs.
The "Wage Robbery Law" has recently faded as a touchy subject in Chinese social media. Most importantly, it appears that Zhou Sen spoke out of turn. On March 6, the Ministry of Civil Affairs of the People's Republic of China published an article entitled "China Charity Federation Does not Agree with the 'Donation Law'" to absolve itself : "Zhou's title is just honorary, as a reward for his contribution to Chinese charity. His words as a representative are his own... Zhou does not participate the specific operations of the Federation either." According to the Five-year Guideline for the Development of China's Charitable Organizations published in 2011, "Donors will be able to decide for themselves the size of their donations and how they want to have their donations used," and the Ministry agrees: "China Charity Federation...is against any form of enforcement or donation quotas."
More broadly, mistrust of NGOs -- and for that matter, G-NGOs -- persists, and the fate of civil social organizations in China remains an unsolved question. It may ultimately be entrepreneurs and rule-breakers from outside the system who revive charity as a force in Chinese society. As @ 瑞克周 wrote: "The status quo of NGO is that the semi-civil servant system monopolizes a lot of resources, but the future surely belongs to the real idealist doers, [and] transparent, efficient, and low-cost civil groups."
---
This post also appears at 
Tea Leaf Nation
, an
Atlantic
partner site.